Playoff hockey returned to Toledo after a two-year hiatus in a big way last night and a player from the past celebrated with a hat trick.
Former Storm enforcer Adam Keefe scored three of the Walleye's first four goals to spark Toledo's 7-2 triumph over Charlotte in Game 1 of an opening-round Kelly Cup series.
"I have to go all the way back to novice. I might have had a [hat trick] back then," said Keefe, who also got into a fight. "It's the playoffs. This is when it counts. I'll lay it all out there whether it's hits, fights or scoring goals. There's no better feeling than winning in the playoffs."
Tony Romano, J.C. Sawyer, Akim Aliu and Derek Nesbitt also scored in the most important game in the organization's first season. Toledo goalie Jordan Pearce finished with 38 saves to put the Walleye up 1-0 in the best-of-five series.
No. 8 seed Toledo hosts top-seeded Charlotte again tonight at 7.
The crowd of 3,348 fell well short of a sellout, but the boisterous fans were treated to an intense battle.
"This is the team I hoped we'd be," Toledo coach Nick Vitucci said. "To get this first win is huge for us confidence-wise. The crowd was as loud as any this season."
Keefe, who was a member of the Storm team that made a run to the American Conference finals in 2006, scored on his first two shots of the game. Keefe, known more for his physicality than his finesse, scored one creative goal and two grinding markers.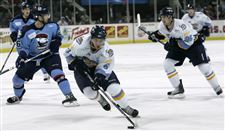 Toledo's Maxime Tanguay moves the puck up the ice.
Lori King / The Blade
Enlarge | Buy This Image
"[Keefe] ignited us. Adam has always been like that in the playoffs," said Vitucci, who coached Keefe in 2006. "He's gritty, tough, mean, and fierce. He's the perfect playoff player."
Keefe exceeded his regular-season total in goals. He had two in 24 games to go along with 107 penalty minutes.
"My linemates [Scooter Smith and Mike Hedden] battled to get pucks on net. I hope it goes in for them [tonight]," Keefe said.
Keefe created his own goal with a beautiful set up just 43 seconds into the game.
In his own end, Keefe chipped the puck past a Checkers defenseman to create a solo breakaway for himself. Keefe's snap shot hit the post, but he corralled the rebound. He took it around the back of the net and scored on a wraparound.
Checkers goalie Ryan Munce (23 saves) could not get in position, and Keefe slid it in for a 1-0 lead as an octopus and several walleye were thrown onto the ice.
But Charlotte had the equalizer 1:09 later. Mike Taylor was parked in front of Pearce and tipped in a shot from the point to tie it at 1.
Pearce then stood his ground as the Checkers had several good chances in the first. The Walleye scrambled at times in their own end and were outshot 40-30.
"It was a must-win," Pearce said. "It's nice to have the lead. They got a lot of shots, but the guys played well in front of me. This gives us confidence."
Toledo went up 2-1 when Aliu hooked up with Romano on a quick two-on-one break. Aliu sent a cross-ice pass to Romano, who whistled a one timer that sizzled past Munce with 8:47 left in the first.
Keefe then cleaned up a loose rebound to notch a power-play goal with 2:09 to go in the first. Chris Robertson sent a pass to Hedden, who one-timed it off the post. But Keefe chipped in the stray puck for a 3-1 lead.
Keefe scored his third of the night when he dove to get to a puck to make it 4-1 with 9:43 left in the second. Hats flew onto the ice as a melee broke out. Charlotte's Trevor Hendrikx threw a punch to start the fracas. Keefe fought briefly with Matt Stefhanishion as four players were called for infractions.
Charlotte emerged with a power play, and Andrew Carroll capitalized with a backhander to make it 4-2.
Toledo went up by three as Maxime Tanguay won a face off directly to Sawyer, who rifled a shot over Munce's left shoulder.
"Obviously we wanted to start out with a win at home and now we're one step closer to where we want to be," Sawyer said.
Aliu put it away when he took the puck away from a defenseman for an odd-man rush that he finished with a wrister for a 6-2 lead with 10:45 left.
Another scrum broke out after Joe Charlebois's bone-jarring check of Michel Leveille with 11:04 left. Charlebois then fought with Carroll.
Nesbitt added the seventh of the night as Toledo cashed in on a two-man advantage with 6:20 remaining.
"We know we can play with them," Pearce said.
FISH TALES: Keefe was called for hooking early in the third and Toledo had to kill a two-man advantage that lasted 1:22. …There were 76 total penalty minutes and four fights. …In five regular-season games, Toledo and Charlotte combined for an average of 7.2 goals per game. …The 23-man playoff roster was set before last night's game. Twenty players are on the active roster and three are on reserve. The reserves include captain Ryan Stokes and assistant captain Adam Hobson. Both are on AHL rosters and are not expected to appear unless the Walleye make a deep run. …This is the first playoff meeting between Toledo and Charlotte. …The last time the city of Toledo experienced the playoffs was at the end of the Storm's final season (2006-07). Toledo lost to Cincinnati in the first round, three games to none.
Contact Mark Monroe at:|
mmonroe@theblade.com
or 419-724-6354.
Guidelines: Please keep your comments smart and civil. Don't attack other readers personally, and keep your language decent. Comments that violate these standards, or our privacy statement or visitor's agreement, are subject to being removed and commenters are subject to being banned. To post comments, you must be a registered user on toledoblade.com. To find out more, please visit the FAQ.