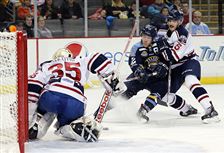 Toledo's Travis Novak (12) takes a shot against against South Carolina goalie Jeff Jakaitis (35) during a November game.
BLADE Enlarge
Toledo Walleye forward Travis Novak has been called up to Grand Rapids of the American Hockey League.
Novak has skated in 25 games this year and leads the team in scoring. Novak, 25, has averaged nearly a point per game.
Novak, who is in his second season with the Walleye, has scored eight goals and has 15 assists in 25 games. Novak, who has missed 10 games due to injury, also has eight points (4 goals and 4 assists) on the power play this season.
Last year in his first full pro season, Novak tallied 34 points in 65 games. He was the team's fifth leading scorer with 11 goals and 23 assists. He also scored two goals and had an assist in Toledo's six playoff games.
Toledo plays three homes games this weekend. The Walleye host Wheeling on Friday.
Guidelines: Please keep your comments smart and civil. Don't attack other readers personally, and keep your language decent. Comments that violate these standards, or our privacy statement or visitor's agreement, are subject to being removed and commenters are subject to being banned. To post comments, you must be a registered user on toledoblade.com. To find out more, please visit the FAQ.