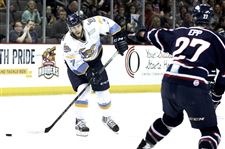 Toledo's Tyler Barnes (7) looks for an opening during the first period of a game in 2015.
THE BLADE
Enlarge | Buy This Image
WORCESTER, Mass. — Tyler Barnes scored early in the third period to propel the Walleye to a 3-2 win Tuesday night against host Worcester.
Toledo is 4-2-1-0, and is 3-2-1-0 on the road. The Walleye are back home on Saturday night against Kalamazoo.
Toledo took the lead when Mike Borkowski scored his first goal of the season by sending in a rebound 3 minutes, 20 seconds into the first period. Parker Reno and Shane Berschbach had assists.
Toledo outshot the Railers 11-6 in the opening period. The Railers took the lead midway throught the second period.
Toledo tied the game at 17:11 of the second period when Alden Hirschfeld deflected in a pass.
Early in the third period, Darian Dziurzynski fed a pass to Tyler Barnes for a backhanded shot that found the top of the net for his second goal of the year at 2:30 of the period.
Goaltender Pat Nagle started the game for the Walleye and stopped 26 of the 28 shots he faced. He has a 4-0-1-0 record this season.
Guidelines: Please keep your comments smart and civil. Don't attack other readers personally, and keep your language decent. Comments that violate these standards, or our privacy statement or visitor's agreement, are subject to being removed and commenters are subject to being banned. To post comments, you must be a registered user on toledoblade.com. To find out more, please visit the FAQ.