Toledo GROWs' 14th annual Seed Swap invites gardeners and would-be gardeners to look toward spring on Saturday. Each attendee receives five free seed packets, with additional packets available to gardeners who donate 50 cents per packet or who bring individually packaged and labeled seeds to exchange.
The Seed Swap runs noon to 3 p.m. at Scott High School, 2400 Collingwood Blvd., with gardening tips, tricks, and activities available through the afternoon. Sister Rita Wienken, farm and facilities coordinator at Toledo GROWs, and Hannah Robertson, senior executive chef at ProMedica Toledo Hospital, present a workshop on garden-to-table eating at 1 p.m.
Additional parking is available at the UAW. Exchanged seeds must be dated 2016 or later. For more information, go to toledogrows.org or call 419-720-8714.
■ Looking for a less extreme way to beat the winter blues? The Lucas County Recreation Center hosts Cabin Fever, an arts and crafts marketplace, on Saturday and Sunday.
More than 100 vendors from six states will be on hand for the fourth annual marketplace, with a variety of repurposed pieces, home decor, homemade foods, and more. The event runs 10 a.m. to 5 p.m. Saturday and 11 a.m. to 4 p.m. Sunday, with adult tickets available for $5; children 12 years old and younger are free.
The Lucas County Recreation Center is at 2901 Key St., Maumee. Parking is free. For more information or a coupon for discounted admission, go to cloudshows.biz.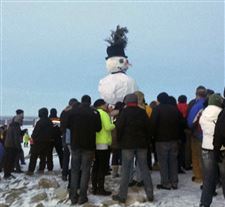 The Burning Snowman Fest takes place Saturday in Port Clinton.
■ Chase away winter on Saturday at Burning Snowman Fest in Port Clinton.
The highlight of the annual festival is the beachside lighting of a giant snowman that's filled and fueled with dried-out Christmas trees. Beer, food, and a live music lineup help revelers strike a celebratory mood beginning at noon at Dock's Beach House, 252 W. Lakeshore Drive, Port Clinton. The snowman goes up in flames around 7 p.m.
Burning Snowman Fest is for patrons 21 years old and older. Tickets are $5. For more information, go to facebook.com/​BurningSnowman.
■ The Glass City Record Show is back for its 37th year on Sunday. Browsers can buy, sell, or trade a wide variety of records, tapes, CDs, memorabilia, and more between 10 a.m. and 4 p.m.
The record show takes place at the Knights of Columbus Hall, 4256 Secor Rd. Admission is $1. For more information, go to glasscityrecordshow.com.
Guidelines: Please keep your comments smart and civil. Don't attack other readers personally, and keep your language decent. Comments that violate these standards, or our privacy statement or visitor's agreement, are subject to being removed and commenters are subject to being banned. To post comments, you must be a registered user on toledoblade.com. To find out more, please visit the FAQ.