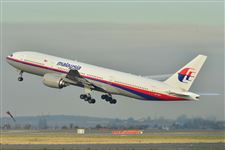 The Malaysia Airlines Boeing 777-200ER that disappeared from air traffic control screens Saturday, is shown taking off from Roissy-Charles de Gaulle Airport in France in 2011.
ASSOCIATED PRESS Enlarge
KUALA LUMPUR, Malaysia — The Malaysian military has radar data showing the missing Boeing 777 jetliner changed course and made it to the Malacca Strait, hundreds of miles from the last position recorded by civilian authorities, according to a senior military official.
The development injects more mystery into the investigation of the disappearance of Saturday's flight, and raises questions about why the aircraft was not transmitting signals detectable by civilian radar.
Local newspaper Berita Harian quoted Malaysian air force chief Gen. Rodzali Daud as saying radar at a military base had detected the airliner at 2:40 a.m. near Pulau Perak at the northern approach to the strait, a busy waterway that separates the western coast of Malaysia and Indonesia's Sumatra island.
"After that, the signal from the plane was lost," he was quoted as saying.
A high-ranking military official involved in the investigation confirmed the report and also said the plane was believed to be flying low. The official spoke on condition of anonymity because of the sensitivity of the information.
Authorities had earlier said the plane, which took off at 12:20 a.m. and was headed to Beijing, may have attempted to turn back to Kuala Lumpur, but they expressed surprise that it would do so without informing ground control.
The search for the plane was initially focused on waters between the eastern coast of Malaysia and Vietnam, the position where aviation authorities last tracked it. No trace of the plane, which was carrying 239 people, has been found by than 40 planes and ships from at least 10 nations searching the area.
Earlier today, Malaysia Airlines said in a statement that search and rescue teams had expanded their scope to the Malacca Strait. An earlier statement said the western coast of Malaysia was "now the focus," but the airline subsequently said that phrase was an oversight. It didn't elaborate. Civil aviation chief Azharuddin Abdul Rahman said the search remained "on both sides" of the country.
Two men traveling with stolen passports on the missing jetliner were Iranians who had bought tickets to Europe and were probably not terrorists, law enforcement officials said early today. Police said both men bought their tickets in Thailand and entered Malaysia together.
News that two of the passengers were traveling with stolen passports immediately fueled speculation of foul play. However, Malaysian police chief Khalid Abu Bakar told a news conference today that investigators had determined one was a 19-year-old Iranian, Pouria Nourmohammadi Mehrdad, and that it seemed likely that he was planning to migrate to Germany.
"We believe he is not likely to be a member of any terrorist group," Khalid said.
Guidelines: Please keep your comments smart and civil. Don't attack other readers personally, and keep your language decent. Comments that violate these standards, or our privacy statement or visitor's agreement, are subject to being removed and commenters are subject to being banned. To post comments, you must be a registered user on toledoblade.com. To find out more, please visit the FAQ.