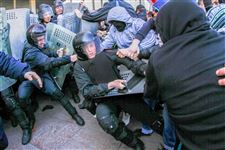 Pro-Russian activists clash with police at the regional administration building in Donetsk, Ukraine. A large group of people surged into the provincial government building on Sunday and smashed windows.
ASSOCIATED PRESS Enlarge
DONETSK, Ukraine — Pro-Russian protesters seized government buildings in three east Ukrainian cities on Sunday, triggering accusations from the pro-European government in Kiev that Russian President Vladimir Putin was orchestrating "separatist disorder."
The protesters stormed regional government buildings in Donetsk and security service offices in nearby Luhansk, waving Russian flags and demanding a Crimea-style referendum on joining Russia.
Protesters later seized the regional administrative building in Kharkiv, Ukraine's second largest city, Interfax news agency reported.
All three cities lie close to Ukraine's border with Russia.
Ukrainian Interior Minister Arsen Avakov vowed to restore order in eastern Ukraine without using violence and accused Ukraine's ousted president Viktor Yanukovych, whose political base was in Donetsk, of conspiring with Mr. Putin to fuel tensions.
"Putin and Yanukovych ordered and paid for the latest wave of separatist disorder in the east of the country. The people who have gathered are not many, but they are very aggressive," Mr. Avakov said on his Facebook page.
"The situation will come back under control without bloodshed. That is the order to law enforcement officers, it's true. But the truth is that no one will peacefully tolerate the lawlessness of provocateurs."
Ukraine's Acting President Oleksander Turchinov called an emergency meeting of security chiefs in Kiev and took personal control of the situation, the parliamentary press service said.
Tensions have increased in eastern Ukraine since protesters ousted Mr. Yanukovych in February and an interim government that backs closer ties with the European Union took power in Kiev.
Russia branded the new government illegitimate and annexed Ukraine's Crimea region, citing threats to its Russian-speaking majority — a move that has sparked the biggest standoff between Moscow and the West since the end of the Cold War.
For example, Czech President Milos Zeman said on Sunday that Western nations should take strong action, possibly including sending NATO forces to Ukraine, if Russia tries to annex the eastern part of Ukraine.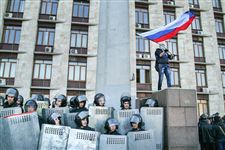 An activist waves a Russian national flag above Ukrainian police at the regional administration building in Donetsk, Ukraine, on Sunday. Protest leaders want lawmakers to discuss a vote on joining Russia.
ASSOCIATED PRESS Enlarge
"The moment Russia decides to widen its territorial expansion to the eastern part of Ukraine, that is where the fun ends," Mr. Zeman said in a broadcast on Czech public radio.
"There I would plead not only for the strictest E.U. sanctions, but even for military readiness of the North Atlantic Alliance, like for example NATO forces entering Ukrainian territory," he said.
"... Even for me — and I am no hawk — it would be a sort of red line to attempt to annex the eastern part of Ukraine," Mr. Zeman said.
The Czech Republic has been a NATO member since 1999.
Eastern Ukraine was the heartland of support for Mr. Yanukovych. About half of the region's residents are ethnic Russians, many of whom believe Ukraine's acting authorities will oppress them.
Ukraine's interim authorities deny they are infringing on the rights of the ethnic Russian population and accuse Moscow of trying to sow instability.
Russia has moved large contingents of troops to areas near the Ukrainian border and speculation is strong that unrest in eastern Ukraine could be used as a pretext for a Russian incursion.
Since Crimea held a referendum to secede and then was annexed by Russia in March, calls for similar referenda in Ukraine's east have emerged.
About 1,500 people protested in Donetsk on Sunday before breaking into the regional administration building, where they hung a Russian flag from a second-floor balcony, a witness said.
Protesters outside cheered and chanted "Russia! Russia!"
Protest leaders in Donetsk said they wanted regional lawmakers to convene an emergency meeting to discuss a vote on joining Russia.
"Deputies of the regional council should convene before midnight and take the decision to carry out a referendum," one of the protest leaders said, without identifying himself.
In Luhansk, Ukrainian television said protesters were demanding the release of people detained by security services in recent days as well as a referendum on joining Russia.
"We don't want to join the E.U., we don't want to join NATO. We want our children to live in peace," a woman told Ukraine's Channel Five in Luhansk.
Ukraine's state security services said on Saturday it had detained 15 people in Luhansk suspected of planning to overthrow authorities and had confiscated hundreds of rifles, grenades, and gasoline bombs.
Guidelines: Please keep your comments smart and civil. Don't attack other readers personally, and keep your language decent. Comments that violate these standards, or our privacy statement or visitor's agreement, are subject to being removed and commenters are subject to being banned. To post comments, you must be a registered user on toledoblade.com. To find out more, please visit the FAQ.