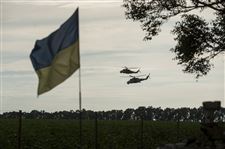 Two Ukrainian military helicopters carry Ukrainian President Petro Poroshenko and Minister of Defense Valery Heletey to inspect weapons captured from rebels at the base in Devhenke village, Kharkiv region, eastern Ukraine.
ASSOCIATED PRESS Enlarge
MOSCOW — A Ukrainian air force pilot who was captured by separatist rebels last month has been arrested in Russia and charged with abetting the killing of two Russian journalists, Russian officials said today.
Ukraine has been rocked by fighting between pro-Russia rebels and government forces for over three months. Igor Kornelyuk and Anton Voloshin, employees of a Russian state-owned TV channel, died in June after being hit by mortar fire while on assignment in the Ukrainian city of Luhansk.
Russia's Investigative Committee said in a statement today that 31-year-old pilot Nadezhda Savchenko is suspected of tipping off Ukrainian troops as to the whereabouts of the journalists as well as other unspecified "civilians" who were in a rebel-held area.
The investigators said Savchenko was a Ukrainian officer but she went on leave earlier this summer to join a voluntary battalion.
Savchenko is now in a Russian detention center but it is unclear how she got there. Moscow insists she crossed the border voluntarily, without documents and under the guise of a refugee. They said they have yet to find out why she went to Russia. Ukraine, however, recently raised the alarm about her disappearance, with the foreign ministry issuing a protest note.
Ukrainian Foreign Ministry spokesman Yevhen Perebyinis said today that "as far as we know she was held by terrorists" and called the claim that she had been freed and attempted to go to Russia "absurd."
Andriy Lysenko, a spokesman for Ukraine's National Security and Defense Council, was quoted by Ukrainian media as saying today that Savchenko had been kidnapped and the president has asked all authorities to work for her return.
Peter Leonard contributed to this report from Kiev, Ukraine.
Guidelines: Please keep your comments smart and civil. Don't attack other readers personally, and keep your language decent. Comments that violate these standards, or our privacy statement or visitor's agreement, are subject to being removed and commenters are subject to being banned. To post comments, you must be a registered user on toledoblade.com. To find out more, please visit the FAQ.