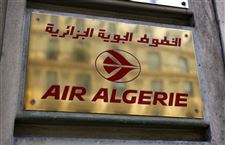 The logo of the Air Algerie company office, at the Opera avenue in Paris today.
ASSOCIATED PRESS Enlarge
OUAGADOUGO, Burkina Faso — A Burkina Faso official says the wreckage of the Air Algerie plane that went missing has been found in Mali.
Gen. Gilbert Diendere says the wreckage was located about 50 kilometers (31 miles) from the border of Burkina Faso near the village of Boulikessi in Mali.
Diendere is a close aide to President Blaise Compaore and head of the crisis committee set up to coordinate research for the plane that vanished Thursday in a rainstorm over northern Mali.
He says searchers found human remains and burned and scattered plane wreckage.
Guidelines: Please keep your comments smart and civil. Don't attack other readers personally, and keep your language decent. Comments that violate these standards, or our privacy statement or visitor's agreement, are subject to being removed and commenters are subject to being banned. To post comments, you must be a registered user on toledoblade.com. To find out more, please visit the FAQ.