Tiffani Thiessen has a personality as bright as the smile you've seen on television for so many years.
In a phone conversation full of laughter and sprinkled with affectionate "Honey"s and "Sweetheart"s, the actress — who has appeared in Saved By the Bell, Beverly Hills 90210, the Cooking Channel's Dinner at Tiffani's, and most recently Netflix's Alexa and Katie — talked about her upcoming visit to Toledo. She'll be appearing at a sold-out program on Oct. 6, 3101 Collingwood Blvd., as part of the Authors! program to promote her new cookbook, Pull Up a Chair: Recipes from My Family to Yours.
"I say it was like birthing a child with four corners," Ms. Thiessen said half-jokingly. It took "just shy of three years," she said, to go from a gleam in her eye to its imminent publication on Oct. 2.
She said she's so excited to promote her first cookbook and to share favorite recipes with new friends she'll meet across the country. She thinks she may have been here once before when touring with Saved By the Bell, and is happy to be coming back for another, admittedly too brief, visit of about 24 hours.
"A city a day," she said, is the pace for her book tour that begins in Ridgewood, N.J., on Oct. 2 and ends in Seattle on Oct. 13.
She'll be leaving her husband, Brady Smith, 8-year-old daughter Harper, and 3-year-old son Holt at home, so it's a good thing that the tour might be too short for her fans' liking.
"This is the first time I've been away from them for so long," she said. But the opportunity to talk about her passion for the intersection of food, family, and friends will ultimately make it OK.
Even as a young girl, Ms. Thiessen wanted to be a part of the creativity and camaraderie in the kitchen. "I have visions of my mom and my grandma and my aunt" all together, cooking, she said; she would be peeking around the corner wanting to join in.
And her own daughter "loves to cook, she loves to bake," she said. Her son likes to help, too; and "he loves to do dishes, and I don't discourage it," she said with a laugh.
Ms. Thiessen's style of cooking is as approachable as she is. The talented home-taught cook specializes in glammed-up comfort food. Her cookbook offers deliciousness like Short Rib Enchiladas, Fried Chicken with Pickle and Potato Salad, Curried Deviled Eggs, and Banana Pudding with Caramelized Bananas and Spiked Whipped Cream.
She's offering "incentive to get in the kitchen," she said, and issuing an invitation, as well.
It's all about "pulling up a chair," she said, "and breaking bread with the people you love."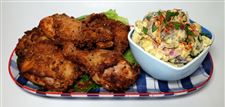 Fried Chicken with Pickle and Potato Salad.
THE BLADE/LORI KING
Enlarge | Buy This Image
Fried Chicken with Pickle and Potato Salad
Chicken:
4 cups buttermilk
2 tablespoons hot sauce
1 5-pound chicken, portioned into 10 pieces
1 cup all-purpose flour
1 cup panko bread crumbs
1 tablespoon kosher salt, plus more for sprinkling
2 teaspoons freshly ground black pepper
Peanut oil, for frying
Potato salad:
1½ pounds tricolored small potatoes
1½ teaspoons kosher salt, plus more for the potatoes
½ cup mayonnaise
¼ cup chopped sweet pickles
3 tablespoons pickle juice (from the jar)
1 tablespoon yellow mustard
¼ teaspoon freshly ground black pepper, plus more to taste
5 hard-boiled eggs, peeled and chopped
½ medium red onion, quartered, thinly sliced
2 tablespoons chopped fresh parsley, for garnish
Paprika, for garnish
Prepare the chicken: In a large container with a lid, whisk together the buttermilk and hot sauce. Submerge the chicken in the mixture, cover, and refrigerate overnight. (This step is crucial for moist, delicious fried chicken.)
Line a rimmed baking sheet with foil and set a wire rack on top. Remove the chicken from the marinade and set it on the rack to drain any excess marinade. Set aside.
In a shallow dish, whisk together the flour, bread crumbs, salt, and pepper. One by one, dredge the chicken pieces in the flour mixture, tapping them to allow any excess batter to fall off the skin. Return the coated chicken to the rack.
Preheat the oven to 350F. Line a large baking sheet with paper towels.
Pour 2 inches of peanut oil into a Dutch oven or large pot, making sure the oil does come more than halfway up the sides of the pot. Heat the oil over medium-high heat to 350F.
Carefully slide the chicken into the oil a few pieces at a time. (It is important that you don't add too much chicken to the pot, or the oil temperature will drop and the chicken won't crisp up as well.) Use tongs or a spider to turn the chicken every 1 to 2 minutes, until it turns a deep golden brown. Cooking times vary depending on which part of the chicken you're working with: Wings should cook for about 10 minutes, while breasts, thighs, and legs should take about 12 minutes.
When done, a thermometer inserted into the thickest part of the chicken should reach 165F. Transfer the chicken to the paper towel-lined baking sheet and season immediately with salt.
If serving warm, let the chicken cool slightly before serving with the Pickle and Potato Salad. If packing it up to go, let it cool completely first or the steam will make the chicken soggy.
Prepare the potato salad: Place the potatoes in a large pot and add enough cold water to cover them by 1 inch and a generous pinch of salt. Bring the water to a boil over medium-high heat and cook, partially covered, until the potatoes are fork-tender, 20 to 25 minutes. Drain the potatoes and let them rest until they're cool enough to handle. Cut each one in half.
In a small bowl, mix together the mayonnaise, sweet pickles, pickle juice, mustard, salt, and pepper.
In a separate large bowl, combine the halved potatoes, eggs, and red onion, and toss with the dressing. Taste, adjust the seasoning, and garnish with the parsley and paprika.
Yield: Serves 6 to 8
Source: Adapted from Tiffani Thiessen, Pull Up a Chair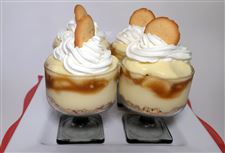 Banana Pudding with Caramelized Bananas and Spiked Whipped Cream.
THE BLADE/LORI KING
Enlarge | Buy This Image
Banana Pudding with Caramelized Bananas and Spiked Whipped Cream
For the pudding:
6 large egg yolks
½ cup granulated sugar
2 tablespoons cornstarch
¼ teaspoon kosher salt
2½ cups whole milk
2 teaspoons vanilla bean paste
2 tablespoons unsalted butter
For the bananas:
½ cup firmly packed light brown sugar
4 tablespoons (½ stick) unsalted butter
¼ teaspoon ground cinnamon
2 tablespoons dark rum
3 bananas, sliced into ¼-inch-thick rounds
For the cream:
1 cup heavy cream
2 tablespoons dark rum
3 tablespoons granulated sugar
To Assemble:
2 cups crushed vanilla wafers, plus 6 whole wafers
For the pudding: In a medium bowl, whisk together the egg yolks, granulated sugar, cornstarch, and salt. Set aside.
In a medium saucepan, heat the milk over medium heat. When it's just beginning to bubble around the edges of the pan, remove it from the heat and whisk a ladleful into the egg mixture. When combined, add another ladleful. Now add the rest of the milk to the eggs, whisking continuously. (It's important to not skip this step, known as tempering the eggs, because otherwise you'll end up with scrambled eggs!)
Pour the mixture back into the saucepan and whisk over medium-low heat until it thickens, about 5 minutes. Cook, whisking continuously, until it is quite thick and glossy, about 10 minutes more. The pudding should coat the back of a spoon. If you draw a line with your finger down the back of your spoon, the mark you made should remain. Remove from the heat and whisk in the vanilla and butter. Transfer the pudding to a clean bowl. Press a piece of plastic wrap directly against the surface of the pudding, taking care to cover it completely, to prevent a skin from forming. Refrigerate for at least 4 hours or up to overnight.
For the caramelized bananas: In a small saucepan, combine the brown sugar, butter, and cinnamon and cook over medium heat until bubbling, 3 to 4 minutes. Remove the pan from the heat and stir in the rum to combine. Add the banana slices, tossing to coat them completely in the caramelized sugar.
For the spiked whipped cream: In the bowl of a stand mixer fitted with the whisk attachment, beat the cream, rum, and granulated sugar on medium speed until it holds soft peaks, 3 to 5 minutes.
To assemble: Place half the crushed vanilla wafers over the bottom of a trifle dish. Spoon half the pudding over the crushed wafers, followed by an even layer of banana slices. Top with the remaining crushed wafers, reserving 1 tablespoon, followed by the rest of the pudding and then the bananas. Layer the whole wafers over the bananas and then top with the spiked whipped cream. Sprinkle with the reserved 1 tablespoon crushed wafers. Serve immediately. You can also prepare this in advance: Assemble the entire dish but do not make the whipped cream yet. Cover and hold in the fridge overnight, then make the whipped cream right before serving, and top the pudding with it.
Yield: Serves 4
Source: Adapted from Tiffani Thiessen, Pull Up a Chair
(Recipes excerpted from Pull Up a Chair © 2018 by Tiffani Thiessen. Reproduced by permission of Houghton Mifflin Harcourt. All rights reserved.)
Contact Mary Bilyeu at 419-724-6155 or mbilyeu@theblade.com, and follow her at facebook.com/thebladefoodpage.
Guidelines: Please keep your comments smart and civil. Don't attack other readers personally, and keep your language decent. Comments that violate these standards, or our privacy statement or visitor's agreement, are subject to being removed and commenters are subject to being banned. To post comments, you must be a registered user on toledoblade.com. To find out more, please visit the FAQ.