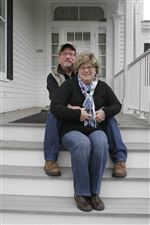 Bill and Leslie Nestor of Marblehead, Ohio, sit on the steps of the property they got for a bid of $710,000. They said they plan to move in to Castalia Farms.
THE BLADE/TOM HENRY
Enlarge | Buy This Image
CASTALIA, Ohio — Castalia Farms & Trout Corporate Retreat sold at auction Friday for a little more than $1.6 million.
The site was sold as five individual parcels, with winning bids ranging from $9,000 apiece for tracts of 5.5 and 4.13 acres to $710,000 for the biggest chunk, a 224-acre parcel that includes a farmhouse, apartments, other buildings, farmland, woods, and a pond.
Each transaction carried a 7.5 percent buyer's premium for costs incurred by the seller, Owens-Illinois Inc.
"We always admired this property," Bill Nestor, 65, of Marblehead, Ohio, said, beaming as he discussed the winning $710,000 bid he and his wife, Leslie Nestor, 59, made for the main grounds.
The couple, who own Impact Industries Inc. of North Ridgeville, Ohio, and Cleveland-based Independent Stamping Inc., said they became familiar with the property after multiple visits to its fish hatchery with their children and grandchildren.
They plan to move from their house in Marblehead to Castalia Farms, Mr. Nestor said.
"When this opportunity came up, we were so surprised. There's so much history to it. It's just the greatest piece of property in Ohio," he said.
About 85 people huddled inside one of the main buildings at Castalia Farms for the auction.
Auctioneer Gordon J. Greene, principal and managing director of Hanna Chartwell Commercial Real Estate, described the site as "a fisherman's paradise" in remarks before the bidding.
He touched upon the site's history and its longstanding ties to one of Toledo's most iconic corporations, O-I, noting it was the first time in more than 70 years the property was being made available to the public.
Attempts were made to sell the three largest sections as one unit. The bid for that came in at $1,050,000 from Vitthal Hospitality Living Life of New Delhi, India.
A representative for that company who asked not to be identified said Vitthal had wanted to convert the site into a natural health and detoxification farm.
Under terms of the auction, Hanna Chartwell was selling the three largest parcels as one transaction or as three, depending which generated the most money for O-I.
Doug Entenman, 64, of Fostoria had the winning bid of $620,000 for the second-largest site. It consists of 27.67 acres with direct access to Cold Creek, a pristine waterway filled with trout.
Mr. Entenman, a roofing and sheet metal contractor in Fremont, said he feels a sentimental attachment to O-I. A Toledo native and former Port Clinton resident, he said he visited the property over the years with his great-uncle, Torrey Kaatz, whom he identified as a former manager of O-I properties.
"There's nothing like it in the state of Ohio," Mr. Entenman said. "Everything O-I has done here is first-class."
He said he will use his parcel as a family retreat.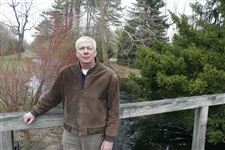 Doug Entenman of Fostoria bought part of Castalia Farms with a $620,000 bid. He's on a wooden bridge over Cold Creek, a pristine waterway filled with trout.
THE BLADE/TOM HENRY
Enlarge | Buy This Image
Al Scott, 62, of Marblehead had the winning bid of $210,000 for a 27.56-acre site that has no structures.
The wooded property, which has limited access to Cold Creek, is adjacent to a modern state fish hatchery operated by the Ohio Department of Natural Resources.
Mr. Scott said he is a real estate developer who has done projects in the Toledo area, including the Waterford Apartments complex off Angola Road.
He called Cold Creek the "trout mecca of Ohio." He said he too will use his site as a family retreat.
The origins of what people generally now call Castalia Farms date to 1937, when William E. Levis, president of what was known at the time as Owens-Illinois Glass Co., created a 1,000-acre sportsman's haven.
Most of the property was sold off over the years — including a 90-acre site to the state of Ohio, where the Ohio DNR has for years raised steelhead and rainbow trout in a hatchery so it can stock those fish species in bodies of water across Ohio.
At one time, the sprawling site's pastures were used by Mr. Levis for his prized champion Corriedale sheep. Fields were used by him and his guests to hunt for pheasant.
The property's core is what became known as Castalia Farms, an area enhanced with conference centers, apartments, a small theater, a driving range, and a trap shoot.
There also is a historic lodge, guesthouse, and farmhouse that have been impeccably maintained.
Lisa Babington, O-I senior communications manager, said in a recent interview the company was willing to divest itself of Castalia Farms because it no longer needs a meeting facility like that. The decision to close the facility was made in 2011.
The site was used in the early 1800s by Russell Hubbard Heywood, a general store owner from Buffalo, to harness Cold Creek's robust flow for a flour mill.
In 1878, the rights to Cold Creek were leased to "The Union Club of Cleveland," which became the Castalia Sporting Club in 1881.
The winning bids (and total sale prices, including the 7.5 percent buyer's premium in parentheses):
●Bill and Leslie Nestor, Marblehead, $710,000 ($763,250, including a $53,250 fee).
●Doug Entenman, Fostoria, $620,000 ($666,500, including a $46,500 fee).
●Al Scott, Marblehead, $210,000 ($225,750, including a $15,750 fee).
●Clayton Dauch, Clyde, Ohio, $9,000 ($9,675, including a $675 fee).
●Derrick Salissury, Castalia, $9,000 ($9,675, including a $675 fee).
Contact Tom Henry at: thenry@theblade.com or 419-724-6079.
Guidelines: Please keep your comments smart and civil. Don't attack other readers personally, and keep your language decent. Comments that violate these standards, or our privacy statement or visitor's agreement, are subject to being removed and commenters are subject to being banned. To post comments, you must be a registered user on toledoblade.com. To find out more, please visit the FAQ.