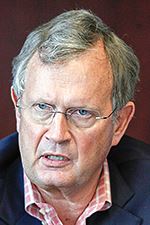 Chapman
George L. Chapman, chief executive officer of Health Care REIT Inc., the billion-dollar real estate investment trust based in Toledo, on Monday announced his retirement, effective immediately.
Health Care REIT said Thomas J. DeRosa, 56, a director of the company since 2004, would become its new CEO.
The company said that Mr. Chapman, 66, who also is chairman and president, is stepping down to focus on his health and to give attention to personal and civic commitments.
In an interview Monday, Mr. DeRosa said Mr. Chapman told the board recently he has "a nonlife-threatening health issue that he needs time to take care of, as well as focusing on his family."
Mr. Chapman will become a senior adviser to the company, which is traded on the New York Stock Exchange under the ticker symbol "HCN."
Jeffrey Donahue, who was Health Care REIT's lead independent director, will replace Mr. Chapman as board chairman. The title of president will be vacated.
A company spokesman said while Mr. Chapman had decided not to discuss his retirement decision, he did issue a statement.
"It has been an honor to lead HCN, its talented management team, and dedicated employees over the past two decades. I am extremely proud of what we have accomplished together, and I am confident HCN is well-positioned to succeed," Mr. Chapman said. "While I will miss my day-to-day role at HCN, now is the right time for me to move on and serve the company in a different capacity."
Mr. DeRosa "knows our company well and has been a tremendous asset over the years. I am confident HCN has a bright future and that Tom is the right choice to lead the company at this time. I look forward to supporting Tom and the rest of the management team in any way I can to implement a seamless transition," Mr. Chapman said.
Mr. Donahue said that the former CEO's contributions "have been immeasurable" while leading the company for 18 years and through a period of tremendous growth.
"Under George's leadership, we have built a deep, seasoned senior-management team and transformed HCN into a global leader in the health-care real estate industry, with a sterling brand and a $25 billion portfolio of high-quality properties across the United States, Canada, and the United Kingdom," the new chairman said. "On behalf of the entire board, I thank George for all he has done. We wish him well and are pleased he will be remaining on as an adviser to the company."
As a real estate investment trust, Health Care REIT acquires, plans, develops, and manages real estate properties in the health-care field, including senior-living communities, medical office buildings, inpatient and outpatient medical centers, and life-science facilities.
In 2013 the company, which is a member of the Standard & Poor's 500 Index, had revenues of $2.88 billion and controlled 1,199 properties in 46 states, the United Kingdom, and Canada.
In 2013 it had one of its biggest years, making $5.7 billion in new investments including spending $4.3 billion to acquire the assets of Sunrise Senior Living Inc.
Zachary Ottenstein, a Health Care REIT spokesman, said the company had been planning for more than a year for Mr. Chapman's eventual retirement. But his decision to step down was unexpected.
Mr. Chapman had signed a one-year contract, with two potential one-year contract extensions, at the beginning of this year, Mr. Ottenstein said.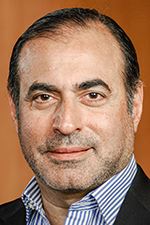 DeRosa
But in a statement, Health Care REIT said it had to accelerate its corporate succession plans when Mr. Chapman recently informed the board of his intentions to step down.
Hilliard Lyons analyst John Roberts, who has covered Health Care REIT for 17 years, said Mr. Chapman's retirement caught most watchers of the company off guard.
"This was a big surprise. It came out of the blue," Mr. Roberts said. "Usually when you see these things happen you'll have a succession-planning thing where the old CEO will stay for a few months to help the new CEO get acclimated. So this has to be something that scared George for sure," Mr. Roberts added.
But, he continued, the company "has got a great backup team there. George almost left once before and came back, so I don't see this as an issue. The only thing that surprised me was the new CEO has no CEO background."
Mr. DeRosa is a former vice chairman, chief financial officer, and director of The Rouse Co., a Maryland-based real estate and mall developer that built Franklin Park Mall in Toledo and owned it for several decades.
He also was global co-head of health-care investment banking at Deutsche Bank AG and was managing director of real estate investment banking at Alex. Brown & Sons.
But this is the first chief executive position for Mr. DeRosa, who is relocating to Toledo from Aspen, Colo.
However, he has an extensive 22-year affiliation with Health Care REIT, working as an adviser to the company for 12 years and then spending the last 10 years on its board of directors.
"This is a unique situation here. It's highly unusual when you have a change in leadership to be able to have someone who is a quasi-insider," Mr. DeRosa said.
"When I started working with Health Care REIT in 1992, they only had about 10 employees," Mr. DeRosa said. The company now has about 400 employees and occupies a large corporate campus on Dorr Street that was formerly the headquarters of Dana Holding Corp.
"I was actually advising the company when George [Chapman] was an outsider. We ran around the world putting things in place," Mr. DeRosa said.
Beside having Mr. Chapman as an adviser, the company said it has created a new Management Committee of five company executives who will help oversee day-to-day operations.
Analyst Mike Carroll, of RBC Capital Markets, said most analysts expected Mr. Chapman to step down in the next year or two, so there is no fear that the company was unprepared for change.
"I think the company has positioned itself well. They have a pretty good bench of talent," Mr. Carroll said. "I think it will be a smooth transition."
Mr. Chapman joined Health Care REIT in 1992 as vice president and general counsel after a career as an attorney and senior partner at Shumaker, Loop & Kendrick LLC in Toledo.
In 1996, Mr. Chapman became chairman and CEO of Health Care REIT, which was founded as Health Care Fund in 1970 in Lima, Ohio, by Frederic D. "Fritz" Wolfe and Bruce G. Thompson. The two founders created the fund to finance the construction of nursing homes and hospitals for another company that eventually became Health Care & Retirement Corp. of America, and later HCR ManorCare.
"One of the things that is tremendous and differentiates us from others in the industry is our relationships with leading healthcare providers in the U.S., Canada, and the U.K. That has been the strategy that has made this company grow so tremendously," Mr. DeRosa said. "We are partners, we are deeply engaged in health care, and that's something that I plan to be more vocal about," he said.
"We have an opinion and a very valid viewpoint on the future direction of health care. I feel a company like HCN should be at the table to define the new model of health-care delivery in the future. And we will be turning up the volume a little bit."
Health Care REIT's shares fell 8 cents Monday to close at $61.69.
Contact Jon Chavez at: jchavez@theblade.com or 419-724-6128.
Guidelines: Please keep your comments smart and civil. Don't attack other readers personally, and keep your language decent. Comments that violate these standards, or our privacy statement or visitor's agreement, are subject to being removed and commenters are subject to being banned. To post comments, you must be a registered user on toledoblade.com. To find out more, please visit the FAQ.