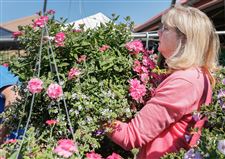 Janet Owens of Toledo leaves the Erie Street Market with a hanging plant she bought during the 25th annual Flower Day weekend. The event featured 30 area growers and thousands of shoppers.
THE BLADE/JETTA FRASER
Enlarge | Buy This Image
Toledo resident Tammy Phillips knew she had to have the 4-foot-tall decorative fairy treehouse made of carefully bent branches when she saw it.
"Everybody was looking at it and I knew if I didn't get it I would regret it," she said Sunday.
She and her husband delicately wrestled the piece into the back seat of their Ford Fusion, along with several potted plants, as the most colorful day of the year at the Toledo Farmers' Market celebrated its 25th anniversary.
Flower Day is known for its multitude of blooms in just about every shape and color. This year's event brought in 30 area growers to sell their plants and share their green-thumb knowledge, in addition to numerous vendors of garden art, specialty items, and food.
"It's been a fantastic weekend," Dan Madigan, market manager, said. "With the amount of people that have come out, you can tell there's that pent-up cabin fever and people want to get outside."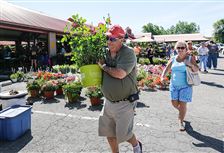 Pete Kaighin of Perrysburg carries a rose bush that he and his wife, Analie, right, bought Sunday at the Flower Day weekend event.
THE BLADE/JETTA FRASER
Enlarge | Buy This Image
Mr. Madigan said he expects about 50,000 people to visit over the course of the three-day market weekend, which began Friday and continues from 8 a.m. to 2 p.m. today at the South Erie Street farmers' market.
Growers were occasionally bringing in truckloads of additional inventory as their plants sold, so Mr. Madigan could only guess at the total number of blooms. "I'd say millions," he said, laughing. "I'm not counting."
Mr. Madigan theorized that a harsh winter that stretched into a chilly and wet spring has bumped up business at this year's Flower Day.
He wasn't alone in that belief.
Betty Jeffers of Grand Rapids-based Jeffers Greenhouse & Farm has sold plants at each Flower Day since its inception.
"I truly think this has been the busiest Flower Day the last 25 years," she said. "Everyone is ready to plant and they really want to be outside working on their yards and gardens."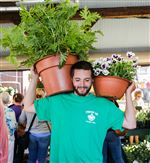 Walter Gray of Toledo, with Boy Scout Troop 68, carries plants for a buyer during Flower Day. Members of the troop volunteered to help customers at the event.
THE BLADE/JETTA FRASER
Enlarge | Buy This Image
Andy Keil, owner of Andy Keil Greenhouse in Swanton, said cool weather as recently as last weekend caused many residents to delay their plant purchases, further adding to the Flower Day weekend's crowds.
"We've been really busy," he said. "We've sold a lot of [hanging] baskets."
Mrs. Jeffers said the Toledo market gets bigger each year.
"This market is growing all the time," she said. "And that's good; it's bringing life back to this area."
Mrs. Phillips visits Flower Day each year, with her husband bringing the muscle and wallet, she joked.
"I like coming to the downtown area and supporting things like this," she said. "There's a great selection and it's something fun to do with the family."
Contact Alexandra Mester: amester@theblade.com, 419-724-6066, or on Twitter @AlexMesterBlade.
Guidelines: Please keep your comments smart and civil. Don't attack other readers personally, and keep your language decent. Comments that violate these standards, or our privacy statement or visitor's agreement, are subject to being removed and commenters are subject to being banned. To post comments, you must be a registered user on toledoblade.com. To find out more, please visit the FAQ.