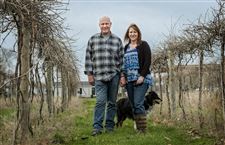 Doug and Laura Rufenacht with their dog Bingo stand near their Marquette grape vines at Majestic Oak Winery. The winery offers four whites, three reds, and two fruit wines. Last year it produced more than 3,000 gallons of wine.
THE BLADE/ANDY MORRISON
Enlarge | Buy This Image
Ohio's burgeoning wine industry is both one of the largest and the fastest-growing in the nation. But rather than learning the craft at renowned universities, a number of the state's most successful newcomers perfected their skills through trial and error in their own kitchens.
"I just got a lot of recipes and worked with them" said Laura Rufenacht, a project manager and marketing professional turned winemaker.
Two years ago, Mrs. Rufenacht and her husband, Doug, opened Majestic Oak Winery near Neapolis in western Lucas County. Both grew up around agriculture, but neither had made wine before they decided to open a vineyard and winery.
They were confident they could grow grapes. They were hopeful they could make wine.
"We talked with other winemakers, read, learned. Went to different one-day sessions and just gave it a go," Mrs. Rufenacht said.
Their experience isn't uncommon. Experts say a number of Ohio wineries are run by people who are essentially self-taught. Most who get into having a vineyard or making wine have some type of background in agriculture or chemistry, but relatively few are trained enologists or viticulturists. For those not up on their Greek and Latin, enology is the study of wine and winemaking; viticulture is the study of grapes.
The experiment has worked out well for the Rufenachts.
Majestic Oak has grown quickly, offering four whites, three reds, and two fruit wines. The Rufenachts say they produced more than 3,000 gallons of wine last year and may exceed 5,000 gallons in 2015. They make sweet and dry wines, and starting this year, they're brewing their own beer. All of it is sold only at the winery.
Mrs. Rufenacht quit her full-time job as a contract employee with a local health system to launch Majestic Oak, though she continues to teach part-time. Mr. Rufenacht drives a truck for a local grain company.
But they believe the winery is on track to support them eventually.
"It's really not that far off now," Mr. Rufenacht said. "We're hoping the beer helps us make that corner."
Though the Rufenachts have benefited from a rapidly growing industry, they've found success earlier than most.
"They've done it a little quicker than others have, but I think they've also got some good mentors up there they've worked with, and they had some good background coming in too. It's been fun to see the growth," said Christy Eckstein, the executive director of the Ohio Grape Industries Committee.
Ms. Eckstein said the state has 222 licensed wine producers. That's up nearly 80 percent from 2008. Forty permits have been issued in the last two years alone. The group says Ohio's wine industry is the fourth-fastest growing in the United States.
The majority of Ohio's wineries are small, with little to no retail store presence. There are exceptions, though.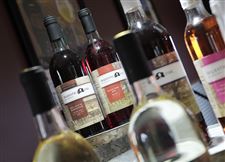 Sweet wines seem to be the best sellers for the Rufenachts, but they have popular dry wines too. And two wines are made exclusively from grapes they grow on site.
THE BLADE/ANDY MORRISON
Enlarge | Buy This Image
Firelands Winery in Sandusky, for example, sells its wines across Ohio, Michigan, Indiana, Kentucky, and Illinois. The winery, which was started in 1880, is co-owned by Claudio Salvador, a trained winemaker who grew up in Italy in a winemaking family.
Still, most Ohio wineries don't produce more than 5,000 gallons a year, and most don't have a classically trained winemaker like Mr. Salvador on board.
"I would say that for the most part your statement of many Ohio winemakers being self-taught is true," said Todd Steiner, an enologist at Ohio State University. "However, I think we must be cautious in coming to any direct conclusions relating to wine quality from this statement."
Mr. Steiner manages the enology program and is the outreach specialist at the university's Ohio Agricultural Research and Development Center in Wooster. He frequently works with people interested in getting into winemaking, and he has a counterpart at OARDC who helps with questions related to growing grapes.
"Sometimes if the desire is burning, a self-taught winemaker that makes the effort to learn the desired essential winemaking skills through online courses, annual conferences, workshops, and consulting with us at OSU/​OARDC can in fact make some world-class wines," Mr. Steiner said.
Between the research and development center and the Ohio Grape Industries Committee, which is housed in the Ohio Department of Agriculture and funded by an excise tax on wine sales in Ohio, a number of resources are available for aspiring and veteran winemakers. That ranges from what kind of grapes would be best for a particular property to laboratory research.
Others agree that a lack of formal training isn't necessarily a problem.
"If you went to Europe, you'd find a lot of the winemakers there aren't formally trained either," said Mark Ganchiff, publisher of the Midwest Wine Press. "It's a skill that's been passed through the generations."
Mr. Ganchiff said a number of Ohio winemakers have successfully made the jump from making wine as a hobby to making it on a commercial scale. And he said a number of very good wines are being made in the state.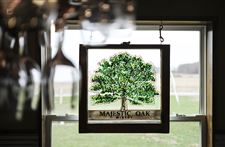 The Majestic Oak Winery is named for an old white oak tree that towers over the Rufenacht's pasture near Grand Rapids, Ohio. They grow four varieties of grapes on two acres.
THE BLADE/ANDY MORRISON
Enlarge | Buy This Image
"If you look at Ohio wines that have been entered in major competitions, a lot of them have done well. They can stand up to anything," he said.
For example, Kinkead Ridge Winery, based in Ripley, Ohio, southeast of Cincinnati, won a 2008 gold medal for its cabernet sauvignon in the Finger Lakes International Wine Competition, a major event with entries from all over the world.
Cooperation key
One thing that's helped many small-scale vintners in Ohio improve is the willingness to work together. In some ways, the smaller wineries operate almost as a loose co-op, going in to buy bottles together, for example, to get a better bulk price.
In fact, when the Rufenachts planted their first vines in 2010, they received help from Knotty Vines Winery in Wauseon.
"We aren't competition to each other, we don't view it that way," Mrs. Rufenacht said. "We share things with each other, we buy equipment together. We talk about problems we're having.
"We're farmers, we don't look at each other in that you don't share information or keep secrets."
Named for a very old, very large white oak tree that towers above the pasture, Majestic Oak has about two acres of vines where the owners grow four varieties of grapes, including cayuga and marquette.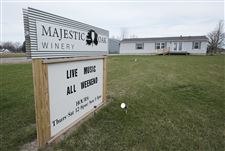 When the Rufenachts planted their first vines, Knotty Vines Winery in Wauseon helped them. Laura Rufenacht says that cooperative spirit is not unusual for small-scale vintners.
THE BLADE/ANDY MORRISON
Enlarge | Buy This Image
The climate largely dictates what kinds of grapes will do well in a particular area.
It's in the grape
Mr. Rufenacht said the plants themselves are relatively easy to grow. Getting a good-quality grape is the more difficult part.
About half the wine the Rufenachts produce comes from grapes grown on site. They also buy grapes and juices from other Ohio growers, partially because they can't yet grow enough grapes to make all the wine they can sell, and partially because they can get other types of grapes they might not be able to grow. But growing their own grapes is important to them. The Rufenachts would like to have seven or eight acres of grapes on their 11-acre plot.
"It started out and still is more about the agricultural part of it," Mr. Rufenacht said. "I love ag, everything about it. And where you're a farmer that produces field corn or soybeans or whatever, you're proud of what you're producing. Our wine is our product."
Though Mr. Ganchiff hasn't sampled the Rufenachts' wine, he praised Majestic Oak for its commitment to growing its own vines on site.
"Those are handmade, artisan wines," he said. "They reflect the soil they're grown in, the climate, and they're unique."
They haven't yet ventured much into entering wine competitions, but the Rufenachts say as their vines mature and their skills continue to grow, they anticipate doing so.
Sweet wines tend to be their top sellers, but they also have a number of popular dry wines. Two made exclusively from grapes they grow on site are the Cayuga White and the Mill House Marquette.
The Cayuga is a semidry white wine that pours nearly as clear as water. Though not sweet in a traditional sense, the wine carries a lot of citrus, floral flavors. It seems to be a great wine to sip underneath that big oak tree on a warm spring day.
The Mill House Marquette — named for the Mill House Bed and Breakfast in nearby Grand Rapids — is a medium-bodied ruby red wine that feels similar to a pinot noir. Marquette wines are relatively new, but growing in popularity throughout the region.
Prices range from $11.99 a bottle for the sweet, blended Shade Tree Red to $19.99 a bottle for the marquette.
And though Mr. and Mrs. Rufenacht don't have a formal wine education, someone in the family soon will. Their daughter is studying winemaking at Cornell University in New York. She won't be returning to Neapolis, at least right away.
"She's got a major education. Go use it," Mrs. Rufenacht said. "Just take our phone calls when we have a question."
Contact Tyrel Linkhorn at tlinkhorn@theblade.com or 419-724-6134 or on Twitter @BladeAutoWriter.
Guidelines: Please keep your comments smart and civil. Don't attack other readers personally, and keep your language decent. Comments that violate these standards, or our privacy statement or visitor's agreement, are subject to being removed and commenters are subject to being banned. To post comments, you must be a registered user on toledoblade.com. To find out more, please visit the FAQ.