For small businesses, arcane rules and needless bureaucracy can make a huge negative impact on the bottom line, which is why one of the first things Gov. John Kasich did after being elected in 2010 was create an agency to streamline rules and regulations that impact Ohio's business environment.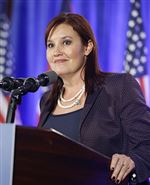 Mary Taylor spoke to Ohio's Small Busi­ness Ad­vi­sory Coun­cil meeting in Toledo.
ASSOCIATED PRESS Enlarge
Now in its fifth year, the Common Sense Initiative Office appears to have been effective in cutting red tape.
"We're at 59 percent of all the rules that we've reviewed that have a visible impact on business have been amended or rescinded because of the work of (the office)," said Lt. Gov. Mary Taylor, who heads the initiative.
In 2000, Ohio was ranked 10th in regulatory climate on Forbes magazine's annual list of the Best States for Business and Careers. Last year, it was 5th.
The lieutenant governor visited Toledo on Wednesday to address a meeting of Ohio's Small Business Advisory Council, a statewide nine-member panel created to review government rules and regulations and identify unnecessary burdens on Ohio businesses.
The meeting, held at the offices of the Toledo Regional Chamber of Commerce, also was attended by about 20 local business leaders. The meeting featured the lieutenant governor, Public Utilities of Ohio Commissioner Beth Trombold, and representatives from the taxation and the administrative services departments.
Ms. Taylor was there to introduce council members and attendees to a new Web-based Small Business Toolkit created to generate more feedback from small business owners.
"We want to make it easier for them to be part of the rulemaking process," she said. The tool would let business owners know when a rule is proposed and allow them to review and comment on it.
During an early session of the council meeting, Ms. Trombold discussed Ohio's rapidly evolving energy landscape and the many challenges the PUCO faces in regulating it. "In every decision we're balancing reliability and cost," she said.
She said she could not talk about cases still pending, such as a PUCO ruling in April allowing FirstEnergy Corp. to collect a subsidy to support it W.H. Sammis coal-fired plant and its Davis-Besse nuclear plant near Oak Harbor. The ruling later was struck down by the Federal Energy Regulatory Commission which ordered a review of the plan.
Fifteen years ago Ohio's energy footprint was dominated by coal-fired electric generation but in 2015 natural gas and renewables are nearly half of that footprint, Ms. Trrombold said. With natural gas prices so low right now, the temptation is to go all in on natural gas.
But Ms. Trombold said her regulatory board must consider whether natural gas prices will stay so low, and if not, what does that mean for other methods of producing electricity.
Contact Jon Chavez at: jchavez@theblade.com or 419-724-6128.
Guidelines: Please keep your comments smart and civil. Don't attack other readers personally, and keep your language decent. Comments that violate these standards, or our privacy statement or visitor's agreement, are subject to being removed and commenters are subject to being banned. To post comments, you must be a registered user on toledoblade.com. To find out more, please visit the FAQ.