Brace yourself, Toledo. A second wave is coming.
A little more than a year ago, the area was in the process of getting five new hotels that were adding nearly 500 rooms to the local total.
But after taking a small break, the hotel building process has recommenced.
Over the next two to three years, the area will add five more hotels, see the reopening of a sixth hotel, and possibly a seventh if a project to refurbish the partially demolished Hotel Seagate moves forward. Meanwhile, two additional hotels that began construction in 2015 opened this year.
"There was a need for rooms of higher quality than was the average in Toledo for a while. The proof is that the new rooms are generating occupancy but at higher average room rates than the older inventory," said Rich Nachazel, president of Destination Toledo, which oversees the area's convention and tourism activities.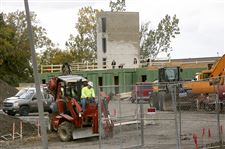 Construction continues on the Home2 Suites hotel by Hilton in Maumee. The hotel, being developed by Forever Real Estate LLC, will be at 1701 Toll Gate Drive, near the Ohio Turnpike.
THE BLADE/KATIE RAUSCH
Enlarge | Buy This Image
Key Hotel & Property Management Inc., which built four hotels in that first wave of construction, is back for more.
Recently, the Toledo-based firm announced it had acquired the Ramada Toledo Hotel and Conference Center on Secor Road, which it will demolish to make room for a 111-room Courtyard by Marriott and a 111-room Residence Inn by Marriott.
Key Hotel, which opened a 112-room Holiday Inn Express & Suites in January at the northwest corner of State Rt. 25 and Roachton Road in Levis Commons in Perrysburg, says it plans to build a second hotel adjacent to the Holiday Inn Express.
The new hotel, which hasn't been officially announced, will be a 101-room TownePlace Suites by Marriott. Construction will start in December.
Key Hotel also is in negotiations to obtain the former Hotel Seagate and turn the 19-story downtown building on Summit Street back into a 262-room hotel. The county-owned property opened as a Holiday Inn in 1970, and operated under various flags before closing in 2009.
But the wave doesn't stop there.
On Wednesday, Gateway Hospitality Group of Twinsburg, Ohio, broke ground on a four-story, 105-suite Home2 Suites by Hilton at Levis Commons on a site adjacent to the existing Hilton Garden Inn. The hotel, expected to be a bit more upscale than the Hilton Garden Inn, will be open by the third quarter of 2017.
But it won't be the first Home2 Suites by Hilton in the metro Toledo market.
A month ago, workers began constructing a 105-suite Home2 Suites on Toll Gate Drive in Maumee near the Ohio Turnpike. It is being developed by Forever Real Estate LLC, a group that includes Manoj "Mike" Desai. Mr. Desai owns the nearby Holiday Inn Express/​Splash Bay Waterpark hotel.
And there are more rooms available since this time last year.
A new four-story 97-room Courtyard Marriott hotel at 5875 Hagman Rd. in North Toledo near Alexis Road and I-75 opened this fall.
The hotel, developed by Surati Investment LLC of Bridgeville, Pa., a company owned by businessman Dharmesh Surati, was the second hotel constructed by Mr. Surati since 2012.
Downtown, Chicago-based First Hospitality Group Inc. is remodeling its soon-to-be Renaissance Toledo Downtown Hotel, a $25 million renovation to be finished by March 1 that will completely remake the 13-story, 241-room hotel on North Summit Street.
Jim Zaleski, owner of the Secor Building downtown, finally has tax credits to turn the historic building into a boutique hotel.
Ohio Historic Preservation Tax Credit incentives were the key to financing a $35.7 million project to convert the 10-story building into a 144-room luxury hotel. The credits were awarded earlier this year.
In 2010, the Toledo area had 79 hotels and 7,766 rooms. As of September, it stands at 83 hotels and 7,805 rooms.
Tony Vetter, director of sales for Destination Toledo, said while residents might look at the wave of projects and think some overbuilding is taking place, the new rooms are needed.
"Meeting planners are always looking for something new that will attract them to your area. And event planners like to impress their people, so all this new stuff coming online is definitely a plus," Mr. Vetter said.
"They all have a niche they fill," Mr. Vetter said. "During the week, they get a lot of corporate visitors, and on weekends they have a lot of rooms they fill with tourists."
Wedding parties and sports teams are always looking for rooms, but they don't have the same needs.
"If you're a wedding, you usually need ballroom space, and if you have rented a nearby VFW or meeting hall, you just need rooms. The thing is, each group is different and that's why you need the wide variety of hotels to accommodate everybody's needs," Mr. Vetter said.
"I think with the hotels we have coming online and the one that came online in just the last few years, I think it's a very good mix," he added.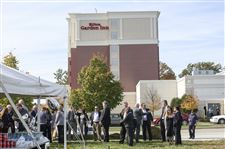 Guests gather for a groundbreaking ceremony last week for a new hotel at Levis Commons in Perrysburg. The Home2 Suites by Hilton is being built next to the Hilton Garden Inn.
THE BLADE/KATIE RAUSCH
Enlarge | Buy This Image
Tourism is big business in Lucas County.
In 2015, tourism sales volume totaled $2 billion, according to the data firm Tourism Economics. Approximately 8.1 million visitors came to Lucas County in 2015, and 1.61 million of them stayed overnight.
Statewide, Ohio hotels averaged 56 percent occupancy through August of this year, but in Lucas County the figure was 61.1 percent.
Lucas County room revenue through August totaled $59.5 million, up $5.4 million, or 10 percent, over the same period a year ago, according to Smith Travel Research.
"Those trends, it appears, will continue through year end," Mr. Nachazel said.
What is bringing visitors to metro Toledo?
Major attractions like the Toledo Museum of Art and the Toledo Mud Hens. Also bringing people to town? Orange barrels.
"All this aggravating road work that we've had on the side is a benefit because it's brought crews into town that have worked on the road projects," Mr. Nachazel said.
Jon Roumaya, president of Key Hotel, said the two waves of hotel construction are in response to older facilities that no longer fit the needs of most travelers.
"I would call it, 'Out with the old and in with the new.' You have a lot of the older products, and the business guys are not staying at those hotels anymore. Consequently, their values have gone down. It's a nationwide thing," Mr. Roumaya said.
"It's just like the Ramada here that we purchased on Secor Road. That was great back in the day, but a lot of your business guys now stay at Hamptons or Marriotts or Holiday Inns. They don't want to stay at [a full service] kind of place anymore," he added.
"It's kind of the same thing downtown. You don't have a lot of product there. They need something with a new name," he said.
Mr. Vetter said the Renaissance and a remodeled Hotel Seagate would let Destination Toledo finally sell planners on the downtown SeaGate Convention Centre like it was meant to be sold.
Officials say the convention center needs 600 committable rooms — rooms not contracted ahead of time by corporations and others — to make it viable and utilized to its fullest extent. Currently, the adjacent Park Inn only has about 300 committable rooms
For some conventions, visitors can stay at nearby hotels and bus to the convention center. But Mr. Vetter said large groups are reluctant to do that, and it makes it difficult for them to take advantage of downtown amenities.
The Renaissance and a Hotel Seagate could throw another 381 rooms or so somewhere into that equation, Mr. Vetter said, enabling large conventions to stay downtown and walk about.
Contact Jon Chavez at: jchavez@theblade.com or 419-724-6128.
Guidelines: Please keep your comments smart and civil. Don't attack other readers personally, and keep your language decent. Comments that violate these standards, or our privacy statement or visitor's agreement, are subject to being removed and commenters are subject to being banned. To post comments, you must be a registered user on toledoblade.com. To find out more, please visit the FAQ.