The Andersons Inc. was in a rough period two years ago, but taking some hard medicine and focusing on short-term and long-term goals is bringing the company back around to where it needs to be, top company executives said Thursday.
"I like to win and I didn't like the last two years," Pat Bowe, the president and CEO of the Monclova Township-based agribusiness told investors and Wall Street analysts attending the company's 2017 Investor Day presentation held in New York City. "But we will deliver against our promises. We've done it before and we can do it again.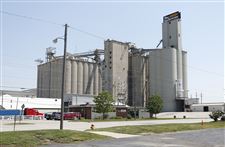 In the near term, The Andersons feels it can grow its grain market share by 20 million bushels. Long term, it would like to reach 40 million bushels in the next three to five years.
The Blade
Enlarge | Buy This Image
During the half-day presentation, executives of The Andersons' grain, ethanol, rail, and plant nutrients groups spoke about where each division is and where it is headed.
Grain, which is the engine that mainly helps drive the other three, is "clearly in a trough," division president Corey Jorgenson said.
In 2013 it took in $72 million in adjusted earnings before interest, taxes, depreciation, and amortization. But that dwindled to $11 million last year and even though it's at $25 million through the third quarter, Mr. Jorgenson told analysts the company could stand to diversify within the division.
"We need to build more resilient [revenue] streams to help weather the peaks and valleys of grain," he said.
The macro trends in grain show a growing global middle class, which will mean increasing new demand to grow crops and add storage capacity.
The Andersons is poised to take advantage of that, but "we need to be better at what we do," he said.
In the near term, the company feels it can grow its grain market share by 20 million bushels, or by a $2 million gross profit over the next two years. Long term, it would like to reach 40 million bushels in the next three to five years.
The ethanol group, which produces 475 million gallons annually of the fuel additive, making it a top 10 producer, won't have more capacity to add to that production, but division president Mike Irmen outlined some strategies the company might use to increase revenues.
The company is looking at adding new "bolt-on" technologies that could allow plants to make a higher protein distillers dried grain, which is a by-product of the ethanol-making process.
The Andersons also believes its future includes making cellulosic ethanol from corn kernel fiber feedstock.
Corn oil is another by-product, and its value could be enhanced by refining the oil to food-grade quality, Mr. Irmen said.
The company stores or trades 550 million bushels of grain, soybeans, or wheat annually, has a fleet of 23,000 rail cars, produces 475 million gallons of ethanol, and makes 2 million tons of plant nutrients. Those four results get a lot of attention, Mr. Bowe said.
But the CEO said something the company is doing that hasn't gotten a lot of attention but holds great promise is its adoption of new technologies to help all its divisions.
For example, it now uses new digital tools like a grain web portal and "crop coach" software that advises farmers on how to maximize yields with customized product recommendations.
"It's an exciting time in agriculture with the merging of technology. We're not the biggest of the big so we need to be fast and agile," Mr. Bowe said.
On the Nasdaq market Thursday, The Andersons stock gained 75 cents and closed at $32.30 a share.
Contact Jon Chavez at jchavez@theblade.com or 419-724-6128.
Guidelines: Please keep your comments smart and civil. Don't attack other readers personally, and keep your language decent. Comments that violate these standards, or our privacy statement or visitor's agreement, are subject to being removed and commenters are subject to being banned. To post comments, you must be a registered user on toledoblade.com. To find out more, please visit the FAQ.