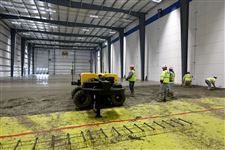 Rudolph-Libbe employees create a concrete floor for the addition to a Johnson Controls plant in Holland, Ohio.
THE BLADE/JETTA FRASER
Enlarge | Buy This Image
UNDER CONSTRUCTION: JOHNSON CONTROL PLANT IN HOLLAND
Rudolph-Libbe employees poured a 9-inch thick floor at a 23,200-square-foot addition to the Johnson Controls plant at 10300 Industrial Dr. in Holland. Employees used a laser-guided screed machine to ensure a level floor.
ACHIEVEMENTS
■ Mark Shaver, a vice president of business development and strategic alliances at Johns Hopkins Medicine, has been hired as senior vice president at Toledo-based Welltower Inc., a real estate investment trust.
Business Achievements, with news of management promotions, corporate board appointments, and awards, runs each week. Send announcements by email to business@theblade.com or by fax to 419-724-6147. Write "Business Achievements" in the message field.
CALENDAR
■ The Defiance Area Chamber of Commerce holds its first Friday luncheon at noon Friday at the Sweetwater Chophouse, Defiance. Speaker: State Rep. Craig Riedel. Cost: $15 for members, $20 for others. For information, contact by email marketing@defiancechamber.com.
Notice of business meetings must be received by The Blade 10 days before the event. Email items to business@theblade.com or fax to 419-724-6147. Write "Business Calendar" in the message field.
CONVENTIONS
Listings include organizations, headquarters, and number of attendees expected as estimated by Destination Toledo:
Friday-Sunday — Forty-Frame Game Bowling Tournament, various properties, 200, regional.
PATENTS
The following U.S. Patents were granted to inventors in Lucas, Fulton, Wood, Lenawee, and Monroe counties and published in the Official Gazette of the Patent and Trademark Office during November, 2017. For more information, call the Toledo Lucas County Public Library, Business Technology Department at 419-259-5209.
#9,815,593: Container having a use indicator. Assigned to: Owens-Brockway Glass Container Inc., Perrysburg. Michael J. Whitton, Melbourne, Australia; Roger P. Smith, Perrysburg; Jessica R. Bryant, Toledo, and Diana Darvish, Anatoly Solunin, and Nikolay Taratin, Saint Petersburg, Russia.
#9,816,207: Two-step sulfonation process for the conversion of polymer fibers to carbon fibers. Assigned to: Dow Global Technologies LLC, Midland, Mich. Bryan E. Barton, Jasson T. Patton, and Eric J. Hukkanen, Midland, Mich., and Mark T. Bernius, Bowling Green.
#9,816,316: Coated article with IR reflecting layer and method of making same. Assigned to: Guardian Glass LLC, Auburn Hills, Mich., and Centre Luxembourgeois de Recherches pour le Verre et la Ceramique SA, Luxembourg. Jingyu Lao, Saline, Mich.; Philip J. Lingle, Temperance; Brent Boyce, Novi, Mich.; Bernd Disteldorf, Mettlach, Germany, and Richard Lino Blacker, Lakes, Minn.
#9,816,796: Guide-rail straightness tester. Assigned to: Wurtec Inc., Toledo. Steven P. Wurth, Sylvania; Terry Rodebaugh, Whitehouse, and Douglas Scott, Grosse Ile, Mich.
#9,818,822: System for glass sheet semiconductor coating and resultant product. Assigned to: Willard & Kelsey Solar Group LLC, Perrysburg. James E. Heider, Bowling Green; Michael J. Cicak and Gary T. Faykosh, Perrysburg, and Leo Adoline, Temperance.
#9,821,008: Inhibitors of ERCC1-XPF and methods of using the same. Assigned to: University of Toledo. Stephan M. Patrick, Paul W. Erhardt, and Christopher Trabbic, Toledo.
#9,821,810: Method and system for heating auxiliary battery of vehicle. Assigned to: Not assigned. Allan Roy Gale, Livonia, Mich.; Bruce Carvell Blakemore, Plymouth, Mich., and Paul Theodore Momcilovich, Tecumseh, Mich.
#9,822,027: Glass furnace with bottom material feed. Assigned to: Owens-Brockway Glass Container Inc., Perrysburg. Zhongming Wang, Ypsilanti, Mich.; Scott Weil, Maumee; Tilak Gullinkala, Udaya Vempati, and Shivakumar S. Kadur, Perrysburg.
#9,822,446: Thermally stable volatile precursors. Assigned to: Wayne State University, Detroit. Charles H. Winter, Bloomfield Hills, Mich., and Thomas J. Knisley, Monroe.
#9,822,526: General purpose insulation bag. Assigned to: Owens Corning Intellectual Capital LLC, Toledo. David M. Cook, Granville, Ohio; Julie Pope, Monroe, and Paul B. Machacek, Wheaton, Ill.
Guidelines: Please keep your comments smart and civil. Don't attack other readers personally, and keep your language decent. Comments that violate these standards, or our privacy statement or visitor's agreement, are subject to being removed and commenters are subject to being banned. To post comments, you must be a registered user on toledoblade.com. To find out more, please visit the FAQ.