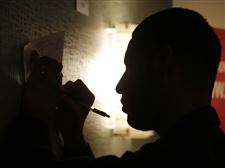 ASSOCIATED PRESS Enlarge
Ohio's jobless rate dipped further in December, falling to 4.7 percent — the lowest state unemployment has been overall since October of 2015 — according to new figures released Friday by the Department of Job and Family Services.
Unemployment was 4.8 percent in November, and it was 5 percent in December of 2016. The rate also marked the lowest rate for December since 2000, figures show.
The number of workers without jobs in Ohio in December totaled 270,000, down 9,000 from November. The state said the number of unemployed workers has decreased by 14,000 throughout the past 12 months from 284,000.
The U.S. unemployment rate for December was 4.1 percent, unchanged from November. It was down from 4.7 percent in December of 2016.
John Augustine, chief investment officer of the $17 billion Huntington Private Bank, an investment arm of Columbus-based Huntington Bank, said although Ohio's jobless rate is behind the national rate, the expectation is that gap will continue to close slowly as the manufacturing industry revives in the state.
Lucas County, and most of northwest Ohio is doing relatively better than the state as a whole, Mr. Augustine said. "Most of upper unemployment numbers come from the southeast part of the state," he said.
However, economists are more concerned about labor participation rates than unemployment, Mr. Augustine added.
"The question is will those who are able to work come back into the workforce?" he said. Labor participation has inched up slowly, suggesting that "a new pool of workers are close to rejoining the workforce," he said.
As minimum wage rates increase, the state is likely to see more workers returning to the workforce, Mr. Augustine said. Employers would welcome that news because there remains a shortage of workers.
The new state figures show:
● Manufacturing added 3,500 jobs in December.
● Leisure and hospitality added 2,200.
● Financial activities added 1,600.
● Educational and health services added 800.
● Construction lost 1,700 jobs.
● Mining and logging lost 600.
● Professional and business services lost 3,500.
● Trade, transportation, and utilities lost 500.
Looking closer at employment and unemployment, Mr. Augustine said there's a growing dichotomy in wages. Blue collar job wages are rising, but white collar wages are being suppressed.
"That's the big conundrum that economists from the Fed on down are thinking about," Mr. Augustine said. "They keep wondering: when will wages overall go up?"
Part of the problem is the labor pool is unbalanced, Mr. Augustine said. There's a shortage of blue collar workers and a surplus of white collar workers.
It may be time, he said, for young people close to entering the workforce to consider careers that do not involve college, such as the skilled trades.
"That's hopefully going to be a discussion a lot of parents are going to be having with their children," he said.
Contact Blade Business Writer Jon Chavez at jchavez@theblade.com or 419-724-6128.
Guidelines: Please keep your comments smart and civil. Don't attack other readers personally, and keep your language decent. Comments that violate these standards, or our privacy statement or visitor's agreement, are subject to being removed and commenters are subject to being banned. To post comments, you must be a registered user on toledoblade.com. To find out more, please visit the FAQ.