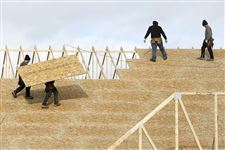 Workers frame up and roof a new medical building Tuesday, January 30, 2018, in the Harbor Town Place complex in Perrysburg.
THE BLADE/KATIE RAUSCH
Enlarge | Buy This Image
UNDER CONSTRUCTION
Work continues on a 15,000-square-foot medical office building in the Harbor Town Place development off State Rt. 25 in Perrysburg. The building, at 7045 Lighthouse Way, has been leased for family medicine doctors affiliated with St. Luke Hospital, said Don Helvey, the real estate broker handling the project. Ridge Stone is the builder and construction is to be finished by July 1, Mr. Helvey said.
ACHIEVEMENTS
■ Cooper Tire & Rubber Co.'s board has promoted Jerry Bialek as vice president and treasurer. He will continue to head investor relations and he replaces Tom Lause as treasurer, who retired.
■ Welltower Inc., a Toledo real estate investment trust, has promoted Joe Weisenburger to senior vice president, Business Development from vice president, Business Development.
■ Financial services firm Rehmann has named Ryan Whitman a principal in the firm in its Toledo office.
Business Achievements, with news of management promotions, corporate board appointments, and awards, runs each week. Send announcements by email to business@theblade.com or by fax to 419-724-6147. Write "Business Achievements" in the message field.
CALENDAR
■ The Toledo Club Toastmasters will meet at 7 a.m. Friday on the fifth floor of the Toledo Club at 14th Street and Madison Avenue, downtown Toledo. Open to the public and free. For more information, go online to toledoclub.toastmastersclubs.org.
Notice of business meetings must be received by The Blade 10 days before the event. Email items to business@theblade.com or fax to 419-724-6147. Write "Business Calendar" in the message field.
CONVENTIONS
Listings include organizations, headquarters, and number of attendees expected as estimated by Destination Toledo:
■ Friday-Sunday — Forty Frame Game Bowling Tournament, various properties/​Bowlero Lanes, 200, regional.
■ Saturday-Sunday — Great Lakes Cat Consortium-My Stormy Valentine Cat Show, Red Roof Inn Holland/​Lucas County Recreation Center, 500, regional.
TRANSITIONS
■ ViaQuest Inc., a health-care company at 1921 E. Gypsy Lane Rd., will have a ribbon-cutting ceremony at 1:30 p.m. Thursday.
■ Pak Mail, 6423 Monroe St. in Sylvania, is now a U-Haul product dealer.
Business Transitions, which include business moves and openings, should be sent by email to business@theblade.com or by fax to 419-724-6147. Write "Business Transitions" in the message field.
Guidelines: Please keep your comments smart and civil. Don't attack other readers personally, and keep your language decent. Comments that violate these standards, or our privacy statement or visitor's agreement, are subject to being removed and commenters are subject to being banned. To post comments, you must be a registered user on toledoblade.com. To find out more, please visit the FAQ.