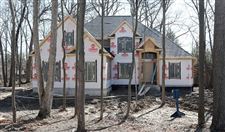 A home under construction in the Preserve development off of North Texas Street Tuesday, February 27, 2018 in Whitehouse.
THE BLADE/DAVE ZAPOTOSKY
Enlarge | Buy This Image
UNDER CONSTRUCTION
Construction has begun on The Preserve of Whitehouse, a luxury home development on North Texas Road with lots of 1 to 4 acres. The first house is being built in the first phase, which has 13 lots, all of which have been sold. The second phase will have 19 wooded lots, four of which are under contract. Each home buyer is to hire his or her own builder. Homes are to be priced $450,000 to $1 million; lots are $90,000 to $185,000. Leading the development are Dave Kerscher and David Miller.
ACHIEVEMENTS
■ Walbridge construction contractor Rudolph Libbe Group, for the downtown Toledo ProMedica headquarters project, has received the Construction Risk Partners Build America Award from the Associated General Contractors of America for the best building-renovation project valued between $10 million and $99 million for 2017.
■ The Andersons Inc., a Monclova Township agribusiness, said Anne Rex, vice president and corporate controller, will be interim chief financial officer after the departure of CFO John Granata.
■ Recipients of three key honors from the 2018 American Advertising Federation — Toledo ADDY Awards were: Best of Show for Madhouse for its Great Adventure Video Campaign for Purdue Research Foundation, Silver Medal Award to Judy McFarland of Thread Marketing Group, and 2018 Honorary ADDY for Community Partnership to Russ Grycza, a Penta Career Center instructor.
■ Krista Kenney has been named branch operations manager for Citizens National Bank at 3130 Executive Parkway in Toledo, which is to open March 26.
■ Bradley Rucki has been hired as a project manager by Dunbar Mechanical in Toledo.
Business Achievements, with news of management promotions, corporate board appointments, and awards, runs each week. Send announcements by email to business@theblade.com or by fax to 419-724-6147. Write "Business Achievements" in the message field.
Home2 Suites by Hilton in Perrysburg.
THE BLADE/JEREMY WADSWORTH
Enlarge | Buy This Image
CALENDAR
■ The Toledo Club Toastmasters will meet at 7 a.m. Friday on the fifth floor of the Toledo Club at 235 14th St., downtown Toledo. Improve your ability to speak in public. Open to the public and free. For more information, go online to toledoclub.toastmastersclubs.org.
Notice of business meetings must be received by The Blade 10 days before the event. Email items to business@theblade.com or fax to 419-724-6147. Write "Business Calendar" in the message field.
CONVENTIONS
Listings include organizations, headquarters, and number of attendees expected as estimated by Destination Toledo:
■ Monday-Friday — HCR ManorCare Impact Training, Park Inn by Radisson, 25, national.
■ Friday-Sunday — Catholic Youth Organization State Basketball Tournament, Radisson at UTMC/​CYO Complex, 500, state.
■ Friday-Sunday — Forty Frame Game Bowling Tournament, various properties/​Bowlero Lanes, 150, regional.
■ Friday-Sunday — U.S./​Midwest Tennis Association - Level 3 Tournament, Courtyard by Marriott/​Twos Athletic Club, 100, regional.
■ Saturday-Sunday — Fantasticon S5-EP17, Park Inn by Radisson/​SeaGate Convention Centre, 3,000, regional trade show.
TRANSITIONS
■ Home2 Suites by Hilton, with its 105 suites, has opened at 5995 Levis Commons Blvd., Levis Commons, in Perrysburg.
■ Gypsie Soul boutique is moving to 408 Louisiana Ave. in Perrysburg from 123 Louisiana Ave.
Business Transitions, which include business moves and openings, should be sent by email to business@theblade.com or by fax to 419-724-6147. Write "Business Transitions" in the message field.
Guidelines: Please keep your comments smart and civil. Don't attack other readers personally, and keep your language decent. Comments that violate these standards, or our privacy statement or visitor's agreement, are subject to being removed and commenters are subject to being banned. To post comments, you must be a registered user on toledoblade.com. To find out more, please visit the FAQ.