Public companies have long been required to tell investors how much they pay their top executives but, starting this year, that information must be paired with another disclosure — how much they pay their median worker.
As one might expect given the rapid rise in CEO compensation over the past few decades, that's leading to some eye-popping figures that critics say illustrate just how vast income inequality has become in the United States.
Marathon Petroleum President and CEO Gary Heminger received a compensation package worth $19.7 million last year.
The Blade/Katie Rausch
Enlarge | Buy This Image
"I think people are going to be really interested in seeing these pay gap numbers come out and we'll see where it heads," said Sarah Anderson, director of the global economy project at the left-leaning Institute for Policy Studies. "There is interest to build on the disclosure and to put real teeth into the issue of corporate pay equity."
Take, for instance, Marathon Petroleum Corp.
The Findlay-based refining company said its global median employee was paid $21,034 last year. Chief Executive Officer Gary Heminger received a package worth $19.7 million — 935 times that of the median employee.
Put another way, it would take nearly a millennium for the median worker at Marathon Petroleum Corp. to earn the same amount the CEO was paid just last year.
Marathon is on the extreme end of the spectrum, but it's hardly the only corporation where there's a wide chasm between what top executives are paid and what the average worker makes.
Matt Ouimet, the CEO of amusement park operator Cedar Fair LP, was paid 431 times more than his company's median employee. Jim Kamsickas, the top man at automotive parts supplier Dana Inc., received a compensation package 246 times larger than Dana's median employee. Owens-Illinois Inc. CEO Andres Lopez made 197 times more than the median employee at the Perrysburg-based building materials firm.
All of the figures come from public filings with the United States Securities and Exchange Commission.
Welltower Inc. CEO Thomas J. DeRosa. The median employee at Welltower, a Toledo-based real estate investment trust, was paid nearly $91,000, the highest employee median among the 12 local companies The Blade reviewed.
The Blade/Jeremy Wadsworth
Enlarge | Buy This Image
The requirement for public firms to disclose the gap between what they pay their CEOs and what they pay workers came out of legislation passed in the aftermath of the Great Recession. Like the say-on-pay advisory votes, the measure was, in part, meant to add more accountability in the face of rising income inequality.
"It's not just about being disgusted by someone making a lot of money, it's the other effects of that obscene level of pay that really affect everybody," Ms. Anderson said. "In general, we're in a situation where we've had wage stagnation in this country. We haven't had a raise in the minimum wage in almost 10 years. I think we, in general, also need to focus on lifting up the bottom."
There's no question the men and women at the top of America's corporate ladder have enjoyed far bigger raises than the rest of the country's workers.
The Economic Policy Institute, for example, calculated that CEO compensation rose 937 percent between 1978 and 2016. The liberal think tank noted the average worker saw an 11 percent raise over that time.
Experts say it's far from clear what these new disclosures will mean for publicly traded companies or how shareholders will react — if they react at all.
"We already knew that CEO pay was high, we already knew there was going to be a big gap between most companies and their median worker," said Dan Marcec, director of content at Equilar, an executive data firm. "The thing we're learning is a little bit more about these companies' employee bases and what comprises those."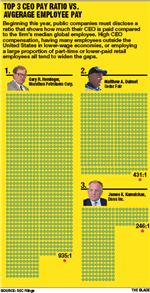 THE BLADE
Enlarge | Buy This Image
Though there's a standard formula for reporting executive compensation, the SEC gives companies some leeway into how they calculate the median employee compensation. Even so, the filings offer a window — albeit an imperfect one — into the work force at some of the country's largest and most powerful companies.
Walmart, the nation's largest retailer and top company on last year's Fortune 500 list, reported its median employee made $19,177 last year, while the company's CEO was paid $22.8 million. On the flip side of that, Google's parent company Alphabet Inc. said its median employee was paid $197,274 while CEO Larry Page drew a salary of just $1.
The disclosures can also show just how much companies rely on foreign labor, part-time labor, or white-collar workers.
In its filing with the SEC, Cedar Fair said nearly three-quarters of its work force is seasonal. As such, company's median employee was paid just $10,306 last year, contributing to the comparatively large pay gap.
Marathon's 935-to-1 ratio was also skewed by its reliance on part-time workers at its Speedway gas stations. The company said about 29 percent of its 44,000 employees were part-time retail employees. Marathon reported that another 44 percent of its work force were full-time employees at Speedway. Those lower-paid workers dragged down the company's reported median income to $21,304.
Marathon noted in its SEC filing that, excluding the Speedway division, its median wage was closer to $126,000 a year, which would lower the ratio to 156-to-1. Marathon declined to comment beyond what was included in its filing.
Libbey, meanwhile, defined its median employee as a full-time, hourly worker in Mexico making the equivalent of $14,106 per year.
"As a truly global company, approximately 71 percent of Libbey employees are located outside the U.S.," the company said in a statement to The Blade. "The majority of our employees are paid hourly and covered by collective bargaining agreements, and most are full-time employees. In addition, we provide all of our employees with wages and benefits that comply with local and national laws, or, if higher, prevailing local industry practices, of the respective jurisdictions in which our employees work."
Compare that to the Toledo-based real estate investment trust Welltower Inc., which noted its median employee was paid nearly $91,000. That was the highest employee median among the 12 companies The Blade reviewed, and put Welltower among the lower pay gaps, in spite of its CEO being the third most highly compensated in the region.
The narrowest gaps locally were at the region's publicly traded banks. SB Financial Group Inc. was the lowest, with a ratio of about 16-to-1.
There certainly are outliers with gaudy-looking differences. Mindy Grossman, the CEO at Weight Watchers International, was paid 5,908 times that of the company's median employee — likely the biggest gap reported. The company noted that gap was so large primary on account of several one-time bonuses worth $26.3 million, and the fact that the majority of its employees were part-time. In its filing with the SEC, Weight Watchers noted its median employee worked 10.7 hours per week.
Still, experts have said the average ratio is actually coming in slightly lower than expected.
According to the human resources consulting firm Mercer, the median ratio among 1,400 companies that had reported to the SEC as of mid-April was about 66-to-1. Among the companies that make up the S&P 500, the ratio was about 154-to-1.
"I think it's good information in terms of comparing what's being paid in various areas for various industries. It's new information that we didn't have. That's good, in itself, for transparency, but to get to an overarching 'there's something wrong here, there's something that needs fixing,' we're not seeing it," said Aaron Pedowitz, an executive compensation and benefits consultant at Mercer.
Mr. Pedowitz said the bigger question is what are ratios going to look like from year-to-year.
While there was hope from some activist shareholders and other proponents of the rule that the disclosures might somehow shame corporate boards into addressing the pay disparity, most experts don't see that happening. Even with a big corporate tax cut, there's been little evidence that public companies have been doling out significant across-the-board raises for employees.
"It's just not happening. The ratio's going to get wider," said Al Candrilli, a partner at Organizational Consulting Group in Avon, Ohio. "In reality, we haven't seen any shareholder revolts, we haven't seen any major public protests. Basically, what we've seen are articles in newspapers and magazines."
Contact Tyrel Linkhorn at tlinkhorn@theblade.com, 419-724-6134, or on Twitter @TyrelLinkhorn.
Guidelines: Please keep your comments smart and civil. Don't attack other readers personally, and keep your language decent. Comments that violate these standards, or our privacy statement or visitor's agreement, are subject to being removed and commenters are subject to being banned. To post comments, you must be a registered user on toledoblade.com. To find out more, please visit the FAQ.