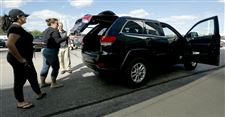 Paige Davis, 19, left, and her mom Tara Davis are shown a Jeep Grand Cherokee by sales advisor Ben Swonger to test drive at Yark Chrysler Jeep Dodge Ram in Toledo.
BLADE/LORI KING Enlarge
Big September sales at Jeep and Ram carried Fiat Chrysler Automobiles to an overall 15 percent monthly increase, bucking an industry slowdown.
Sales for the Jeep brand in September jumped 14 percent to 83,764 vehicles. It was the sixth time this year that monthly Jeep sales exceeded 80,000 and a ninth straight month of record sales, Fiat Chrysler said in its sales release.
RELATED: Jeep sales up as other carmakers slump | FCA wants sale of Jeep look-alike stopped
The Jeep Wrangler's consecutive sales streak of five months over 20,000 vehicles ended in September. Jeep sold 15,983 of the Toledo-built brutes, a 2 percent gain over the year-earlier September. The next-generation Wrangler had been over 20,000 in monthly sales since launching from the Toledo Assembly Complex in April.
Ram, Fiat Chrysler's truck brand, chipped in another 9 percent gain in September sales. Ram sold 56,447 of the typically high-margin vehicles vs. 51,686 in September, 2017.
Taken together, Fiat Chrysler sold 199,819 vehicles in September, about 75 percent of which were sold at retail and the other 25 percent to fleets, such as rental car companies.
Unlike most of its competitors, Fiat Chrysler, with its pickup and SUV-heavy sales mix, was able to overcome a softening industry environment.
General Motors, for instance, saw its September sales drop 14 percent, while Ford Motor Co.'s slumped 11 percent.
Toyota's sales fell 10 percent, Nissan by 12 percent and Honda by 7 percent.
New vehicle sales are starting to come under pressure industrywide by an abundance of late-model, well-equipped used vehicles hitting dealer lots at a 30-40 percent discount to new cars, said Charlie Chesbrough, senior economist for Cox Automotive, an Atlanta-based car-shopping site and software company.
"With more interest rates hikes expected this year, and continued increases in transaction prices, monthly payments are rising and some car buyers are getting squeezed out of the market," Mr. Chesbrough said.
Moreover, this year's September compared poorly with a year ago, when vehicle sales were temporarily boosted by car owners flooding into the market to find replacements for vehicles damaged by Hurricane Harvey, said Rebecca Lindland, executive analyst for vehicle-valuation and car-selling site Kelley Blue Book.
Jeeps sold well in September at Yark Chrysler Jeep Dodge Ram in Toledo, store general manager Joe Papalexis told The Blade last week.
He said the new Wrangler and newly released Ram 1500 pickup truck both sold strongly, putting the dealership on pace to at least match September sales from a year ago.
September in the industry is traditionally a slower month than the summer months, in light of lower incentives to draw in buyers, Mr. Papalexis said.
FCA released its monthly sales report one day after naming Tim Kuniskis, 51, as the new head of Jeep North America. Mr. Kuinskis was most recently the global head of Fiat Chrysler's Alfa Romeo and Maserati brands. He will keep his role at Alfa Romeo, while assuming the Jeep responsibilities in North America.
He previously served as the head of Dodge and oversaw bringing the super-powered Hellcat Challenger and Charger to market.
Contact David Barkholz at dbarkholz@theblade.com or 419-724-6134 or on Twitter @barkholzatAN.
Guidelines: Please keep your comments smart and civil. Don't attack other readers personally, and keep your language decent. Comments that violate these standards, or our privacy statement or visitor's agreement, are subject to being removed and commenters are subject to being banned. To post comments, you must be a registered user on toledoblade.com. To find out more, please visit the FAQ.