Bakery manager Linda Jones displays holiday-themed cookies and cupcakes for sale at The Andersons in West Toledo.
THE BLADE/LORI KING
Enlarge | Buy This Image
A patriotic dip bowl and spreaders at the Libbey Glass Outlet.
THE BLADE/LORI KING
Enlarge | Buy This Image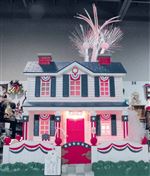 This model house features patriotic bunting and fireworks.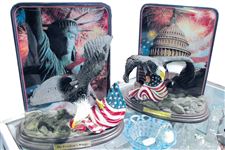 Flags and bald eagles adorn plates that come with a warning that they shouldn't be used for food. The plates are for sale at the Superior Antiques Mall at Erie Street Market.
Our nation turns 235 this year and what better way to celebrate than wallowing in patriotic kitsch?

The Libbey Glass Outlet at the Erie Street Market, 205 South Erie St., offers the Star Bowl. It is, as its name suggests, a clear bowl with stars on it. But if that's not patriotic enough, there's the BW Flags Flying dip bowl and spreader set or four individual spreaders for the same price. In all their stars-and-stripes glory, they no doubt will make an impression on July Fourth party-goers.

There's also a wide range of Independence Day-theme snacks — bubblegum, taffy, DOTS, Tootsie Rolls, and "StarMallows" (star-shaped marshmallows). And if that isn't enough to cover a holiday snack craving, The Andersons bakery sells chocolate, yellow, and white cupcakes iced to form an American flag, and sugar cookies drizzled in red, white, and blue. To wash it all down, there's a case of patriotic-themed Budweiser beer in which the brewery donates 50 cents from each purchase to the military, as if you needed an added incentive to consume alcohol.

And for those determined to let their neighbors know their heart bleeds white and blue as well as red, three-foot metal statues of a saluting marine, along with a place to insert a small American flag, are available for only $199.

Those items are for the conventional shopper. Those looking for a seriously kitschy twist to July Fourth merchandise might consider the Superior Antiques Mall at the Erie Street Market.

A recent visit turned up such festive Fourth gems as a red, white, and blue golf bag cooler for $8.50, proudly noting that it was made in the USA; a seasonal American flag wooden sign stating America is the "land of the freeze and home of the brrrave" for $6, and the plastic "Americana House," a miniature replica of a classic American home — two-story, white fence — decked out with patriotic festoons and ribbons. The home even has a simulated LED explosion of fireworks, which rotates through colors, and all for only $10.

But for those really looking to make a stars-and-stripes statement, is anything better than the "Celebrating America's Glory" collection by the Bradford Exchange? These limited-edition "decorative art object(s)" — "On Freedom's Wings" and "One Nation Under God" — were originally advertised on television, and have found new, temporary homes at an antique store for $15 each. The plastic collectibles feature a bald eagle clutching the American flag in its talons, with a background of either the Statue of Liberty or the Capitol Building.

And nothing says U.S.A. like something made in China.

Contact Kirk Baird at kbaird@theblade.com or 419-724-6734.
Guidelines: Please keep your comments smart and civil. Don't attack other readers personally, and keep your language decent. Comments that violate these standards, or our privacy statement or visitor's agreement, are subject to being removed and commenters are subject to being banned. To post comments, you must be a registered user on toledoblade.com. To find out more, please visit the FAQ.