41.674
-83.70594
Interpretation of film theme a winner for Cake in a Cup.
Cake in a Cup owners Dana Iliev, left, and Lori Jacobs were swamped with customers the day after their win on Tuesday night's episode of 'Cupcake Wars,' a cooking show on the Food Network TV channel.
THE BLADE/LORI KING
Enlarge | Buy This Image
For the record, the winning cupcake had a chocolate batter made with stout beer, frosted with a dark chocolate ganache and topped with a dollop of lime green buttercream studded with upside-down white chocolate chips to make it look like a mushroom.
Lori Jacobs and Dana Iliev, co-owners of the Cake in a Cup cupcake bakery in Sylvania Township, were the winners in Tuesday night's episode of Cupcake Wars on the Food Network Channel. The episode was filmed in March.
The weekly show pits four competitors against each other in a three-round elimination challenge. The contestants are judged both on the cupcakes' taste and how their decorations best reflect the theme.
This week's theme was the art of film director Tim Burton, who has an exhibit of his work at the Los Angeles County Museum of Art, the site of the competition. Mr. Burton, whose films include Beetlejuice, Edward Scissorhands, Charlie and the Chocolate Factory, and Alice in Wonderland, is known for a visual style that is dark but whimsical.
The local bakers made the mushroom cupcakes because Mr. Burton's art often includes mushrooms. Their other creations were made with blood oranges and red currant jam that was meant to be reminiscent of blood, a red velvet cupcake topped with black sanding sugar and a red fondant heart to represent the Queen of Hearts from Alice in Wonderland, and a lemon-blueberry confection they called "Violet, You're Turning Violet," which is a line from Charlie and the Chocolate Factory.
The 6801 West Central Ave. bakery does not sell any of the cupcakes created for the show now, but Ms. Jacobs said they are thinking of making them beginning next week.
"We're soaking it in right now," she said.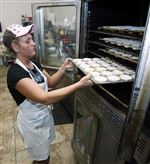 Kari Vernier slides a pan of white chocolate mandarin cupcakes into the oven at Cake in a Cup at 6801 West Central Ave.
THE BLADE/LORI KING
Enlarge | Buy This Image
When the shop opened three years ago, neither co-owner had any culinary experience. Everything they have learned has been self-taught and they have been learning on the job, Ms. Jacobs said, "so it probably worked out for the best that we weren't picked in the beginning."
Shortly after opening their bakery, they were contacted by the producers of the show, which also was then in its first year. They submitted an audition tape, but were never called back. A year later, they were called again.
Once again they submitted an audition tape, but again they were not called back. This year, when they were called a third time, they weren't interested. The producers suggested they just send in the same audition tape from last year. This time, they were chosen.
For winning the episode, Ms. Iliev and Ms. Jacobs won $10,000. More important, though, may be the boost the acclaim gives their business. Wednesday, after the episode aired, their shop was swamped.
"We've had waves of people, but we were prepared," Ms. Jacobs said.
Contact Daniel Neman at: dneman@theblade.com or 419-724-6155.
Guidelines: Please keep your comments smart and civil. Don't attack other readers personally, and keep your language decent. Comments that violate these standards, or our privacy statement or visitor's agreement, are subject to being removed and commenters are subject to being banned. To post comments, you must be a registered user on toledoblade.com. To find out more, please visit the FAQ.