Ohio Department of Transportation workers examine the I-75 bridge joint at Lagrange Street.
The Blade/Lisa Dutton
Enlarge | Buy This Image
A defective expansion joint on a bridge at Lagrange Street shut down northbound I-75 for about an hour Thursday morning, then kept one of two lanes closed until late afternoon, causing an extended traffic jam.
It wasn't the first emergency lane closing on a bridge on that part of Toledo's central freeway, and Ohio Department of Transportation officials could offer no assurance that it would be the last.
Officials closed the road at 10:30 a.m. after metal from the expansion joint popped up in the left lane, posing a tire-puncture hazard. The right lane reopened after ODOT crews set up signs and barricades blocking off the affected lane.
Temporary repairs were completed by about 5:30 p.m., with ODOT spokesman Theresa Pollick saying a permanent repair will likely require a lane closing on a future weekend.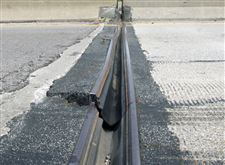 The joint popped out of place Thursday. Permanent repairs will require a future weekend late closure.
The Blade/Lisa Dutton
Enlarge | Buy This Image
The bridge is the third on I-75 in the area to have similar expansion-joint problems in recent years, and at the other two, Stickney Avenue and Cecelia Avenue, the emergency repair needs have recurred despite ODOT's efforts for permanent fixes.
All three are to be substantially rebuilt as part of a state plan to widen I-75 to three lanes each way between Phillips Avenue and I-280.
But such a project is likely to be years away. Both Ms. Pollick and Todd Audet, the department's district deputy director in Bowling Green, said only after that construction will the expansion-joint problem be cured.
Guidelines: Please keep your comments smart and civil. Don't attack other readers personally, and keep your language decent. Comments that violate these standards, or our privacy statement or visitor's agreement, are subject to being removed and commenters are subject to being banned. To post comments, you must be a registered user on toledoblade.com. To find out more, please visit the FAQ.