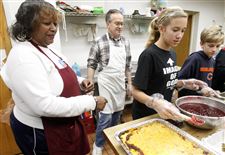 Henrietta Armstrong, left, head cook at the MLK Kitchen for the Poor, and Jim Bishop watch as volunteers Mary Bishop, 14, and Patrick Bishop, 12, help serve food at the kitchen's annual Thanksgiving meal.
THE BLADE/AMY E. VOIGT
Enlarge | Buy This Image
For more than 40 years, Juanita Savage Person worked at the MLK Kitchen for the Poor, first as a teen lending a hand and eventually as executive director.
But Mrs. Person's August death from cancer has not halted the much-needed meals at Toledo's oldest soup kitchen, founded by her father and the only place she ever worked.
"On her deathbed, she was saying the kitchen's got to keep going," said one of her sisters, Henrietta Armstrong, the soup kitchen's head cook for 16 years. "We've got to keep this going -- people still are going to be hungry."
She added: "My sister probably wouldn't let us sleep if we didn't."
So some of Mrs. Person's 14 siblings -- many of whom already were involved in the operation -- continued or stepped up to greater roles.
And the need to help feed poor people recognized decades ago by their late father, the Rev. Harvey Savage, Sr., remains at the central Toledo location.
During the Kitchen for the Poor's Thanksgiving feast Wednesday, there were some tears for Mrs. Person and expressions of thanks to all of the Savage family among more than 200 servings of turkey, ham, dressing, cranberry sauce, macaroni and cheese, green beans, desserts, and other trimmings.
PHOTO GALLERY: MLK Kitchen for the Poor
RELATED CONTENT: Thanksgiving Day meals
Earlier this week, the soup kitchen also packed up 100 food boxes so families could make their own meals, including some who are clients of Mom's House in Toledo cooking their first turkeys.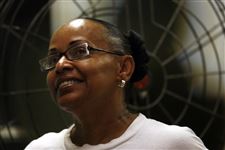 Juanita Person
The Blade
Enlarge | Buy This Image
Tammie Farmer, who lives in the neighborhood, is disabled and relies on the soup kitchen for lunch three days a week. She said she talked with Mrs. Person two days before she died of cancer, telling the 57-year-old she looked better.
"She was a good person -- she was a very, very good person," Ms. Farmer recalled Wednesday. "She would give her heart to you."
Lillian King, who also lives nearby, said she stopped working years ago to take care of her ailing parents and cannot find work. She has long come to the soup kitchen for sustenance, clothing, and prayers, she said.
"I grew up in the neighborhood," Ms. King said. "I like what they do and thank God for all they do."
Helping needy people is why Kitchen for the Poor exists, no matter who is executive director.
"That's just something you can't ignore, having hungry people in our city," said Erica Parish-Baker, president of the Kitchen for the Poor nonprofit organization's nine-member board. "We're sad and we're mourning still, but we realize there's people who need to be fed."
For about a year and a half, soup kitchen organizers have been working on increasing its reach. They are in discussions about collaborating with a couple of other organizations aimed at feeding the poor, including one that doesn't have a kitchen and to which Kitchen for the Poor could provide meals, Mrs. Parish-Baker said.
The nonprofit also is working with Leadership Toledo to do a needs assessment for ways to use its volunteers, Mrs. Parish-Baker said.
Harvey Savage, Jr., took over for his sister as the executive director after her death. He also works part time as a Goodwill Industries of Northwest Ohio job coach, and said he would like to have a community center and do more work with children.
Craig Adams, left, receives dessert from volunteer Paige O'Loughlin at the MLK Kitchen for the Poor.
THE BLADE/AMY E. VOIGT
Enlarge | Buy This Image
Kitchen for the Poor already provides hot meals to neighborhood children during the summer and gifts at Christmas, and its other services include serving 125 to 150 people at the soup kitchen Monday through Friday, delivering meals to the elderly and shut-ins, providing food baskets to needy families, distributing donations from clothing to appliances, and serving up holiday meals.
The late Mr. Savage, a Baptist pastor, was inspired to start Kitchen for the Poor after a conversation with a stranger rooting through the Savage family's garbage can for food.
Originally he thought the man was looking for food for his dog -- Mr. Savage's first thought before offering the man something to eat, Mrs. Person recalled to The Blade for his obituary in 2000. He and his wife, Martha, had moved in 1944 to Toledo, where he worked for the former Willys-Overland Motor Co. plant, and 20 years later he started Lo Salem Missionary Baptist Church.
Helping others was an ideal taught to the Savage children. Their mother provided lunch to classmates who had nowhere else to go, since all in those days were expected to go home for the noon meal, and the soup kitchen that opened in 1969 fed anyone in need.
"My father's saying was you don't look down on no one unless you can pick them up," Mrs. Armstrong said. "That always stayed in [the] back of my mind growing up."
Mrs. Person was loved by more than the Savage family and the Kitchen for the Poor's clientele. Toledo's Department of Neighborhoods sponsored a spaghetti challenge to raise funds for soup kitchens in Mrs. Person's honor, but the charities unanimously agreed to give all $1,485 to Kitchen for the Poor, said Kattie Bond, director.
Former Toledo Mayor Carty Finkbeiner, who visited Mrs. Person in the hospital and was a good friend of her father, offered his help with the Thanksgiving meal Wednesday and a hug for Mrs. Armstrong.
"I always was a fan of the whole Savage family," he said. "They do a good job here."
Doris Jones, left, and Paige O'Loughlin hand out desserts at the soup kitchen, which started serving meals in 1969. This was the first Thanksgiving at the kitchen since the death of longtime leader Juanita Savage Person.
THE BLADE/AMY E. VOIGT
Enlarge | Buy This Image
About one-third of the kitchen's $157,000 annual budget is from a community development block grant through the city's Department of Neighborhoods, said Mr. Savage, the executive director.
Kitchen for the Poor's biggest community supporter, he said, continues to be Lo Salem Missionary Baptist Church. It is next door to the 650 Vance St. soup kitchen and near a city park named in honor of the late Mr. Savage.
This year, long-time supporter Cornerstone Church in Toledo covered the cost of the Thanksgiving meal, Mr. Savage said. Toledo's Hope Lutheran Church is another major supporter, as is Zion Mennonite Church of Archbold, he said.
Mr. Savage said it is a credit to his sister that she groomed others to help with the soup kitchen so it would not fall apart without her, which sometimes happens with nonprofits. Among other siblings involved, John Savage is a board member, Raymond Savage is the driver, and both Irene Campbell and Robert Savage volunteer.
"It will go on," the executive director said. "We're open, and doing that honors her."
Kitchen for the Poor has survived tough times before, with finances being tight many times over the years. These days, funding is on more solid footing because people are willing to give, Mr. Savage said.
Yet closure was imminent in 1998, when the nonprofit was $4,000 behind on utility bills. But contributions flowed in. A few years later, when welfare reform increased the number of people coming in daily and donations dried up, Mrs. Person again was forced to contemplate closure.
"If I have to close these doors, I would just cry," Mrs. Person told The Blade in 2002. "Who will care for these people? There are other kitchens, but I get people from all over the city. We're in the heart of the central city, and most of the people here can't get to anywhere else."
Mrs. Person became her father's assistant at Kitchen for the Poor in the early 1970s, learning how to run a nonprofit. She became executive director in 1994.
Said Craig Adams of Maumee, a roofer who sometimes comes to the soup kitchen for help: "She will be very, very missed."
Harvey Savage, Jr., left, and Henrietta Armstrong, siblings of the kitchen's late leader, Juanita Person, pray with Leonard Mosley.
The Blade/Amy E. Voigt
Enlarge | Buy This Image
Both Mrs. Person and Debbie Vas, executive director of Toledo Seagate Food Bank founded by her late mother, Alice Mosiniak, met in the 1970s and thought they would not spend their careers doing charity work. That fleeting decision, however, came after they had hauled numerous supplies into Kitchen for the Poor's basement and were given Kool-Aid without sugar, an occasion they reminisced about before Mrs. Person's death.
The duo typically walked around and greeted people at the city's annual homeless holiday luncheon. Last week, Ms. Vas made the rounds without her friend.
"It's a lot different," she said. "You have a couple of tears rolling down your face. I know she was watching from above."
HOLIDAY DINNERS
Christ the King 4100 Harvest Lane 419-475-4348
Dinner is served from 11 a.m. to 1 p.m.
St. Joan of Arc 5856 Heatherdowns Blvd. 419-861-9401
Dinner is served from 11:30 a.m. to 1:30 p.m. in the school gym.
Augsburg Lutheran Church 1342 W. Sylvania Ave.
Meals are being delivered between 11 a.m. and 1 p.m. To place an order, call Peg at 419-478-8148 as soon as possible.
Pilgrim Church 1375 Sylvania Ave. 419-478-6012
Dinner is served from 11 a.m. to 2 p.m.
Toledo Gospel Rescue Mission 1917 Jefferson Ave. 419-241-6579
Breakfast from 7:30 a.m. to 9 a.m. Also a Thanksgiving dinner on Saturday following 5 p.m. chapel service.
Toledo Gospel Rescue Mission Outreach Center 670 Phillips Ave. 419-478-1005
Dinner is served from 4 p.m. to 6 p.m.
Cherry Street Mission 1919 Madison Ave. 419-242-5141
Meals include breakfast from 7:30 a.m. to 8:30 a.m. and football and snacks at 4 p.m. On Saturday, dinner is served from 5 p.m. to 6 p.m.
Taylor Holloway, left, and Mary Lou Leonard, foreground, help dish up about 200 servings of turkey with all the fixings and other Thanksgiving fare at the Kitchen for the Poor's holiday feast Wednesday.
THE BLADE/AMY E. VOIGT
Enlarge | Buy This Image
Warren A.M.E. Church 915 Collingwood Blvd. 419-243-2237
Dinner is served from 3 p.m. to 6 p.m.
Rhema Word Christian Fellowship Church 2340 N. Holland-Sylvania Rd. 419-534-9840
Dinner is served from noon to 3 p.m.
Woodmore High School cafeteria 633 Fremont St., Elmore
Community dinner for residents of Ottawa and Sandusky counties from 11 a.m. to 2 p.m.
Fremont VFW Hall 204 Birchard Ave. 419-334-2551
A community dinner is served from 11 a.m. to 2 p.m.
Norwalk St. Paul 31 Milan Ave.
Dinner is served from 11 a.m. to 12:30 p.m. in the elementary school cafeteria. For more information, contact Robin, 419-668-1114, or Patti, 419-668-2766.
Sandusky Holy Angels 1603 W. Jefferson 419-625-3698
Co-sponsored with Zion Lutheran Church, the meal is served in the Holy Angels school gymnasium from 11 a.m. to 1:30 p.m. Carry-out dinners are available.
Contact Julie M. McKinnon at: jmckinnon@theblade.com, or 419-724-6087.
Guidelines: Please keep your comments smart and civil. Don't attack other readers personally, and keep your language decent. Comments that violate these standards, or our privacy statement or visitor's agreement, are subject to being removed and commenters are subject to being banned. To post comments, you must be a registered user on toledoblade.com. To find out more, please visit the FAQ.