Toledo police officers speak to members of Lil Heads gathered near a memorial for Justin Smith, who was killed while attending a vigil for Deandre Green. The pictures on the members' coats are in honor of Justin Smith.
The Blade/Amy E. Voigt
Enlarge | Buy This Image
There was just enough daylight left to make out Justin Smith's face from a photograph left on a utility pole near where the young father was gunned down in late October.
Passing by the Fernwood Avenue memorial for the second time in her shift, Toledo police Officer Tanja Farrell's cruiser crept closer.
"Poor Justin," she said. "I feel bad. I almost cried when I found out he was killed. I didn't, but I almost did."
To a passer-by, Fernwood Avenue -- a tough street near the intersection of Dorr Street and North Detroit Avenue in the heart of central Toledo -- might not look all that different from any other. But it is run by a group of Blood-affiliated young men who call themselves the Lil Heads.
"We're not a gang, we're a family," said Jontae Chatman, 21.
There are some vacant, boarded-up houses scattered along the tree-lined street, but there are far more occupied homes -- places that longtime residents are fixing up, with new paint and as much repair as the cash they can scrounge together will allow.
Some residents say they don't feel unsafe living there, but others won't open their doors to an unfamiliar face.
In the past five months, six people have been shot on Fernwood, and neighbors report hearing gunshots several nights a week.
In just over a year, the street has claimed the lives of two Toledoans -- 25-year-old Justin Smith and a much-loved neighborhood barber, Racole "Cocoa" Hill, who was 42 when she was gunned down last year in front of a friend's house.
Toledo police Officer Tanja Farrell patrols the 1100 block of Fernwood Avenue, near the home of Justin Smith. He was killed during a vigil for another homicide victim.
the blade/amy e. voigt
Enlarge | Buy This Image
"When I see that, it saddens my heart," said Alfred Dailey, 66, who for nearly 37 years has operated Dailey's Dis N Dat Variety Store at Fernwood and Forest Avenue. "I feel that, in my heart, it's gonna happen again."
Reminders of death
Fernwood Avenue is a busy street with a lot of life left on it, but the reminders of death are everywhere.
Deandre Green, a member of the Lil Heads, was only 21 when he was shot on Toledo's west side. Deandre was a high school dropout who later received his GED and had enrolled at Owens Community College, studying business and computer technology.
It was about 3:30 a.m. when he was shot -- once in the chest and once in the thigh -- as he was getting into his car in the 300 block of Phillips Avenue. On Oct. 23, 2010, six days after being shot, the young father died at Mercy St. Vincent Medical Center.
More than a year later, police have not made an arrest in the slaying.
Known to his friends as D. Green, Deandre was one of Justin Smith's best friends. Other members of Lil Heads say they are all close, very close -- like family close.
"That's my brother," Jontae said. "I love him like he's my brother."
The grief of losing a brother pushed them to rap about Deandre's killing in a video about his death.
"I ain't ready to die, but I wanna be up there with ya;
tears comin' down my eyes every time I see ya picture;
You might not be here with me, but I neva forget ya."
A member of the "Lil Heads" who did not want to be identified, has a tattoo of the Fernwood Ave. neighborhood on his forearm.
The Blade/Amy E. Voigt
Enlarge | Buy This Image
The rap runs over and over as Lil Heads are shown walking through Toledo's Forest Cemetery, a hearse driving into the cemetery, with cutaways to Deandre's friends standing around his metal casket, to fellow gang members on a city basketball court.
RELATED CONTENT: Click here to see the Lil Heads' 'Rest in Peace' video.
*Editor's note: This video contains language and content that may be offensive to some readers.
Another loss
Last month, the Lil Heads decided that on Oct. 23, one year after Deandre's death, they would hold a vigil for their slain friend and they would do it on Fernwood.
"This is home," Jontae said. "This is where he'd want it to be."
The men had no idea the vigil was the last time they would see Justin Smith alive.
Justin started every day by saying hello to his slain friend.
"Goodmorning D.Green sorry it took so long for me to speak but I just woke up. Love you Bro for now an eternity," Justin posted on his Facebook profile on Oct. 22.
Less than six hours before Deandre's vigil, Justin asked Deandre to "watch over me."
"See you when I get there," he wrote.
During the vigil, with nearly 100 people in attendance, Justin and Martrece Dobson, 24, began to argue about something personal.
"It escalated from there," said 22-year-old Shawn Daugherty.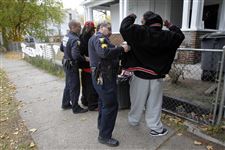 Officer Aaron Riter, left, and Sgt. Rick Moreno, right, with the Toledo Gang Task Force, search two members of the gang called 'Lil Head' on Fernwood Ave. in front of the house where Justin Smith was killed last month.
The Blade/Amy E. Voigt
Enlarge | Buy This Image
Police have issued an arrest warrant for Martrece, who, they say, shot Justin twice in the chest.
"[Martrece] messed up," Shawn said. "We can't kick it with him no more because he killed someone we love."
Losing Justin stunned the group.
"We gotta stay strong for us," said Dominique Buford, 19. "Take it one day at a time and keep everything clique tight."
Sticking together
Justin and Deandre were both founding members of the Lil Heads, a group of about 50 that has dual purposes. First and foremost, members say, they look out for one another.
"We all just a family," Jontae said. "There are a lot of people against us. We stay strong. We stick together."
Now that Justin is gone, the group will look out -- financially and physically -- for his young twins Kaleb and Ka'Nyah, 4. They do the same for Deandre's daughter, De'Asia Green, 4.
The Lil Heads are also a record label, Lil Head Ent., with artists who write and record original rap songs.
The group started rapping in 2006 but didn't take on the Lil Head moniker until last year when Deandre was released from North Central Correctional Institute, where he served three years for a concealed weapon violation.
The name, Jontae said, started as a joke. It means "slow" or that someone "said something crazy."
A glass box with all of Ms. Racole "Cocoa" Hill's beauty supplies and memorabilia from her life is in a prominent spot on the wall in Kings and Queens Barber and Beauty Shop where she worked.
The Blade/Amy E. Voigt
Enlarge | Buy This Image
The group has two professional-grade videos on YouTube, both posted within the past 13 months. The first, "KoKane," was uploaded in October, 2010, and has more than 7,000 views.
The second, uploaded one month later, is the tribute to Deandre, called "Rest in Peace." The video, which has footage of Deandre's funeral, has more than 9,000 views.
"We're trying to get up out of here," said Dominique, who raps in "Rest in Peace." "We trying to get rich and get out the hood."
On a chilly November morning, several men -- most wearing T-shirts in honor of their fallen friends and others in head-to-toe red -- were standing next to Justin's memorial in front of 1014 Fernwood, the home he purchased two weeks before he was shot.
The men -- most don't live on Fernwood but on neighboring streets -- have been friends since they were children. They met at Smith Park, the only place in the neighborhood to play.
Most of them, they said, grew up without fathers, adding that "all our moms kick it" -- meaning they're friends.
When asked how many hanging out in front of Justin's house were carrying guns, one lifted up his shirt to show he wasn't armed.
"Let's just say we can defend ourselves if we have to," another added.
The group insists they do not instigate violence and they stay "out [of] people's way" to avoid trouble. They're disliked by most because "we stand our ground. We're not afraid of anyone," Shawn said.
RELATED CONTENT: Ride Along blog by Taylor Dungjen
An 'active' gang
In less than an hour, Toledo police cruisers drove past the men at least four times.
One officer in a marked car sat in the parking lot of the Martin Luther King, Jr., Academy for Boys for about 30 minutes, watching.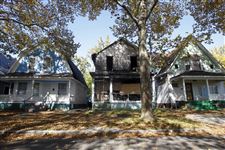 A burned out house is still standing on Fernwood Ave. Many of the homes on the 1100th block are either burned out or boarded up.
The Blade/Amy E. Voigt
Enlarge | Buy This Image
Nothing new, the Lil Heads say.
"It hurt," Deontae said.
"They say we're carrying guns and shouting, but it's not like that. We been going through it for so long," Shawn said. "Everyone act like they hate us, so we've got to stay together."
But there's a reason for the frequent police patrols, officers say.
Despite the Lil Head's motto of being a family, gang unit Sgt. Rick Moreno says, without hesitation, the group is a gang.
"They're very active right now," Sergeant Moreno said.
A group of friends becomes a gang when it gets involved in illegal activity, the sergeant said.
On a Monday afternoon in early November, Sergeant Moreno and gang unit Officer Aaron Riter stopped in front of Justin's house, where several Lil Heads were sitting.
When the officers stepped out of the unmarked black police cruiser, the men put their arms out to be searched.
The officers did not find any guns or drugs but did arrest one man, Keith Huffman, 22, on a disorderly conduct warrant out of Bowling Green.
Of the four Lil Heads who agreed to be interviewed, three have felony convictions.
Deontae Chatman, 20, and his brother, Jontae, have both been found guilty in Lucas County Common Pleas Court of cocaine possession. Shawn Daugherty has been found guilty of cocaine possession twice in one year. He's being held in the Lucas County jail, where he's awaiting a third possession trial.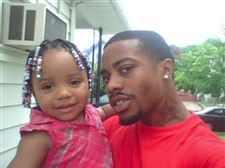 D. Green and his daughter D'Asia.
"Sometimes a small group can cause a lot of havoc," Sergeant Moreno said.
'Not a safe place'
Greg Hannibal, 41, hasn't been to Fernwood since his former wife, Racole "Cocoa" Hill, was shot and killed there.
"I have no intention of going there," he said while cutting a man's hair at the central-city barbershop where Ms. Hill worked. "It's not a safe place over there."
Ms. Hill was shot about 11:30 p.m. on Sept. 7, 2010, in front of 1126 Fernwood. Police say her death is likely gang-related, though she was not the intended target.
Neither a suspect nor a motive has been named.
Mr. Hannibal is confident that, even though it's been more than a year since his former wife's death, police will solve the homicide. He knows, though, detectives can't do it alone.
"It's hard when you don't have the streets helping you," he said. "Somebody knows something. Somebody saw something. I know they did."
Mr. Hannibal and Ms. Hill met when the two were at Ohio State Barbering College in downtown Toledo. He was 18. She was 20.
"She was robbing the cradle," he said, laughing.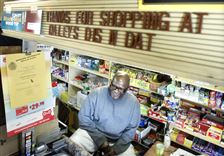 Alfred Dailey, owner of Dailey's Dis N Dat , sits behind the counter of his convenience store chatting with customers.
The Blade/Amy E. Voigt
Enlarge | Buy This Image
Mr. Hannibal said he misses her laugh, her smile, her cooking. But mostly, he said, he misses her friendship.
"We just talked all the time," he said. "We always said we'd be friends till the end."
Deontae had just said good-bye to Ms. Hill and was on another street when he heard gunshots. He ran through an alley back to Fernwood and saw people surrounding Ms. Hill.
"I touched her and said, 'She ain't breathing,' " Deontae recalled. "Somebody came from the side of the house not knowing there were older adults over here and not younger kids," Deontae said.
A memorial for Ms. Hill is still there, the kind you see full of stuffed animals and plastic flowers and you know someone loved has died there.
A violent area
Since 1957, 24 homicides have been reported on Fernwood.
"You didn't used to hear gunshots all the time," said a woman, a lifelong Fernwood resident who asked not to be identified, fearing for her safety. "It started 10 years ago. Gradually it was like, 'Whoa, what is this? Let's get on the floor.' "
The gunshots, the woman said, happen three or four times a week, usually starting about 4:30 a.m. and lasting until 6 a.m.
"I didn't know there was guns like that in this neighborhood," she said.
The woman also said the men -- the Lil Heads -- "they respect me," and, despite the violence and drug sales she sees, she won't move.
"I can't afford it right now, I can't," she said. "I inherited this house from my grandparents. Why should I move because these little boys want to come into this neighborhood and destroy it?"
Still standing in front of Ms. Hill's memorial, Deontae turned around and pointed to a place on the back of his head where, in April, 2010, he was one of five men shot by a pellet gun during a drive-by in the 700 block of Fernwood.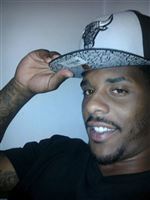 Justin Smith.
When asked how many of his friends have been shot, Deontae looked surprised and said he wasn't sure.
Earlier that day, near Justin's memorial, Tyrice Jones, 20, joined his friends, his right hand and forearm wrapped in a white bandage.
Tyrice was shot on Oct. 9 near Oakwood Avenue and Hoag Street. His forearm was broken and a bullet grazed his stomach, police said.
The day before Tyrice was shot, another Lil Head was shot in the left leg in the 1000 block of Fernwood.
"They'll show off their gunshot wounds like battle scars," Sergeant Moreno said.
A downward spiral
Fernwood didn't always look like this. The people who lived here didn't worry about gunshots, they didn't walk out their front doors every morning to face memorials honoring those who died too soon and too young.
Fifty years ago, people tended their yards and children played tag and rode bikes up and down the street.
They would be home before the street lights came on, before mom and dad had a chance to yell that it was time to come inside.
"We raised hell when we were kids, but it was all in good fun," said Lou Harris, 47. Mr. Harris, who now lives in Tallmadge, Ohio, near Akron, moved to Fernwood in 1960 and left Toledo when he joined the Army in 1983. His mother still lives on the street.
"I don't see kids running around like they used to," he said. "People leave. They don't want to live around this."
"I don't know what happened," local attorney and Councilman-elect Tryone Riley said.
Mr. Riley, 55, grew up on Oakwood Avenue, one street west of Fernwood.
In the late 1980s and early 1990s, drugs took over. Young black men formed gangs -- and not the kind of street teams that used to challenge another to a pickup basketball game.
Drugs destroyed the neighborhood, destroyed the lives of people who used them, Mr. Riley said.
The destruction couldn't be undone. Or at least it hasn't been undone. Not yet.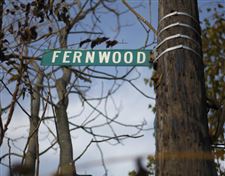 A Fernwood street sign.
The Blade/Amy E. Voigt
Enlarge | Buy This Image
'Not a bad area'
Alfred Dailey sees dozens of people come in and out of his store every day. He has a wall of photographs of customers hanging behind his register.
He said he has changed out the photographs almost a dozen times since he started collecting them 30 years ago.
"Fernwood is not a bad area," he said, noting that he lives in an apartment above his store. "People make it more than what it is."
Mr. Dailey is a fixture in the neighborhood. Everybody knows him and he seems to know just about everybody.
He's well-respected, well-liked, and doing what he can to lift up the neighborhood.
"When young men come in, I talk to them," he said. "We have to come together. … I try to be a role model to them. I'm not perfect, it's just me as a person."
Co-existence
Walk out of Mr. Dailey's store about 2:30 p.m. during the week and there will be schoolchildren everywhere leaving King Academy.
"Mr. Dailey is a good partner of ours that will say, 'You can't hang out here, let these kids go home,' " said one King Academy administrator who did not want to be named, fearing retaliation. "He's a big voice in the community."
King Academy is, like a number of Toledo Public Schools, in the heart of the city and at the center of a troubled neighborhood. At the end of every school day, teachers, administrators, and guards watch the children as they walk home.
"We know where we're located and we don't shy away from anything," the administrator said. "Our boys have to live in and experience everything, every day living in this community. They know what's going on, they're not naive to the neighborhood."
"We're open with them about choices," the second administrator said. "We tell them, you're going to get confronted some day, but you have that choice to say, 'Hey, this isn't for me.' "
The second administrator said the Lil Heads "understand we are doing something positive, and they understand turf, so to speak. There's a sense of respect they give us."
Read more from Taylor on this story in the Ride Along blog at toledoblade.typepad.com/RideAlong.
Contact Taylor Dungjen at: tdungjen@theblade.com or 419-724-6054.
Guidelines: Please keep your comments smart and civil. Don't attack other readers personally, and keep your language decent. Comments that violate these standards, or our privacy statement or visitor's agreement, are subject to being removed and commenters are subject to being banned. To post comments, you must be a registered user on toledoblade.com. To find out more, please visit the FAQ.