Former Toledo mayors Carty Finkbeiner and Jack Ford hold a news conference at One Government Center to express their opinions about the scandal that is enveloping the city's neighborhoods department.
The Blade/Lisa Dutton
Enlarge | Buy This Image
Two former Toledo mayors lashed out at Mike Bell Monday, criticizing the current mayor's decision to fire two top officials from the city's scandal-plagued Department of Neighborhoods.
Jack Ford and Carty Finkbeiner, who both served terms as mayor prior to Mr. Bell's ascension in 2010, defended the reputation of two officials fired last week from top level positions within the city's Department of Neighborhoods. Kattie Bond, the department's former director, and Mike Badik, former housing commissioner, both served during Mr. Ford's and Mr. Finkbeiner's administrations. Both were fired amid a city investigation into alleged bid-rigging, favoritism, and poor oversight in the neighborhood's department.
The ex-mayors accused Mayor Bell of using the two as scapegoats to diffuse media attention.
"I've never known either of them to have a dishonest bone in their body," Mr. Ford said during a Monday morning press conference inside City Hall. "I could not remain silent without giving my view, two cents, on the issue."
Mr. Finkbeiner said he has known Mr. Badik for 40 years and Ms. Bond for 20 and they had always been conscientious and honest. He said they should not have been fired because the alleged wrongdoing is thought to have been conducted by lower-level employees. He further criticized Mayor Bell for keeping former housing manager Jody Prude and rehab specialist Toni Thomas on the city payroll, even though the two employees have been more directly implicated in allegations of misdeeds. Ms. Prude and Ms. Thomas have been suspended without pay for 10 days and demoted to positions in the Department of Public Service.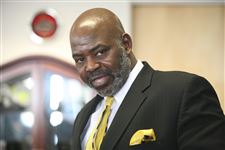 Toledo Mayor Mike Bell defended his choice to fire Bond and Badik.
The Blade/Lisa Dutton
Enlarge | Buy This Image
Mayor Bell's actions could affect morale among city employees, Mr. Finkbeiner said.
"How do you build spirit....if you're trying to make a scapegoat of individuals whose integrity you do not question?" Mr. Finkbeiner said. "It's time for Mike to be a man and start doing his job and taking responsibility."
In response, Mayor Bell defended his choice to fire Ms. Bond and Mr. Badik, and said he did it to move the department forward and avoid risking the loss of federal housing funds.
"Although I like Kattie Bond and I like Mike Badik, I felt we needed new leadership," he said. "Kicking the can down the road is not an acceptable practice for this administration. I dealt with it."
The mayor said he does not begrudge Mr. Ford and Mr. Finkbeiner their opinions, but ultimately it is he who makes the decisions.
"The bottom line is I make the call here, and I'm prepared to make that call," Mr. Bell said. "At the end of the day it's going to be what I decide because I'm the mayor."
Guidelines: Please keep your comments smart and civil. Don't attack other readers personally, and keep your language decent. Comments that violate these standards, or our privacy statement or visitor's agreement, are subject to being removed and commenters are subject to being banned. To post comments, you must be a registered user on toledoblade.com. To find out more, please visit the FAQ.