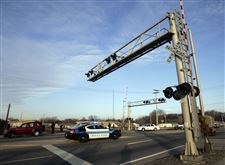 In 2009, one Springfield High School student was killed and a second lost a leg when they tried to cross the railroad tracks before an Amtrak passenger train.
THE BLADE
Enlarge | Buy This Image
COLUMBUS -- A state panel Wednesday knocked six years off a proposed delay for building an underpass carrying McCord Road under a dangerous Holland railroad crossing, but the new construction target is still not until 2023.
The Ohio Transportation Review Advisory Council, which sets the state's priorities for major new construction projects, unanimously adopted a revised funding schedule it says more accurately reflects reality than its predecessors.
William J. Brennan, executive vice president of the Home Builders' Association of Greater Toledo and northwest Ohio delegate to TRAC, voted for the plan. He voiced optimism that the underpass will be built sooner than the plan anticipates. "They've given me pretty good assurances we're going to see this funded sooner rather than later," he said.
Meanwhile, Lucas County should hear sometime this summer whether it will receive a $10 million federal Transportation Investment Generating Economic Recovery grant. That approval could dramatically reduce the project's dependence on ODOT funding and put it back on the path to construction in the next couple of years.
ODOT "major-new project" funding, which TRAC oversees, is to provide $13.3 million toward the total $41.6 million price tag for the McCord project in 2023.
"They've indicated they don't have the money," said Jeff Lohse, Lucas County chief deputy engineer. "We want to have the project ready to go in case funding becomes available. … We want to get it to the point of construction."
Local officials have argued that delaying construction of the McCord Road uderpass was a "recipe for disaster."
In 2009, one Springfield High student was killed and a second lost a leg when they tried to run across the tracks in front of an Amtrak passenger train.
The project's development began long before that accident. It was identified in 2001 by the Taft administration as worthy of funding in a $200 million crossing-elimination program because of its high volumes of both motor traffic and trains. But that program only provided $9.1 million toward its cost.
A tentative plan adopted by TRAC in January would have delayed the 2015 target construction date until 2029.
ODOT Director Jerry Wray said his agency has identified an additional $200 million through internal savings, greater-than-expected gas tax collections, and a lack of federal earmarks that can be used immediately to reduce projected delays.
That, plus another $50 million a year over the next four years, would be on top of the $400 million it had previously said it had available to spend toward $2 billion in major new construction projects.
Besides the McCord project, the TRAC list includes about $12.2 million for rehabilitation projects on existing U.S. 24 in Lucas and Henry counties to be done after a new U.S. 24 expressway between Waterville and Napoleon opens in September.
The work, scheduled for next year, will put the existing roadway in good repair before it is turned over to county maintenance.
Contact Jim Provance at: jprovance@theblade.com or 614-221-0496.
Guidelines: Please keep your comments smart and civil. Don't attack other readers personally, and keep your language decent. Comments that violate these standards, or our privacy statement or visitor's agreement, are subject to being removed and commenters are subject to being banned. To post comments, you must be a registered user on toledoblade.com. To find out more, please visit the FAQ.