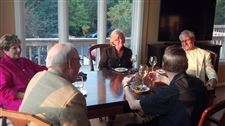 Chaine members and guests enjoy each other's company, fine wine, and gourmet food at the River House Inn in Perrysburg
The Blade/REBECCA CONKLIN KLEIBOEMER
Enlarge | Buy This Image
Some folks are really into wine. Some are really into fine food.
If you're into both — and particularly how they best pair up — then Chaine des Rotisseurs might be the group for you.
Devoted to preserving the camaraderie and pleasures of the table in a historic French tradition, as its literature proclaims, Chaine groups all over the world converge on gourmet dining establishments, organize wine tastings with hors d'oeuvres, and host informal gatherings to drink wine and eat something delicious.
A local chapter is called a "bailliage," and the Toledo one met Thursday at the River House Inn in Perrysburg on the invitation of chapter president "Bailli" Ann Sanford. Chef Marcel Fine Catering of Toledo prepared several small plate courses with matching wines.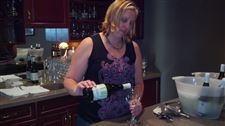 Lorraine Hesseling pours wine at the Chaine event.
The Blade/REBECCA CONKLIN KLEIBOEMER
Enlarge | Buy This Image
"The purpose of the group is the pairing of food and wine," said member Lois Churchill, of Perrysburg, and wife to Walt Churchill of the family's namesake grocery chain. "Food is equally important to the wine."
At the River House Inn, members and guests enjoyed dishes made by Chef Marcel Hesseling and his staff, including smoked salmon and cream cheese pinwheels wrapped in thin slices of cucumber and topped with roe; crab ceviche served on a wooden spoon with a slice of avocado; salad with pistachio vinaigrette; brie in phyllo cups with a blueberry glaze; black peppered beef tenderloin sliced thin on grilled bread with horseradish sauce and an onion compote; grilled lamb skewers, and chocolate truffles rolled in almond, peppermint, chipotle, and hazelnut carmel liqueur flavors.
"I like doing these events. It's a little bit more to my roots [in] culinary training," said Mr. Hesseling, who is from Arnhem, Netherlands.
He also is the corporate chef at the Toledo company Health Care REIT Inc. and had been executive chef at the Toledo Zoo for seven years. He is a former Chaine member, and was Maumee Valley Chef's Association 2011 Chef of the Year.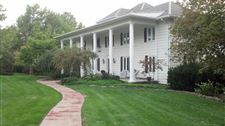 River House Inn in Perrysburg.
The Blade/REBECCA CONKLIN KLEIBOEMER
Enlarge | Buy This Image
The chef's wife, Lorraine Hesseling, was in charge of pouring the wines paired with each course for the evening, but she couldn't help promoting her husband's food. "Boy, that man can cook," she said.
Throughout the evening, Mrs. Hesseling poured glasses of Botani of the Muscat of Alexandria grape; Vina Godeval, of Godello; La Cana, Albarino; Tarima Hill, Monestrell (mourvedre), and Volver, Tempranillo.
"I thought some of the Spanish wines were good tonight," said Chaine member and wine distributor Thomas Kemper.
A key function of Chaine chapters is to provide scholarships to upcoming food and wine professionals and hold annual competitions.
Member John Burson, who serves as a "bailli provincial" for the Midwest Region chapters, said that while the friendship and camaraderie of Chaine des Rotisseurs remained a key emphasis, being involved with the Young Chef and Young Sommelier competitions was a particular delight.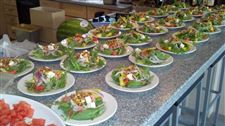 Salad with pistachio vinaigrette.
The Blade/REBECCA CONKLIN KLEIBOEMER
Enlarge | Buy This Image
"My perspective has moved from the food and wine to the good that we do, especially for these young chefs who are tremendous," Mr. Burson said.
A handful of other local events are planned for the Chaine chapter throughout the rest of the year and into 2013, according to Ms. Sanford. Visit the chapter web site for information.
Hailed as the oldest and largest food and wine society in the world, the Confrérie de la Chaîne des Rôtisseurs has its roots stretching to the year 1248 and a guild of royal goose roasters organized by King Louis IX in Paris. A set of bureaucratic updates in 1509 under King Louis XII and in 1610 under King Louis XIII further defined the types of meat that were the purview of this chef union of sorts.
The tradition was revived in 1950 in Paris, and the Chaine now includes tens of thousands of gastronomes, chefs, restaurateurs, hoteliers, oenologists, winery owners, sommeliers, and food and wine educators across the globe.
Contact Rebecca Conklin Kleiboemer at rconklin@theblade.com or 419-356-8786.
Guidelines: Please keep your comments smart and civil. Don't attack other readers personally, and keep your language decent. Comments that violate these standards, or our privacy statement or visitor's agreement, are subject to being removed and commenters are subject to being banned. To post comments, you must be a registered user on toledoblade.com. To find out more, please visit the FAQ.