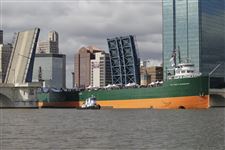 The S.S. Col. James M. Schoonmaker travels under the Martin Luther King, Jr., bridge on the Maumee River.
The Blade/Jetta Fraser
Enlarge | Buy This Image
Esiquio Castillo was worried that he was too late to see the S.S. Col. James M. Schoonmaker get towed down the Maumee River on Saturday from the International Park wharf where it has been moored for several decades to its new home about a mile downstream.
But when the South Toledo resident drove over the Anthony Wayne Bridge shortly before noon, he could see that the two Great Lakes Towing Co. tugboats had just started their work.
PHOTO GALLERY: S.S. Schoonmaker's new home
"This is beautiful. I'm just glad they're doing something," Mr. Castillo said after rushing onto the Martin Luther King, Jr. Bridge to join more than a dozen onlookers who snapped pictures as the 101-year-old museum ship passed the Toledo skyline. "It's good to see they're starting to put something back in Toledo."
Scores of others gathered at various spots along the riverbanks to watch the Schoonmaker's two-hour journey to a slip next to the Toledo Maritime Center, where it will become a centerpiece of the new National Museum of the Great Lakes under development by the Great Lakes Historical Society.
The trip marked another milestone in the museum ship's turnaround from its near-abandonment last decade when the city of Toledo declared it no longer could afford the upkeep for the then-S.S. Willis B. Boyer. The Toledo-Lucas County Port Authority agreed to hire its curator, Paul C. Lamarre III, while he started a renewed fund-raising effort and local officials brokered the historical society's plan to replace its museum in Vermilion with a new one in Toledo.
"To integrate it with the national museum, that's the key. That puts it all together," said Bill Thomas, president of the Downtown Toledo Development Corp., one of about 200 invited guests aboard the Schoonmaker for a historical society reception during its tow.
A bulldozer aids in the moving of the S.S. Col. James M. Schoonmaker into its new mooring in the shadow of the Veterans' Memorial Skyline Bridge.
The Blade/Jetta Fraser
Enlarge | Buy This Image
"I remember this when it was a rusty bucket [in storage] down by the Craig bridge," said Peter Ujvagi, the Lucas County administrator and a former long-time city councilman and state legislator from East Toledo. "What a difference. It shows what people can do. So many times it looked like it was going to go down, and different people carried the torch for it."
"It's wonderful," said William Wilcox, who in his youth worked as a wheelsman aboard the Schoonmaker and traveled from his Congress, Ariz., home to ride the freighter Saturday, having made the same trip 15 months previous for the ship's rechristening to its original name. "It's just unbelievable what that man [Mr. Lamarre] has done with this pile of junk — that's what it was."
Mr. Lamarre and Chris Gillcrist, the historical society's executive director, said the ship's restoration and relocation would not have been possible without donated labor and supplies from numerous benefactors, not the least of which was free use of Great Lakes Towing's tugboats and crews.
Mr. Lamarre called the trip Saturday "surreal — more than a dream come true," and said it went off flawlessly even though it was windier than had been hoped for.
Mr. Gillcrist said the museum's development is slightly behind schedule, but the goal of opening it by late next summer remains in place.
"I've been thinking about this [move] for 18 months, every day. What do I do tomorrow?" he said to explain his anticlimactic feelings about the trip Saturday. "But I have a $2.5 million museum to finish. I can be relaxed for 12 hours, and then I'm back to work."
While some special tours may be provided, it's unlikely the Schoonmaker will reopen to the general public before the museum's opening, Mr. Gillcrist added.
Sarah Bowen, a historical society guest from Waterville who rode the ship, said everyone on board was encouraged to sign the Schoonmaker's guest register, which dates back to its 1911 launch in Toledo.
"We looked back 101 years ago," said Ms. Bowen, who brought her two children along for the ride. "It made us feel very much part of history."
"I'm the first on a new page, so I'll be easy to find" during future visits, daughter Ella Bowen said.
Mr. Castillo suggested that the historical society should have sold tickets for the Schoonmaker's trip, as a fund-raiser. But to do that, Mr. Gillcrist said, the ship would have to meet Coast Guard standards for a passenger vessel — standards that don't apply if there are no paying customers aboard.
Some who watched the spectacle from shore happened upon it by chance.
"That's crazy. I never thought I'd live to see the day that ship moved, and I've been here 30 years," said Nate Clevenz, a southwest Toledo resident whose drive home from East Toledo was interrupted by the Schoonmaker's passage through the King bridge.
"This is excitement here today," said Virgie Washington, who had been fishing from the riverbank at the former Toledo Sports Arena site with Sam Russell, a friend from her Old West End neighborhood, when ship-watchers started showing up.
And Randy McKnight, of Holgate, Ohio, said he, his wife, and two friends had stopped by the ship's old mooring in International Park on their way to lunch, only to discover it was gone. They spotted it at its new home after eating. "I think it's great, it's gonna be nice," Mr. McKnight said.
"It's such an amazing thing for Toledo," said Stephen Foster of Bowling Green, who rode the trip accompanied by two daughters. "It just hopefully will turn this spot on to a whole bunch of tourism."
Contact David Patch at: dpatch@theblade.com or 419-724-6094.
Guidelines: Please keep your comments smart and civil. Don't attack other readers personally, and keep your language decent. Comments that violate these standards, or our privacy statement or visitor's agreement, are subject to being removed and commenters are subject to being banned. To post comments, you must be a registered user on toledoblade.com. To find out more, please visit the FAQ.