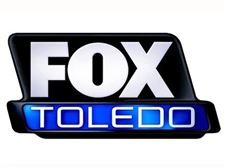 WUPW Channel 36 FOX Toledo logo.
Based on a demand from the parent companies of WUPW-TV, Channel 36, and WTOL-TV, Channel 11, Buckeye CableSystem stopped broadcasting WUPW at 5 p.m. on Wednesday.
The demand stems from an ongoing legal dispute among American Spirit Media, owner of WUPW, Raycom Media, owner of WTOL, and Buckeye. American Spirit Media and Raycom want to charge Buckeye more to rebroadcast WUPW, a Fox station, because it shares facilities, staff, and news broadcasts with WTOL, a CBS affiliate.
Buckeye executives believe the company should not pay an increased rate for WUPW, which is at or near the bottom of area ratings during most of the station's daytime and prime-time programming periods.
Buckeye Cablevision Inc. took the owners of the stations to court in May and has not been able to reach an amicable solution, said Brad Mefferd, president and general manager of Buckeye. Buckeye Cablevision is the legal name of Buckeye CableSystem and is listed on the filing in the Lucas County Court of Common Pleas.
"WUPW claims that our existing retransmission consent agreement with WTOL, which is owned by Raycom, applies to WUPW. That fact we did not agree with and we have asked for a federal court to resolve that dispute, and that case is pending resolution. In the meantime, Buckeye tried to work out the dispute in federal mediation, and that was unsuccessful."
Buckeye Cablevision Inc. is owned by Block Communications Inc., parent company of The Blade.
A contract between Buckeye and WUPW expired May 21, and Buckeye had been transmitting WUPW programs under a temporary agreement.
WUPW was purchased by American Spirit Media from LIN Media in March. As part of the $22 million deal that was approved by the Federal Communications Commission, the station entered into a shared-services agreement with Raycom. The agreement allows WUPW and WTOL to share news staff. It also permits shared access to studios, technical facilities, maintenance, and promotional efforts.
That shared-services agreement is a critical piece of the lawsuit and part of the reason Raycom and American Spirit want to increase WUPW's rebroadcasting fee paid by Buckeye.
The Buckeye lawsuit asks the court to declare that the two stations are separate entities and that the same fee should not be applied to both. It also asks that American Spirit Media negotiate directly with Buckeye concerning WUPW.
Thomas Henson, owner of American Spirit, declined an interview with The Blade, but sent a statement saying, "For eight full months, we worked to resolve the matter, but Buckeye declined. Left with no alternative, we made clear to Buckeye Cable that it cannot continue to flagrantly violate our copyright."
A letter from the law firm representing American Spirit and Raycom to Buckeye's lawyer dated Wednesday stated: "By 5 p.m. today you are to notify me, in writing, of Buckeye's position. Either Buckeye agrees, in writing, to pay the American Spirit defendants all past due sums and continue to pay pursuant to the terms of the retransmission agreement or it must cease retransmitting WUPW's entire signal by 5 p.m. today."
Channel 36 is now blank, with a statement from Buckeye that reads: "WUPW has ordered Buckeye CableSystem to remove WUPW's signal from our system. To be clear, this is not Buckeye's decision, but WUPW's decision to withhold its station from our viewers. We regret that you cannot receive this station. Buckeye will continue to try to negotiate for the return of WUPW."
WUPW carried Fox programming that includes NFL football and hit shows such as Glee and The X Factor.
Wayne Daugherty, executive vice president and chief operating officer of Raycom, declined an interview with The Blade but sent a statement to the paper.
"Raycom Media is proud of our role producing some of the most watched news in northwest Ohio for Fox Toledo. Since April, Buckeye Cable has been violating our copyright on that news programming by refusing to honor its contractual obligations," he wrote.
The just-released Nielsen numbers from the November sweeps place WUPW at or near the bottom of area ratings during most of the station's daytime and prime-time programing periods. From Sunday through Saturday, in a 24-hour broadcast cycle, WUPW essentially tied with NBC affiliate WNWO-TV, Channel 24, with a 1 percent household rating.
Nielsen estimates that there are a little more than 400,000 households with television sets in the northwest Ohio market. Of those households, an average of 1 percent has its televisions tuned in to watch WUPW or WNWO. About 4 percent are tuned in to WTOL and WTVG-TV, Channel 13.
Issues such as this are popping up across the country as shared-services agreements become the norm in markets with more than one media outlet, said Matt Wood, policy director at Free Press, a Washington-based group that promotes media transparency. Mr. Wood said the sharing of news in one region decreases the quality of news programming.
Demanding that the stations be paid the same fee also raises issues with media ownership regulations, which are enforced by the FCC. Mr. Wood said it's a matter that needs probing by the federal government, which regulates the number of stations that can be owned by one company in a region.
"It sounds like this is probably a straight contract dispute," he said. "There's no question that stations do this all the time and combine retransmission consent agreements. We think that means [stations] should be treated as a single entity by the FCC."
Staff writer Kirk Baird contributed to this report.
Contact Kris Turner at: kturner@theblade.com or 419-724-6103.
Guidelines: Please keep your comments smart and civil. Don't attack other readers personally, and keep your language decent. Comments that violate these standards, or our privacy statement or visitor's agreement, are subject to being removed and commenters are subject to being banned. To post comments, you must be a registered user on toledoblade.com. To find out more, please visit the FAQ.