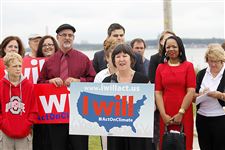 Lucas County Commissioner Tina Skeldon Wozniak, front center, emcees the 'I Will Act On Climate' news conference hosted by a coalition of community leaders at Toledo's Cullen Park Boat Launch.
THE BLADE/JETTA FRASER
Enlarge | Buy This Image
A 27-state bus tour ostensibly created to promote President Obama's war against climate-altering pollution took on the dual mission of promoting Great Lakes funding when it made its Toledo stop Thursday.
"If we don't protect this great resource, we could lose millions of dollars and jobs," Lucas County Commissioner Tina Skeldon Wozniak said as she opened a 40-minute event on the shore of Cullen Park in Point Place, where the Maumee River empties into western Lake Erie's Maumee Bay.
The event was part of the "I Will Act on Climate" bus tour created in response to Mr. Obama's pledge this summer to ramp up efforts to control greenhouse gases that contribute to climate change. Mr. Obama has said he will do all he can to move his plan forward whether or not he gets support for it from Congress.
Tracee Perryman of United Pastors for Social Empowerment says Thursday that faith prompted her to be a good steward of the Earth.
THE BLADE/JETTA FRASER
Enlarge | Buy This Image
The Maumee River and Lake Erie's western basin are the Great Lakes region's most productive fish-spawning areas. The Great Lakes bring billions of dollars to the region's economy through fishing, tourism, shipping, higher property values, and other factors.
They also provide drinking water for 40 million people, 30 million in the United States, and 10 million in Canada.
While few specifics were offered about how local officials can do more, speakers expressed their passion for greener practices with rallylike enthusiasm as they pledged their support for Mr. Obama's initiatives.
"If we wait for 10 more years [to act on climate change], it will be too late," Ms. Skeldon Wozniak said. "It's important to be in a community that understands how important this is as a moral issue and an economic issue."
Climate change has, at times, received some bipartisan support: U.S. Sen. John McCain of Arizona, the Republican nominee for president in 2008, issued a press release that year stating that it was one of the world's most important issues.
Former President George W. Bush said during his first term that he recognized the issue was real, but he wanted less intrusive ways of addressing it, as did former U.S. Sen. George Voinovich (R., Ohio). Before he left the White House, Mr. Bush urged Americans to end their "heroinlike" addiction to oil.
But at Thursday's stop and others around the country, many of the public officials were Democrats. They were joined by activists from the environmental and faith communities, each of which have been critical of Tea Party conservatives and other Republicans who have been reluctant to embrace legislation aimed to tighten limits on industry.
Ms. Skeldon Wozniak said their critics need to at least understand what's at stake with jobs and the economy if they don't accept the science behind climate change.
She and others said they view the challenge as a job-creation opportunity, as government policies shift toward greater modernization of buildings, factories, roads, transportation vehicles, and other systems.
They likewise said a greater investment in Great Lakes protection, from sewage treatment to projects that can help fend off Asian carp and other invasive species, can be a boon to this region's economy.
Tracee Perryman of United Pastors for Social Empowerment, a coalition of ministers who say they aim to address issues that disproportionately affect lower-income and minority residents, said she was motivated by her faith to be a good steward of the Earth.
"Our stance today is to be active advocates around the issue of climate change," Ms. Perryman, daughter of the Rev. Donald Perryman, pastor at Center of Hope Community Baptist Church on Dorr Street, said. "United Pastors is willing and ready to call on others in faith."
Toledo mayoral candidates Anita Lopez and Joe McNamara, both Democrats, stood behind the lectern with about 20 other people in support of the campaign.
Ms. Lopez, Lucas County auditor, said she looks forward to "raising this to a higher profile."
Mr. McNamara, one of three Toledo city councilmen at the event, said he wants to expand a city program that promotes more energy-efficient building practices. Mr. McNamara, endorsed by the Sierra Club, also said he believes Toledo can do more to support public transportation and recycling.
Mayor Mike Bell was represented at the event by Tim Murphy, commissioner of environmental services, and Denny Garvin, the city's director of parks, recreation, and forestry. Mr. Garvin said the Bell administration believes it is critical to maintain natural resources, and support green energy.
Other elected officials who stood behind the lectern in support of the initiative were councilmen Steven Steel and Mike Craig, and state Rep. Mike Sheehy (D., Oregon).
Contact Tom Henry at: thenry@theblade.com or 419-724-6079.
Guidelines: Please keep your comments smart and civil. Don't attack other readers personally, and keep your language decent. Comments that violate these standards, or our privacy statement or visitor's agreement, are subject to being removed and commenters are subject to being banned. To post comments, you must be a registered user on toledoblade.com. To find out more, please visit the FAQ.