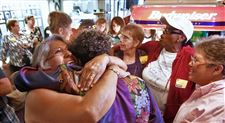 Olivia Flores, a former offensive tackle, left, hugs former running back Linda Jefferson during the first reunion of the Toledo Troopers, a professional women's football team from the 1970s.
THE BLADE/KATIE RAUSCH
Enlarge | Buy This Image
A little more than a year from now, movie critics and theater patrons across the United States are expected to decide if an upcoming film being shot in Toledo, Perfect Season: The Untold Story of the Toledo Troopers, lives up to the team's mighty legacy.
One thing's for sure, though: The first reunion of the 1970s-era professional women's football team was about as perfect as anything gets.
What happened inside the Maumee River Yacht Club on Saturday night with several hundred people could more accurately be described as a family reunion.
The hugs, the tears, the laughter — it was obvious the women who played for the Troopers at some point during the team's existence between 1971 and 1979 thought of each other as family.
Click here to view related gallery.
"This is the greatest thing. This is fantastic. We have talked about it, but never done it," Linda Jefferson, 59, the team's star running back who still lives in Toledo, said. "I haven't seen a lot of these girls for 34 years, the last time I walked off a football field."
Fantastic. Incredible. Awesome.
The words rolled off everyone's lips, but they meant nothing. The real story of what this reunion meant to them was seen in their eyes, their genuinely passionate embraces, and the eagerness in their voices as many of the women, now in their 60s and 70s, displayed the giddiness of teenagers.
"I am truly, truly thankful for this. I got so hyped up for it, so full of joy. It's truly a blessing," said Iris Smith, 60, of South Toledo.
She and other former players have high hopes that the movie hits its mark as a film that shows how Toledo — despite its reputation as a working-class, Rust Belt city — made a significant contribution to the women's movement of the 1970s.
Toledo is the hometown of feminist Gloria Steinem. But its Toledo Troopers were part of the fledgling Women's Football League, and played during an era in which professional women football teams were dismissed as novelties.
The Troopers won seven consecutive national championships.
Perfect Season, with a script described as a cross between A League of Their Own and Remember the Titans, aims to show the team's success helped advance Title IX, the 1972 federal civil rights act that outlawed sex discrimination in education, including sports. The act wasn't fully implemented until the late 1970s, when colleges and universities were ordered to provide equal opportunity for athletic scholarships.
More than half of the 82 women who played for the Troopers attended the reunion, along with many spouses and other friends and relatives.
At least six are known to be deceased, according to Guy Stout, a co-writer of the script who was the team's waterboy and son of the late Bill Stout, who owned and coached the team for most of its existence.
Some who attended came as far as the West Coast. One 81-year-old woman from Tampa insisted on having her daughter drive her there, Mr. Stout said.
"It really does tickle me," he said of the response. "I really do have to pinch myself."
Aldah "Bronco" Moonwater, 65, known in the 1970s as Bronco Wilhems, came from Portland, Ore.
"I couldn't miss this. This was a big, big, big part of my life. It changed the direction of my life," she said.
Like other Troopers, Ms. Moonwater didn't stop to think back in the 1970s that they might have been part of something bigger than football.
They just wanted to play the game.
But Ms. Moonwater said that, looking back, the camaraderie, teamwork, and drive she got from the Troopers probably was at least partly responsible for her decision to become more politically active in the feminist community as she aged.
She said she got the Bronco nickname from Coach Stout, in honor of football great Bronco Nagurski, because of the multiple positions she played on offense and defense. "And because I ran a little crooked," she said with a laugh.
Many of the former players went on to careers — another feat that was not automatically assumed by many women of the 1970s — but few likely had one that parallels that of Mitchi Collette, 59, of Elmore, Ohio, who served as a master sergeant in two wars and in 17 countries in a career that included eight years in the Marines and 25 in the Army.
Now a public safety officer for Mercy St. Vincent Medical Center, she has been the head coach of Toledo's current professional football team, the Toledo Reign, since it was created in 2003.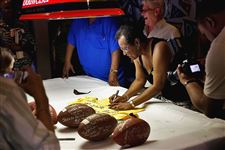 CTY TOLEDOTROOPERS01P Jackie Allen, a former nose guard, center, signed a jersey before greeting several of her former teammates during the first reunion of the Toledo Troopers, a professional women's football team from the 1970's, on Saturday, Aug. 31, 2013, at the Maumee River Yacht Club in Toledo. Several hundred people, including former players and their families, were in attendance for the evening. Also in attendance were several members of a film-making team who plan on creating a movie called, "Perfect Season" based on the team. THE BLADE/KATIE RAUSCH
THE BLADE/KATIE RAUSCH
Enlarge | Buy This Image
It is one of 64 teams nationally in the Women's Football Alliance, one of three professional women's football leagues today.
Ms. Collette said when she learned about plans for the reunion and the movie she exclaimed joy.
"Look what they're doing for us!" she said of the movie. "I was like a little kid at Christmas."
Some Trooper players had almost a celebrity-like aura during their brief tenure.
Ms. Jefferson, one of only four women inducted into the American Association Football Hall of Fame, was named the 1975 Athlete of the Year by womenSports, the first magazine dedicated exclusively to covering women in sports. It was published by former tennis star-activist Billie Jean King and her former husband, Larry King, and was associated with Billie Jean's Women's Sports Foundation. In 1976, when she was the league's Player of the Year, she appeared on the ABC television network's Women Superstars competition and finished fourth. She appeared on numerous other TV shows, including the popular game show, To Tell the Truth, and The Dinah Shore Show.
Ms. Collette said she once was stopped by an Oregon police officer, who told her he'd pulled her over because she ran a red light. Ms. Collette said she knew she hadn't. Then, as the conversation progressed, she realized the officer was simply a fan who wanted to talk to her.
She also recalls getting mobbed by fans once when entering a fast-food restaurant with Ms. Jefferson.
"We played when pride mattered," Ms. Collette said. "Nowadays, it's 'What's in it for Me?'"
Perfect Season is being produced and directed by former Toledoan Brett Leonard, whom Variety magazine has described as one of Hollywood's Top 25 for digital entertainment and storytelling.
Mr. Leonard has directed actors Denzel Washington, Russell Crowe, and Anthony Hopkins.
He confirmed at Saturday night's reunion that his casting director is seeking rising star Zoe Saldana for the lead role as Linda Jefferson.
Casting is expected to be completed in early 2014, with filming in Toledo that spring. The movie is expected to be released to nationwide audiences in the fall of 2014.
Mr. Leonard spent last week in Toledo scouting locations and meeting key supporters, such as Mayor Mike Bell and area business leaders. He said he was thrilled by the response.
"For me, it's been an emotional journey, too," Mr. Leonard said, explaining how it has been a lifelong dream to come home to Toledo to make a film about it. He has been on the West Coast and in Australia making films for 25 years.
He said he was impressed by the verve and desire of the former Troopers he met.
"You don't want to mess with grandmothers, especially grandmothers who can deliver a hit [on the football field]," he said, laughing.
Mr. Leonard's younger brother, Gregg Leonard, is the film's musical director.
He said he envisions a soundtrack of songs from the 1960s and 1970s, reinterpreted and played by Toledo musicians.
The two Leonards said they intend to offer as many jobs as they can to area residents when they're in Toledo making the film.
Contact Tom Henry at: thenry@theblade.com or 419-724-6079.
Guidelines: Please keep your comments smart and civil. Don't attack other readers personally, and keep your language decent. Comments that violate these standards, or our privacy statement or visitor's agreement, are subject to being removed and commenters are subject to being banned. To post comments, you must be a registered user on toledoblade.com. To find out more, please visit the FAQ.