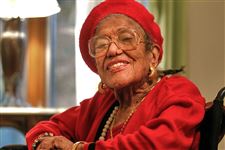 Springfield Township resident Louise Hairston, who turns 100 on Thursday, expects friends and relatives from a long list of states to help her celebrate her 100th birthday, thrown by niece Celina Winfield.
THE BLADE/AMY E. VOIGT
Enlarge | Buy This Image
Louise Hairston has lived a long, varied life.
She's the great-granddaughter of a slave and the widow of a career Army officer and has worked as a nurse, real estate agent, beautician, and manicurist. She has lived in many states, including Alabama, Washington, California, Arizona, Kentucky, Virginia, Louisiana, and for the last seven years, Ohio — in Springfield Township, to be precise.
On Thursday, she turns 100. Two days later, Celina Winfield, her niece with whom she lives, is to hold a huge party at her home in the Stone Oak subdivision.
Relatives from another long list of states — Georgia, Louisiana, California, Tennessee, Michigan, Kentucky, Arizona, and Pennsylvania — will be arriving this week for the celebration and family reunion. The gathering will include a large delegation from St. Paul Missionary Baptist Church in Toledo, where both ladies are members.
"We're expecting 75 to 100 people," Mrs. Winfield said. "We're going to take a lot of pictures."
Mrs. Hairston said she appreciates the effort being made on her behalf. But she seems nonchalant when the subject of her birthday party arises. This is to be expected, perhaps, in someone who was born a year after the Titanic sank and a year before the start of the Great War in Europe.
She was born in Phenix City, Ala., the site of the Civil War's last major battle, and stayed until she was 23. Strict segregation was the law.
"I could tell you a whole lot of stories about old Jim Crow," she laughed, referring to the state and local laws that mandated separation of the races in the South then.
She and her husband, Joseph, were wed for 64 years. He became a captain in the segregated Army. One reason he advanced was his light skin, she said: "He looked white."
He was stationed in the Philippines and Fiji Islands during his career. She visited him in Fiji, but she refused to go to the Philippines. She didn't want to fly across the Pacific and didn't want to go by boat.
She moved to Springfield Township after her husband's death in 2006. She uses a wheelchair because of weak knees, but she said she has outlived her doctors.
"They told me I should be studied by science," she said.
She stays mentally active with crossword puzzles, sewing, and crocheting. She writes short stories, enjoys painting, and has donated some of her work to the Black History Museum in Columbus, Ga.
She said she is happy to have lived a long and prosperous life and feels blessed to have a loving, caring niece in Mrs. Winfield, whose mother was her sister.
Her simple reason for her longevity: "I always kept my temper. I just do not fly off at every little thing. I just try to remain calm. I find that has worked for me so far."
Guidelines: Please keep your comments smart and civil. Don't attack other readers personally, and keep your language decent. Comments that violate these standards, or our privacy statement or visitor's agreement, are subject to being removed and commenters are subject to being banned. To post comments, you must be a registered user on toledoblade.com. To find out more, please visit the FAQ.