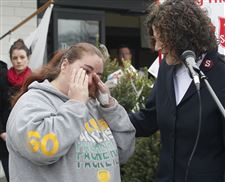 Nickol Campos Sanchez of Toledo, left, with Salvation Army Capt. Tawny Cowen-Zanders, tears up during the kickoff of the kettle drive while expressing gratitudefor the Salvation Army's financial and spiritual help to her and her children.
THE BLADE/JETTA FRASER
Enlarge | Buy This Image
She was forced to retire three years ago as a restaurant cook — a job she loved to do — because of a physical disability.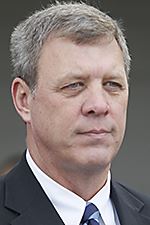 Anderson
THE BLADE/JETTA FRASER
Enlarge | Buy This Image
But every November, Glenda Howard, 55, of Maumee bundles up in her warmest, most festive clothes and comes out of retirement for several weeks, taking her station at a Red Kettle donation site set up at the front entrance of The Andersons general store in Maumee.
"I like the Salvation Army because it's like one big family; and I like helping my family," said Ms. Howard, who participated in the organization's 2013 Kettle Campaign Kick Off, held Friday at The Andersons store. "I like helping people, and the need is so great."
That great need by the community is the unofficial theme of this year's campaign. The goal is to raise $575,000 in donations, said Janna Van Zee, the Salvation Army's director of marketing and public relations. The 2012 Red Kettle Campaign raised $572,600.81, or $2,600.18 more than the organization's initial goal.
Customers at The Andersons on Friday afternoon made donations enthusiastically as they left the store.
"It's certainly a worthy cause," said Cincinnati resident Julia Theil, who was visiting family in Maumee. "There are a lot of people out there who are having a hard time. I try to give every time I can."
The Red Kettle Campaign officially began Nov. 1 and concludes Christmas Eve. Funds raised during this period add up to almost 20 percent of the organization's annual budget, Ms. Van Zee said.
Dan Anderson, 57, president of The Andersons Retail Group, praised the organization's efforts and effectiveness. Mr. Anderson is returning this year as honorary campaign chairman.
"They are a hard-working group," Mr. Anderson said. "They are very efficient and focused on people in the community who need help."
The money raised during the Red Kettle Campaign stays in northwest Ohio and is used to fund various social programs, including utility assistance, rent assistance, budgeting classes, and food pantries, officials said.
The greater Toledo area will feature more than 50 Red Kettle locations, including Walmart, Kroger, Walt Churchill's Market, Bass Pro Shops, Sam's Club, and Hobby Lobby stores.
Contact Federico Martinez at: fmartinez@theblade.com or 419-724-6154.
Guidelines: Please keep your comments smart and civil. Don't attack other readers personally, and keep your language decent. Comments that violate these standards, or our privacy statement or visitor's agreement, are subject to being removed and commenters are subject to being banned. To post comments, you must be a registered user on toledoblade.com. To find out more, please visit the FAQ.