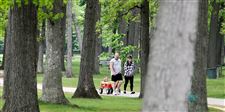 The Blade/Andy Morrison
Enlarge | Buy This Image
Sylvania residents will get an extra issue of the Olander Park System newsletter next year.
The park system's interim director, Erika Buri, said the park would save money by printing four issues a year.
Currently, the newsletter, the Pathfinder, includes two months of events and is printed and sent to residents three times a year, costing $8,500 per issue, and placed exclusively online three other times, costing $1,000.
Guidelines: Please keep your comments smart and civil. Don't attack other readers personally, and keep your language decent. Comments that violate these standards, or our privacy statement or visitor's agreement, are subject to being removed and commenters are subject to being banned. To post comments, you must be a registered user on toledoblade.com. To find out more, please visit the FAQ.