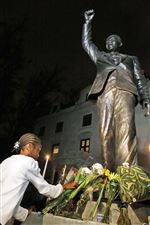 Flowers are placed at a statue of Nelson Mandela at South Africa's U.S. embassy. Participants in his 1990 Detroit appearance remember the excitement.
ASSOCIATED PRESS Enlarge
Nelson Mandela never came to Toledo, but many local residents made the 57 mile trek to Detroit when he visited Motown in 1990.
This was long before Mr. Mandela ascended to South Africa's presidency, and apartheid was still his nation's law.
On Feb. 11, 1990, Mr. Mandela was freed from prison after spending 27 years in custody. A few months later he began a triumphant tour across the United States, including a June 28 stop at Detroit's Tiger Stadium.
Local peace activist Steve Miller was one of about 100 people who made the trip to Detroit from the University of Toledo. A group of students who had been protesting apartheid and advocating for divestment of university assets from South Africa rented a bus and sold tickets to the Detroit event.
"There was a mini-rally at UT before we left, and we had all made these signs that said, 'Welcome Nelson Mandela' and 'Dismantle Apartheid,'" Mr. Miller said. "I remember that I was really touched by this young African-American girl. I think she was in high school. She couldn't go to Detroit, but she wanted to be part of the rally and she asked if she could have one of the signs. Someone gave her one and she started to cry."
A Blade story about the late-night rally in Detroit reported that 54,000 people attended. It was said to resemble a sporting event at times, with the crowd breaking out in "the wave" between preliminary speakers, while musicians such as Aretha Franklin and Stevie Wonder kept the energy going before Mr. Mandela arrived.
"There was a real sense of celebration and good feelings. We were part of history and everybody was very happy and thrilled that he was out of jail and happy to be part of the experience," Mr. Miller said.
Earlier that day, Mr. Mandela stopped by the Ford Motor Co. complex in Dearborn to meet with the United Auto Workers.
About 1,300 union members greeted him at the giant Rouge factory complex and Mr. Mandela clutched a UAW membership card he had just accepted and declared, "Sisters and brothers, friends and comrades, the man who stands before you is not a stranger here. The man who is speaking is a member of the UAW."
"He was a giant," said Ray Wood, president of UAW Local 14 in Toledo. "God puts people on this Earth for a time and a purpose. During the period of apartheid and oppression he stood tall. After he got out of prison he broke down a lot of barriers with different classes and races," Mr. Wood said.
Mr. Wood, also president of the Toledo chapter of the NAACP, said every American civil-rights leader views Mr. Mandela as a role model.
Pastor Robert Culp, a former leader of the Toledo NAACP and pastor of First Church of God, agrees Mr. Mandela was a role model, but not just for civil-rights leaders. He was a role model for leaders of all stripes and colors, Pastor Culp said.
"What I learned from him is that you have to see it in order to achieve it. And he could see his goal and he held steadfast to it. I believe he was destined of God because his impact was not merely in this nation, his impact was on the world," the pastor said.
Contact Marlene Harris-Taylor at: mtaylor@theblade.com or 419-724-6091.
Guidelines: Please keep your comments smart and civil. Don't attack other readers personally, and keep your language decent. Comments that violate these standards, or our privacy statement or visitor's agreement, are subject to being removed and commenters are subject to being banned. To post comments, you must be a registered user on toledoblade.com. To find out more, please visit the FAQ.