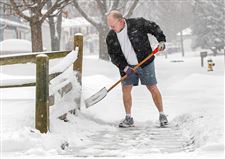 Ken Dreeze shovels his sidewalk in Maumee — in shorts. After all, winter is still a week away. Temperatures though will remain in the mid-20s today, and 30 mph winds are expected.
THE BLADE/LORI KING
Enlarge | Buy This Image
Exactly a week before the first official day of winter, northwest Ohio was pounded with a full day of steady snowfall Saturday that ended up dumping 8 inches in Toledo and surrounding areas.
Although little snow is expected today, driving conditions could be even more dangerous because of strong winds and drifting and blowing snow, weather officials say.
"The best thing that could happen is that we get a nice crust over the snow to keep it from blowing around," said Brian Mitchell, a meteorologist for the National Weather Service in Cleveland. "Otherwise there could be some travel problems [today]."
PHOTO GALLERY: Click here.
Temperatures are expected to remain in the mid-20s throughout today, he said, and then warm up throughout the week, hitting a high in the mid-40s by Friday.
According to Mr. Mitchell, east and northeast Lucas County received the heaviest snow with accumulations of 8 inches. About 6.5 inches of snow fell on Toledo's south side. Weather officials did not know if the 8 inches of snowfall was a record for Dec. 14 in Lucas County, but confirmed that the normal amount of snow for December is 7.4 inches.
"We're well outside of normal," Mr. Mitchell said.
The snowstorm that hit northwest Ohio was part of a storm that trekked about 1,000 miles across the Midwest states Saturday and into the Northeast states overnight, reaching every major city and rural area from St. Louis to Boston. States affected include Illinois, Wisconsin, Missouri, Indiana, Michigan, Ohio, West Virginia, Virginia, Maryland, and New Jersey to much of Pennsylvania, New York, Massachusetts, Connecticut, Rhode Island, Vermont, New Hampshire, and Maine.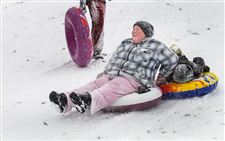 Toledoan Amanda Williams and her son Elijah, 6, 'tube' down the Wagener Sledding Hill at Side Cut Metropark in Maumee. Saturday's snowfall reached 8 inches in Toledo and surrounding areas.
THE BLADE/LORI KING
Enlarge | Buy This Image
Airports across the nation reported hundreds of cancellations because of the storm, canceling nearly 1,200 flights, including almost 375 flights into and out of Newark, N.J., and 189 at Chicago's O'Hare airport.
The storm began to taper off in Lucas County at about 7 p.m. Saturday, allowing weary road crews a chance to try to catch up on plowing roads and treating them with a mixture of salt and calcium chloride, said Theresa Pollick, spokesman for the Ohio Department of Transportation.
"We've had a full crew out since midnight last night," Ms. Pollick said late Saturday. "The constant snow is what has made it difficult."
A new crew was expected to begin a 12-hour shift at midnight Saturday. Transportation officials are concerned about strong winds, which were expected to reach up to 30 miles per hour today, with temperatures remaining in the mid-20s, Mr. Mitchell said.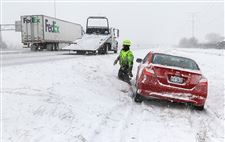 A wrecker driver removes a car that slid off the Ohio Turnpike westbound near the Maumee exit.
THE BLADE/LORI KING
Enlarge | Buy This Image
Near Bluffton, I-75 was closed for about three hours after a semi jack-knifed about 8:15 p.m. Traffic backed up for about two miles, according to the Ohio Highway Patrol.
Snow showers that began as a light dusting early Saturday morning picked up speed throughout the day, and by late afternoon, many communities were reporting up to 6.5 inches of snow accumulation.
The National Weather Service issued a winter storm warning for the Toledo area from 11:30 a.m. to 8 p.m.
Road crews were busy from the wee hours of the morning through the evening, dropping salt, clearing drifts, and responding to vehicles slipping and sliding into ditches, crashes, and vehicles stuck in the snow.
Several counties, including Wood, Hancock, Seneca, and Sandusky, issued Level 1 snow emergencies, which means drivers should proceed with caution. Lucas and Ottawa counties issued Level 2 emergencies, meaning only people with an important need should be out.
Having the first major snowfall of the year occur on a weekend was a positive for those who didn't have to go out — and didn't. Some roads were relatively bare compared with a weekday when many would have been required to come to work without the issuance of a Level 3 emergency, which requires all vehicles off the road except through order of the county sheriff.
Some motorists, though, took to the roads intentionally to revel in the season's first major snowfall.
Friends Robbie Adler, 11, and Joe Gelardi, 11, both from Toledo, laced up their ice skates for opening day at Ottawa Park Ice Rink.
"They shoveled our sidewalk and that of an elderly neighbor, and their reward was ice skating," Joe's mom Nicole said.
Others screamed with glee as they enjoyed a joyride down several of the park's hills located in the golf course area.
Lupe Pitzen of Toledo said the snow was a plus factor in getting her family out of the house.
"There was no way they would let me not bring them out," she said of her two children, Mina, 11, and Joseph, 10, along with her nephew Davon Jones, 12, who just took a turn sledding down the hills.
Some area events, such as Children's Wonderland at Tam-O-Shanter in Sylvania, had a drop in visitors Saturday because of snow.
"We hoped for 2,000," said Kathy LaVoy, Sylvania Area Joint Recreation District representative, who said there was a steady flow of visitors to the exhibit, which is in its 50th year. However, it was not "busy," with only about 800 visitors by late afternoon.
The Toledo Zoo closed at 3 p.m. Saturday because of the weather but is to reopen at 10 a.m. today.
Information from Blade news services was used in this report.
Contact Natalie Trusso Cafarello at: 419-206-0356, or ntrusso@theblade.com, or on Twitter @natalietrusso.
Contact Federico Martinez at: fmartinez@theblade.com or 419-724-6154.
Guidelines: Please keep your comments smart and civil. Don't attack other readers personally, and keep your language decent. Comments that violate these standards, or our privacy statement or visitor's agreement, are subject to being removed and commenters are subject to being banned. To post comments, you must be a registered user on toledoblade.com. To find out more, please visit the FAQ.