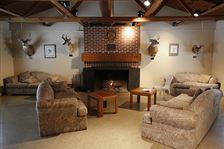 The Nature Center has a meeting room, library, and a 'window on wildlife.' The fund-raising drive would pay for heating, cooling, and lighting upgrades.
THE BLADE/JEREMY WADSWORTH
Enlarge | Buy This Image
BOWLING GREEN — Back in the 1960s, Peggy Schmeltz wanted to give local Girl Scouts a place to stay overnight and experience nature.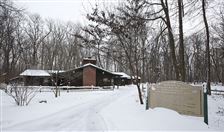 The Bowling Green Parks and Recreation Foundation is raising $300,000 to renovate the Nature Center at Wintergarden/St. Johns Nature Preserve. It was built in the 1960s as a lodge.
THE BLADE/JEREMY WADSWORTH
Enlarge | Buy This Image
The Bowling Green woman spearheaded an effort to build a lodge at Wintergarden/​St. John's Nature Preserve that welcomed scouting troops and overnight guests.
Decades after that initial fund-raising effort, Ms. Schmeltz is again encouraging donations — this time to improve the lodge she helped start.
The Bowling Green Parks and Recreation Foundation raised more than $50,000 toward its $300,000 goal to renovate the building, which became a nature center in 1995. It is located amid 108 acres of woods and prairie spaces on Bowling Green's west side.
"It's very natural, in fact you can see deer there," said Ms. Schmeltz, who is serving as the campaign's honorary fund-raising chairman. "We've seen fox and, of course, lots of birds."
Years ago, she approached organizations and private donors to help pay for the lodge's construction, and the city's parks fund also contributed. Previously, Girl Scout troops she worked with had to travel to Defiance for an overnight experience, and it was difficult to recruit parents to make the drive.
"They had one end for Girl Scouts and an end for Boy Scouts and a kitchen and a room for a fireplace," she said of the original lodge. "It was really a lot more than I had even asked for."
The lodge also was used as a youth hostel before it was converted into a nature center. The transformation took place as natural-resources programs started to take off and people began to use the surrounding trails, said Michelle Grigore, Bowling Green's parks and recreation director.
The nature center rents a meeting room that can accommodate groups of 30 to 40 people for such events as baby and wedding showers, family reunions, retreats, and church services. It also houses offices for several parks department employees, a reading library with natural history books, and a "window on wildlife" that allows park users to sit inside and observe the outdoors.
The campaign would pay for heating, cooling, and lighting upgrades and adding insulation to the ceilings and walls.
"It will have a number of things that will make it more usable for a modern rental facility, and the kitchen itself will be upgraded," Ms. Grigore said.
Charlie Harper, co-chairman of the campaign and a foundation trustee, said the foundation previously supported Simpson Garden Park and the nature preserve with funding drives.
"They've done a fabulous job of raising, over the years, tons of money," he said.
The nature-center campaign also will pay for a new public restroom building near the center.
Ms. Grigore expects construction work to start in 2016.
Contact Vanessa McCray at: vmccray@theblade.com or 419-724-6056, or on Twitter @vanmccray.
Guidelines: Please keep your comments smart and civil. Don't attack other readers personally, and keep your language decent. Comments that violate these standards, or our privacy statement or visitor's agreement, are subject to being removed and commenters are subject to being banned. To post comments, you must be a registered user on toledoblade.com. To find out more, please visit the FAQ.