A youngster inspects a program about the Titanic: The Artifact Exhibition coming to the Imagination Station in February.
Premier Exhibitions, Inc. Enlarge
An elegant perfume bottle. A perfectly preserved pair of men's socks.
The personal belongings of those who boarded the RMS Titanic in 1912 and many who perished when the luxurious ship sank after striking an iceberg in the North Atlantic Ocean are among the artifacts that will be on display at the Imagination Station.
"Titanic: The Artifact Exhibition" is to run from Feb. 15 to June 15 at the downtown science center. Museum officials expect it to attract record crowds.
"There's so much fascination and interest in it at all age levels," said David Waterman, chairman of the museum's board of directors. "We're so happy to have it. It's not easy to get. You have to schedule it months and months in advance."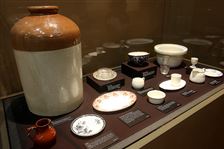 The exhibition at Imagination Station will showcase personal belongings and pieces belonging to the ill-fated Titanic.
PREMIER EXHIBITIONS INC. Enlarge
Nine traveling and permanent versions of the exhibit, which is owned by Atlanta-based Premier Exhibitions Inc., have been viewed by more than 25 million people worldwide in the last 18 years, said Theresa Costas, spokesman for Premier.
"It's transcended generations," Ms. Costas said. "Here we are almost 102 years removed from the sinking and people are almost just as fascinated by the story. There's history, romance, technology, science. There's really something for everybody."
Almost as compelling as the Titanic's tragic story is the 1985 discovery of the sunken ship and recovery of the artifacts. Visitors to the exhibition will see pieces of the ship, the china from which its first-class passengers ate, and clothing, shoes, and other items that belonged to the 2,223 passengers and crew members on board. Just 706 people survived.
"In my opinion, the most compelling artifacts are the personal artifacts — the things that belonged to people like you and me," Ms. Costas said. "When you look at them it's hard not to make that emotional connection, to say, 'What happened to this person? Did they survive?'"
Lori Hauser, chief executive officer of the Imagination Station, said the 6,500-square-foot exhibit will take visitors through a series of re-enactment galleries, beginning with the ship's construction and its launch.
They will see first-class and third-class quarters and learn about life on board the luxury liner. They will relive the events leading up to the ship's demise, and they'll have the chance to feel the frigid chill of an iceberg. Visitors also will learn about the science behind the efforts to recover artifacts some 2½ miles underwater.
Upon arrival at the exhibit, each visitor will receive a replica boarding pass of an actual passenger, complete with name, age, and reason for being aboard the Titanic. At the end of the exhibit, visitors will take their boarding pass to a memorial wall where they will learn whether that passenger survived or perished.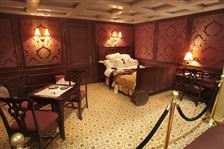 A stateroom from the ship is re-created as part of 'Titanic: The Artifact Exhibition' that goes on display next month at Imagination Station in downtown Toledo. Just 706 people from a passenger and crew list of 2,223 people survived the sinking of the ship in 1912.
PREMIER EXHIBITIONS INC. Enlarge
A number of special events also are planned during the exhibit's run, including a visit by Helen Benziger, a great-granddaughter of Titanic passenger Margaret Brown, a survivor who was immortalized in the 1964 film The Unsinkable Molly Brown.
The exhibit, which is sponsored locally by BP along with media sponsors, The Blade and WTVG-TV, Channel 13, has been featured at museums in Detroit, Cleveland, and Columbus. This is its Toledo debut.
Ms. Hauser said attendance is expected to top Imagination Station's most popular temporary exhibit to date — "Bodies Revealed," which was twice extended during its 2011 run. Some 35,000 people viewed that exhibit.
For "Titanic," visitors may purchase timed tickets in advance through imaginationstationtole-do.org or by calling the museum at 419-244-2674.
Admission to the exhibit is $6.50 for Imagination Station members. For nonmembers, admission to the museum and the exhibit is $19.50 for adults ages 13 to 64, $17.50 for seniors 65 and older, $15.50 for children ages 3 to 12, and free for children 2 and younger.
Contact Jennifer Feehan at: jfeehan@theblade.com or 419-213-2134.
Guidelines: Please keep your comments smart and civil. Don't attack other readers personally, and keep your language decent. Comments that violate these standards, or our privacy statement or visitor's agreement, are subject to being removed and commenters are subject to being banned. To post comments, you must be a registered user on toledoblade.com. To find out more, please visit the FAQ.