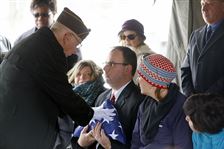 Cmdr. Terry Mohler of the Lucas County Veterans Burial Corps gives the flag that had been on the casket of Joseph John Patay to his son Joseph, Jr., during the funeral at Mount Carmel Cemetery.
THE BLADE/AMY E. VOIGT
Enlarge | Buy This Image
As temperatures hover near freezing, the veterans stand at attention. Shoulders back. Eyes forward. Rifles and bugle at the ready.
It's been a wicked winter for members of the Lucas County Veterans Burial Corps, and it has "tested our mettle," said member Rob Greenlese, 70, an Army veteran who lives in Waterville.
But the commitment wavers not.
In pay-it-forward style, and with compassion for their comrades, the corps continues its mission, season after season, stepping smartly through snow in the winter and keeping cool in the sizzle of summer.
In the chilly, windy weather Wednesday morning, the burial corps gathered at Mount Carmel Cemetery in Toledo, the final resting place for Navy veteran Joseph John Patay, 82, who died Saturday.
As pallbearers carried Mr. Patay's coffin from the hearse, the burial corps — professional, polished, patriotic — lined the path leading into the tented area.
Mourners huddled closer, pulled hats tighter, flipped up collars to block the stiff breeze. Meantime, the burial corps budged not, awaiting commands. To say a prayer. To fire rifle volleys. To play "Taps." To fold the flag.
Following the service, a long-time Patay family friend, Pauline Wallace of Holland, said she had never witnessed such a special salute to a deceased veteran.
"I think it absolutely was a tribute to every veteran, to their service," she said.
A uniformed, volunteer organization independent of any service organization or official county affiliation, the corps provides its services on average four times a week, Mr. Greenlese said.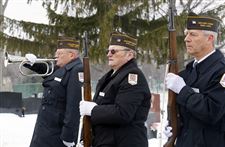 Joe Soinski plays the bugle while Rob Greenlese and Larry Hall, right, fellow members of the Lucas County Veterans Burial Corps, stand at attention during the funeral of Navy veteran Joseph John Patay on Wednesday at Mount Carmel Cemetery in Toledo.
THE BLADE/AMY E. VOIGT
Enlarge | Buy This Image
Members taking part during the Wednesday service were Mr. Greenlese; Army veteran Larry Hall of Toledo; Navy veteran Joe Soinski, 60, of Holland; Army veteran Bob Strick of Toledo, who will be 85 in May, and Army veteran Terry Mohler, who turns 85 in July. Also participating were Navy veteran Wes Lepper and Air Force veteran Al Nehls, both of Maumee.
"I joined the Navy because I believe in God and country," Mr. Soinski said. "I continue to serve because I still believe in God and country."
Navy veteran Fred McBride, 72, of Point Place, corps commander, schedules the corps when requests come in from funeral directors. No fee is charged; donations are accepted.
Corps volunteers, veterans all, are tight-knit, linked by a common bond.
"It's like a brotherhood. A lot of us have been through the same things during war time," Mr. McBride said.
How long the group continues is a question mark.
"We can't get volunteers," he said. Determination in his voice, he pledged: "We're not going to quit. We will keep going until there are not enough of us left."
All veterans are welcome to participate in the burial corps, he noted. To volunteer, contact Mr. McBride at 419-729-1284 or 419-410-0130.
About 20 veterans belong, but availability is iffy. Some members winter in Florida or Arizona. Doctor appointments crop up too.
"None of us are spring chickens. We are 89 on down," he said.
Lee Armstrong, executive director of the Lucas County Veterans Service Commission, noted the winter cold in some parts of the country postponed funerals.
In Toledo, if burials for veterans are being held, honor guards will be there as scheduled, he said, noting veterans know to prepare for the weather.
A Navy veteran, he belongs to an honor guard through the VFW POST 606 on Laskey Road where he is a member. Other Veterans of Foreign Wars or American Legion posts in the area have honor guards as well. "It is definitely a vital service, a way for fellow veterans to give back."
In nearby Fulton County, requests for honor guards at veterans' funerals at one time outpaced the number of veterans available to take part in such services.
"We saw the need for a burial corps, and we made up our minds the government wasn't going to do it. We wanted to make sure veterans who served their country get the final rites they deserve," said Erv Yoder, 64, of Wauseon, sergeant-at-arms for the Fulton County Honor Guard, a 45-member nonprofit formed in 2003.
"We take what we do very seriously," he said.
Cold, ice, snow ... jackets, sweaters, ear muffs, gloves.
Ever cancel because of the weather?
"Never," he said. "Weather never stopped the war so weather is not going to stop us from giving honors to our comrades."
Contact Janet Romaker at: jromaker@theblade.com or 419-724-6006.
Guidelines: Please keep your comments smart and civil. Don't attack other readers personally, and keep your language decent. Comments that violate these standards, or our privacy statement or visitor's agreement, are subject to being removed and commenters are subject to being banned. To post comments, you must be a registered user on toledoblade.com. To find out more, please visit the FAQ.