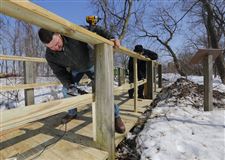 Todd Ebersole, left, and Brian Pritchard, both of Todd Hunt Contracting, Marion, Ohio, install a new railing on the boardwalk at Magee Marsh near Oak Harbor, Ohio. The 25-year-old boardwalk's deteriorating condition makes the structure a safety hazard, the Friends of Magee Marsh said.
The Blade/Andy Morrison
Enlarge | Buy This Image
OAK HARBOR, Ohio — The Friends of Magee Marsh is raising funds to restore the wildlife area's boardwalk, and construction is already under way.
"This is a really special place for birders," said Sandy Burris, the group's president. "Many come every year. We believe they will support this project and will contribute to maintaining and perpetuating this iconic boardwalk."
Located on the Lake Erie shore off State Rt. 2 in Ottawa County's Benton and Carroll townships, about 25 miles east of Toledo, Magee Marsh Wildlife Refuge is listed as one of the United States' top 10 bird-watching spots, with more than 80,000 people visiting during the spring bird migration, according to a written statement released by the group.
The migration peaks during the last week of April and continues through May.
The campaign's goal is to raise about $303,000 to finance the renovation project, to which the group has given $25,000 to get the renovation started, Mrs. Burris said.
Friends of Magee Marsh is a nonprofit group of about 200 members in the United States and abroad, with a mission to support the wildlife area, she said.
Made of treated wood, the 3,700-foot boardwalk is 25 years old and is falling into disrepair, which is a safety concern, Mrs. Burris said.
Phase 1 of the project — which costs $50,000 — started March 13 and is scheduled to be completed by April 1, according to the group. The plan includes strengthening the boardwalk's 40-foot observation tower and replacing decking and handrails at both entrances to Magee, Mrs. Burris said.
Todd Hunt Contracting of Marion, Ohio has been hired to do the restoration.
The rest of the money will be spent on Phase 2, which will start June 1 — after peak migration — and will replace all the remaining decking and rails along the boardwalk. During this phase of the renovation, most of the boardwalk will be open, according to the group.
The project's fund-raising deadline has not been set yet, Mrs. Burris said.
Donation envelopes are available at the Sportsmen's Migratory Bird Center, which is at Magee near the observation tower.
Additionally, donations may be made via a PayPal button on the group's Web site, friendsofmageemarsh.org, or at the "Friends of Magee Marsh" Facebook page.
Contact Mike Sigov at: sigov@theblade, 419-724-6089, or on Twitter: @mikesigovblade.
Guidelines: Please keep your comments smart and civil. Don't attack other readers personally, and keep your language decent. Comments that violate these standards, or our privacy statement or visitor's agreement, are subject to being removed and commenters are subject to being banned. To post comments, you must be a registered user on toledoblade.com. To find out more, please visit the FAQ.