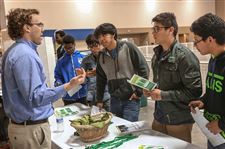 THE BLADE/KATIE RAUSCH
Enlarge | Buy This Image
ProMedica representative Brian Bingle, left, talks with a number of students, including Ricardo Aguilar, 16, center, and Patrick Herrera, 16, second from right, about summer employment opportunities during a job fair at the SeaGate Convention Centre in downtown Toledo. Young adults from throughout the area turned out Saturday to inquire about summer jobs.
Guidelines: Please keep your comments smart and civil. Don't attack other readers personally, and keep your language decent. Comments that violate these standards, or our privacy statement or visitor's agreement, are subject to being removed and commenters are subject to being banned. To post comments, you must be a registered user on toledoblade.com. To find out more, please visit the FAQ.