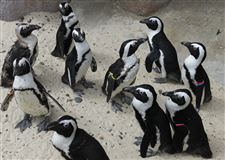 African penguins gather at the new Penguin Beach exhibit. Workers at the Toledo Zoo were able to use the exhibit to quarantine the newly arriving birds.
The Blade/Jetta Fraser
Enlarge | Buy This Image
The penguins, flamingos, and parakeets are all coming to the Toledo Zoo, but not without a bit of effort.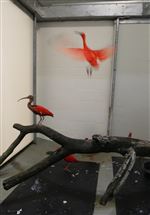 The Toledo Zoo will introduce scarlet ibises into the Flamingo Key exhibit next month.
The Blade/Jetta Fraser
Enlarge | Buy This Image
Within recent days and weeks, the incoming exhibit animals were placed under quarantine — for a minimum of 30 days each.
The zoo received penguins from seven different places for Penguin Beach.
The Blade/Jetta Fraser
Enlarge | Buy This Image
"There is a lot of organization to it," said Dr. Randi Meyerson, assistant director of animal programs at the Toledo Zoo. "We timed it so that the animals could arrive when we had quarantine space and a facility to hold them."
All new animals at the zoo — and some come from across the country — must be quarantined.
"The animals we have here are basically a closed population, and we're aware of the health status of all of them," said Dr. Ric Berlinski, chief veterinarian at the zoo. "When we get a new animal in, we have to make sure they're not sick and that we don't pose a risk for our other animals getting sick."
On Friday, the zoo's new Penguin Beach, Flamingo Key, and 'Keet Retreat exhibits will open to the public. Making the exhibits come alive required very careful planning to coordinate the arrival of the various birds and get them acclimated while simultaneously finishing construction.
The zoo's animal hospital has special quarantine areas, as do some of the exhibits. For the penguins, a newly built, squeaky-clean penguin house at the exhibit was put to good use.
"They staged it so that the building was done first," Dr. Berlinski said. "We were able to use that to our benefit to put these animals into that building and do their quarantine in that building. The construction crews could then keep working on the outside part of the exhibit."
The quarantine process starts with a full veterinary examination at the facility from which the animal is coming, just before being shipped. The new arrivals are then quarantined at the Toledo Zoo.
"We watch them to make sure they don't show any signs of illness," Dr. Berlinski said. "The other part of it is to help acclimate the animal after it's moved."
During quarantine, the animals slowly are introduced to the staff that will be caring for them and become accustomed to their environment. Animals that come from different locations are given a chance to get used to each other.
The penguins, flamingos, parakeets, and scarlet ibises — which will be added to the Flamingo Key exhibit next month — have a bit of an easier time than other creatures because they naturally want to be in groups. While the parakeets all arrived from the same place and were already familiar with each other, penguins from seven locations and flamingos from four locations had to be given more time.
The various groups are first allowed to view each other through mesh for a while, then slowly allowed to mix together.
"When we put the groups of penguins together, there was a little bickering, but they're fine now," Dr. Meyerson said.
"They just had to develop a pecking order," Dr. Berlinski added.
The quarantine and acclimation process is different for each species. Animals for whom scent is important, such as wild dogs, get scent articles such as feces or bed blankets to introduce the smell of another animal first. Then the animals are allowed to get used to each other's presence through separated enclosures before finally being allowed to meet with no barriers.
"We plan out our introductions pretty carefully," Dr. Meyerson said, adding that staff is on high alert when animals are allowed to mix for the first time. "We'll have things like hoses, whistles, fire extinguishers in case we need to distract them and break things up."
New exhibits also can cut down on potential territorial aggression as the zoo's existing animals aren't able to stake a claim before new ones are introduced, Dr. Meyerson said.
"It's very stressful for an animal to be moved and placed with others," Dr. Berlinski said. "We want to reduce that stress, and it's a slow process. It's about the overall health of the animal, both physical and mental."
Contact Alexandra Mester: amester@theblade.com, 419-724-6066, or on Twitter @AlexMesterBlade.
Guidelines: Please keep your comments smart and civil. Don't attack other readers personally, and keep your language decent. Comments that violate these standards, or our privacy statement or visitor's agreement, are subject to being removed and commenters are subject to being banned. To post comments, you must be a registered user on toledoblade.com. To find out more, please visit the FAQ.