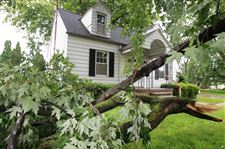 A large limb and other branches pile up in the yard at 833 Hanson St. in Northwood. While residents may be weary of the above-average rainfall for June, it was the wind that damaged property.
THE BLADE/ISAAC HALE
Enlarge | Buy This Image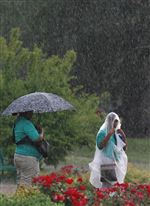 Toledo Zoo employees Kiera Williams, left, and Samiyia Pittmon shield themselves from the rain during a thunderstorm as they wait at the bus stop.
THE BLADE/LORI KING
Enlarge | Buy This Image
Strong winds hit the Toledo area Monday, toppling trees and scattering lawn furniture.
On Monday afternoon the National Weather Service released a hazardous weather outlook for northwest Ohio, warning of the impending thunderstorms in Lucas and Wood counties.
The main weather-related threat was not the rain but the "damaging winds" that accompanied the storms, according to the report.
The harsh conditions posed a problem for some residents. According to a FirstEnergy representative, a failure at the company's Hawley Street substation initially left about 11,000 residents without power. A rerouting of services quickly restored power to many, but some 4,700 experienced longer waits for service to resume.
That incident was potentially caused by lightning, the representative said.
Some residents took to social media to post photographs of the weather, sharing their hopes for brighter skies. Scenes of damage included toppled trees and overturned pieces of lawn furniture.
The National Weather Service forecast calls for more thunderstorms and rain through Wednesday in the Toledo area. The forecast does not anticipate rain for Thursday or Friday.
This year has been slightly rainier than usual, according to National Oceanographic and Atmospheric Administration. The Toledo area has received about an inch more than the usual 16.06 inches of rainfall so far this year.
Average rainfall for the first 22 days of June is 2.69 inches, and as of Sunday, the region had received 3.14, according to NOAA statistics.
Contact Marissa Medansky at: mmedansky@theblade.com or 419-724-6368.
Guidelines: Please keep your comments smart and civil. Don't attack other readers personally, and keep your language decent. Comments that violate these standards, or our privacy statement or visitor's agreement, are subject to being removed and commenters are subject to being banned. To post comments, you must be a registered user on toledoblade.com. To find out more, please visit the FAQ.