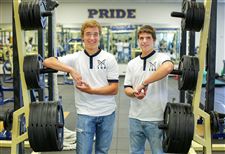 James Miller, left, and Bailey O'Brien, in the weight room at St. John's Jesuit High School, will attempt to break the world record for consecutive hours rowing on one machine. The record is 40 hours.
THE BLADE/ANDY MORRISON
Enlarge | Buy This Image
Bailey O'Brien once spent four straight hours working out on a rowing machine.
That's relatively nothing compared with what the 18-year-old plans to do, along with one of his St. John's Jesuit crew teammates, later this week.
Mr. O'Brien and James Miller have decided to pursue a world record for most consecutive hours on a rowing machine to raise money for the Toledo Labre program, which is a club comprising students from St. John's and St. Ursula Academy that provides food for needy and homeless people.
The world rowing-machine record is 40 hours, 30 minutes, set by two high school students in Michigan.
Mr. O'Brien and young Miller, 17, have their sights set on spending 48 straight hours on the rowing machine, which would shatter the under-19 record.
"We said, '‍Why not just make it two days instead of like 41 hours?' " Mr. O'Brien said. "We said, '‍Let's just shoot for 48 hours.'
"But we're going to play it by ear. If it's like 44 hours, and we're dying, then we'll stop.
"But if it's 48 and we say, '‍Let's keep going,' we'll keep going."
The pursuit of the record will begin at noon Friday in the SJJ gym. The plan is to continue until Sunday at noon, with hopes to tie the current record at 4 a.m. Sunday.
To break the record, a fan in the rowing machine that their rowing efforts propel must continue to spin throughout the attempt. The entire record attempt must be recorded, and at least five witnesses must be present.
Mr. O'Brien is a recent 2014 St. John's graduate who competed for four years on the Titans crew team.
He and young Miller — along with Titans teammates Austin Buck, Zach Prephan, and Eric Hartkopf — recently competed in the Scholastic Rowing Association of America national championships and placed third in the men's lightweight-four race.
Mr. O'Brien will continue competing in the sport at Michigan State University. But before he heads to East Lansing in a few months to pursue a degree in civil engineering, he wants to make a difference by helping to raise funds for the Labre program.
"We really don't have a [specific] money goal," Mr. O'Brien said. "We're trying to get as much as we can to help out as many people as possible."
Young Miller, who will start his senior year at St. John's in the fall, spent the first part of June in Guatemala on a mission trip. He thinks their pursuit of a world record is certainly for a good cause.
"I'm just excited to mostly help raise money for the Labre program and I'm excited to break a world record," he said. "I was just on a service trip down to Guatemala, and that definitely was a life-changing experience that makes me even more excited to help out with this locally."
Young Miller is also a Labre program participant. He became involved in the pursuit of the world record only after Mr. O'Brien reached out to him a few months ago and told him about the idea.
"When he actually asked me about this, I was actually on vacation in Colorado," he said. "He shot me a text that said, '‍You up for breaking a world record?' I said, '‍Yeah, it sounds awesome.'
"Ever since then, I've been getting ready — working out and getting ready."
Actually, neither has a training routine specifically designed to prepare for the marathon session, in which they will alternate sitting on one rowing machine. They've simply resumed their normal winter workout routine throughout the spring, right on up to the event.
Their plan is to alternate on the rowing machine every 30 minutes during the day and every 1½ hours through the night.
Of course, they are expecting to have plenty of support in the gym from family, friends, and classmates throughout the experience. There will be music playing, DVDs will be shown, and games will be played to make it an upbeat and fun atmosphere.
Contact Donald Emmons at:
demmons@theblade.com,
419-724-6302, or on
Twitter @DemmonsBlade.
Guidelines: Please keep your comments smart and civil. Don't attack other readers personally, and keep your language decent. Comments that violate these standards, or our privacy statement or visitor's agreement, are subject to being removed and commenters are subject to being banned. To post comments, you must be a registered user on toledoblade.com. To find out more, please visit the FAQ.