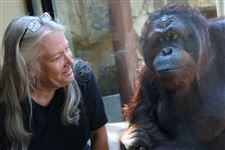 Toledo zoo registrar Glenous Favata greets Bajik, a 10-year-old male orangutan, at his enclosure at the Toledo Zoo. The zoo's first registrar, Ms. Favata is retiring after 45 years of service. She says she loved working with the great apes the best.
The Blade/Katie Rausch
Enlarge | Buy This Image
Looking through thick-pane glass toward Bajik, an orangutan at the Toledo Zoo, Glenous Favata joyously shouted, "Hey bud, how ya doin?"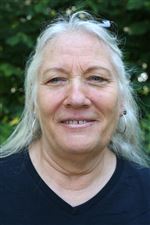 Favata
The Blade
Enlarge | Buy This Image
Any zoo visitor easily could have assumed she was speaking with one of her best friends — and truthfully, she was.
Ms. Favata, 68, is the zoo'‍s beloved registrar. She'‍ll retire today after 45 dutiful years of work and friendship.
Since she was a young child, Ms. Favata has loved animals. She said she dreamed of being a veterinarian, but was denied the opportunity to do so.
"I went to Ohio State and I applied and at that time it was the '60s and they weren't taking women," Ms. Favata said.
The man who interviewed her simply told her to continue working at the restaurant where she worked during the summer because he said it was "a great job for a woman," she said. She interviewed twice and was denied both times.
Continuing her schoolwork at Ohio State University, she majored in animal science and, in 1966, began working summers at the former children's zoo near the historic Amphitheater.
Once the time came to find a full-time job, Ms. Favata naturally thought of the Toledo Zoo, but was afraid that they would not want to hire a woman.
"There was only one other woman working at the zoo at that time, and she worked in the birdhouse," Ms. Favata said. Fortunately, Phil Skeldon, the zoo'‍s director at that time, was very supportive, she said.
Ms. Favata became the zoo'‍s first female swing keeper in the mammal department. As a swing keeper, she had close contact with the animals, especially the great apes.
"They're just very responsive to people and they have their own intelligence level and they'‍re a challenge," she said. She even has a pair of silver gorilla earrings to show her love of the primates.
Just like old friends, when animals leave the Toledo Zoo, Ms. Favata makes an effort to keep in touch with them. "I still have contact with the zoos and other places where they are so I can see how they'‍re doing," she said.
Her loving relationship with the zoo'‍s animals certainly is not a one-way street. Take Harvey the chimpanzee.
"Harvey went to Baltimore on breeding loan and he wasn't doing too well. That was not his thing. So he came back to Toledo after eight years. And he was in the truck, and when he saw me he just went bonkers. He got really excited!" Ms. Favata recalled.
Ms. Favata accomplished an impressive number of firsts in her time at the Toledo Zoo. Not only was she its first female mammal keeper, but in 1980 she also was the first female curator of mammals at the zoo, and one of the few female curators in the nation. In 1994, she became the zoo'‍s first-ever registrar.
"She has been an incredible employee. She is well-regarded in American zoos and aquariums," said Jeff Sailer, the executive director of the Toledo Zoo. "Even when I was working in Miami, I had heard of her."
He said she truly broke glass ceilings for women in the industry.
One of her most exciting firsts was being a member of the team that was the first in the world to successfully artificially inseminate a chimpanzee: Babette gave birth at age 13 in July, 1973, at the zoo as Ms. Favata proudly watched.
"I was the only keeper that had any college education or that kind of background so the vet and I kind of gravitated toward each other," said Ms. Favata. The veterinarian, Dr. C. Joseph Hardin, worked closely with Ms. Favata and the primary keeper, Olen Fairchild, to achieve such a revolutionary feat for the zoo.
Her impact on the zoo seems endless. In 2012, she implemented a new record-keeping system called ZIMS — Zoological Information Management System, which connected the zoo'‍s records to more than 800 zoos and aquariums in 84 countries worldwide.
ZIMS is a part of the International Species Information System, of which the zoo has been a member since its 1974 inception.
"I was always very interested and close to the people that had started that program. I then had a lot of knowledge, being one of the early registrars. So I went to Amsterdam to an international meeting and worked closely with them in giving my experiences for ideas into the program," she said.
Ms. Favata's animal interest took her to some exotic places over the years. She led two of the zoo'‍s travel program trips to Kenya and Tanzania. She even did a solo safari trip.
"When I first started at the zoo I decided to go to Africa on my own. So I went to Tripoli [Libya] and I signed up for a tour and I knew no one on the tour," she said.
She visited Dakar, South Africa, Rhodesia (now Zimbabwe), Kenya, and even Zambia during her three-week trip.
"It was awesome," she said.
For three consecutive summers in the 1960s, Ms. Favata worked as an attendant in the children's zoo, called Wonder Valley at the time. She helped children onto the shell of a much-beloved Galapagos tortoise, named Galopy. The giant tortoise was the face of the zoo for more than 30 years, and many Toledo-area residents have photos and memories of their own rides on Galopy.
"He was a pretty cool guy," she said. "If you scratched his head he would stretch up on his tip toes."
Galopy was transferred in 1983 to the San Diego Zoo at the recommendation of the Galapagos Tortoise Species Survival Plan run by the Association of Zoos and Aquariums. Ms. Favata said she fully supported that recommendation.
Now that she'‍s retiring, she is excited to head out on a cross-country trip to Alaska with her daughter.
As for her successor, Ms. Favata had a strong hand in the selection of Wyn Hall from the Virginia Zoo. She has been instrumental in showing Mr. Hall the ropes since he arrived.
"I started in the registrar world in 2007, and she'‍s been a mentor from a distance since then," Mr. Hall said. "I hope to live up to what she's done here."
Blade Staff Writer Alexandra Mester contributed to this story.
Contact Kathleen Ashcraft at: kashcraft@theblade.com or 419-724-6050.
Guidelines: Please keep your comments smart and civil. Don't attack other readers personally, and keep your language decent. Comments that violate these standards, or our privacy statement or visitor's agreement, are subject to being removed and commenters are subject to being banned. To post comments, you must be a registered user on toledoblade.com. To find out more, please visit the FAQ.