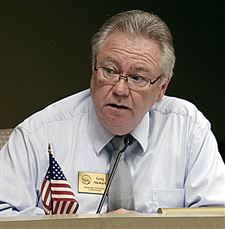 Francis
THE BLADE
Enlarge | Buy This Image
TEMPERANCE — With $1 million budgeted for road work for the fiscal year that began July 1, the Bedford Township Board is specifying projects it would like to get done. At last week's board meeting, Treasurer Paul Francis read off a working list of 13 proposed projects.
They include patching Sterns Road between Secor and Jackman roads; resealing Crabb Road between Temperance Road and Sterns; resurfacing Secor between the Ohio line and Sterns; rebuilding Clegg Road between Adler and Monroe roads; mill-and-fill Dean Road between Secor and Monroe; asphalt and drainage improvements on Monroe between Secor and Summerfield Road, and improvements on Crabb between Temperance and Erie roads and on Douglas between Temperance and Erie.
Five more proposals are in the planning stages, with details yet to be finalized: Dean between the Ann Arbor Railroad tracks and Minx Road, intersection improvements at Crabb and Sterns, Secor between Temperance and Samaria roads, Summerfield between Consear and Temperance, and Temperance between Secor and Summerfield.
Furthermore, the projects involving Secor between Temperance and Samaria and Summerfield between Consear and Temperance are eligible for federal funding that would cover 80 percent of the cost, Mr. Francis said.
After the meeting, Mr. Francis said he doubted the budgeted $1 million would be enough to pay for all of the proposed projects. The board has discussed the feasibility of approving a five-year, $75 annual special assessment on each township property parcel, the $925,000 proceeds from which would be dedicated to road upkeep.
Last month, the board agreed to pay Mannik and Smith Group $9,800 for engineering services to prepare a pavement management plan for primary and local roads.
The firm is examining Bedford's roads and their drainage and preparing a three-year plan that includes recommended repairs and costs.
In other business, the board approved a job description for a part-time assistant to the planning and zoning administrator.
The new hire will work five days a week, six to seven hours a day; will not receive health-insurance benefits, and be paid $14.52 per hour.
Minimum qualifications would include a high school diploma, knowledge of software applications such as Excel, Word, and Outlook, the ability to write reports, letters, procedural manuals, and subdivision plats and engineering plans.
Clerk Trudy Hershberger said the goal was to find someone who could be trained and eventually take over the job of planning and zoning administrator.
Contact Carl Ryan at: carlryan@theblade.com or 419-724-6095.
Guidelines: Please keep your comments smart and civil. Don't attack other readers personally, and keep your language decent. Comments that violate these standards, or our privacy statement or visitor's agreement, are subject to being removed and commenters are subject to being banned. To post comments, you must be a registered user on toledoblade.com. To find out more, please visit the FAQ.