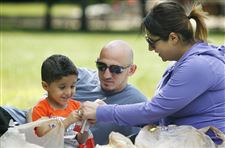 THE BLADE/ISAAC HALE
Enlarge | Buy This Image
Abdallah Jallad, 3, enjoys a picnic Thursday with his father, Ahmad, and mother, Frieda, at Wildwood Metropark in Sylvania Township. Sunny skies and highs in the upper 70s today will give way to showers through the weekend and into Monday.
Guidelines: Please keep your comments smart and civil. Don't attack other readers personally, and keep your language decent. Comments that violate these standards, or our privacy statement or visitor's agreement, are subject to being removed and commenters are subject to being banned. To post comments, you must be a registered user on toledoblade.com. To find out more, please visit the FAQ.